Given that he has constructed some of the best backlines in modern European football, and that they have been the foundations of four title wins, you can be fairly certain Antonio Conte knows a lot about two particular things: defending and management.
So, it does travel when the Chelsea boss sounds certain that John Terry has all the attributes to be a "good manager", as he also described him as "one of the best defenders in the world". Conte similarly praised the 36-year-old's influence in the dressing room this season, saying he greatly helped the manager apply his ideas on the title-winners.
Terry is set to play his last game for Chelsea on Sunday at home to Sunderland, for what would be just his ninth appearance in the Premier League this season. The reality was that the defender was no longer mobile enough for Conte's way of playing with a three at the back, but the Italian still recognised one of the finest centre-halves in the game, and noted how key his general influence was.
The 5 key moments that won Chelsea the title
The 5 key moments that won Chelsea the title
1/5 1. The second half of Arsenal 3-0 Chelsea, 24 September

The biggest defeat of Chelsea's season, but also one of the biggest reasons they have won the title. It brought an epiphany. The way that Arsenal simply tore at Antonio Conte's defence to go 3-0 up by half-time made the Italian realise something was fundamentally wrong with his team. There were huge gaps in the team structure, and it looked at that point like there was still a huge gap between Chelsea and even challenging for the title. That instantly changed, because Conte changed the formation. In that second half, he went to a three-at-the-back that had been on his mind but hadn't yet been tried on a pitch. Chelsea immediately went on that 13-game winning run, never really looking back.

Getty Images

2/5 2. Chelsea 4-0 Manchester United, 23 October

Chelsea had at this point impressively won two games in a row, and looked like they were building, but this match showed there was so much more to it than just a temporary transformation from the change in formation. It showed the quantum leap they had already made. There was of course much more to this match than just winning a big game, too, given that the players were up against their old manager Jose Mourinho just 10 months after he had been sacked following a sensational team collapse in 2015-16. They performed like they had a point to prove, and made an utterly compelling argument from the very start, when Pedro scored after mere seconds. It felt like many ghosts from the previous campaign had been banished, as well as any lingering doubts. They were on another level.

Getty Images

3/5 3. Manchester City 1-3 Chelsea, 3 December

Arguably the Premier League game of the season in terms of excitement, but also the game when Chelsea's winning run became an exhilarating title surge; when momentum really picked up - and that despite City doing so much to try and stop it. This was just another case of turning a negative into a positive, as they completely turned a game. Determined to get their top spot back, Pep Guardiola's City absolutely battered Chelsea in the first half, and could have been out of sight. Conte's side just about held firm despite Gary Cahill's own goal, though, tightened up at half-time and then responded with a series of rapid attacks City simply couldn't handle. Really, it was the response of champions, and the moment when Chelsea properly emerged as the obvious next champions. That's how significant the win felt. That's how much confidence Conte said they gleaned from it.

AFP/Getty Images

4/5 4. Leicester City 0-3 Chelsea, 14 January

If the defeat at Arsenal was a defining moment for Conte's tactics, this win at the former champions was the defining moment in terms of everything else to do with the team. Sure, the final score may make it look elementary, but the week had been anything but. It was maybe the most challenging. Chelsea's 13-game winning streak had just come ended at Tottenham and their top scorer's Blues career was coming to an end, after Diego Costa got into an altercation at training following speculation he might be on the move to China. It really looked like it could all cave in, when Chelsea would lose their edge, and their nerve. Instead, it brought more progress. The team killed Leicester 3-0 thanks to two goals from Marcos Alonso and one from Pedro, before Conte completely killed the controversy by stonewalling it in his press conference. It sent a statement to Costa to get back in line, and a statement to the rest of the Premier League that there was so much more to this team than one scorer.

AFP/Getty Images

5/5 5. Chelsea 4-2 Tottenham Hotspur, 22 April

This may have been an FA Cup semi-final, but it was one with a significance far beyond making the final. It was really the final test in the title race, a referendum on which of the two sides was actually better. That may seem ridiculous now, but that was very much the feel that of week. A stuttering Chelsea had been resoundingly beaten 2-0 at Manchester United, allowing a surging Spurs to cut the lead to four points. It seemed like it was all only going in one direction, but that a Tottenham win could completely divert the destination of the title. There was instead only ever one winner. Conte's side simply cut Spurs' legs away. Every time Tottenham responded, Chelsea just showed they had that bit more, they were that bit better. The impressive high quality of the two clinching goals from Eden Hazard and Nemanja Matic only emphasised it all. It was the story of the season. Every setback only brought another surge.

AFP/Getty Images
"He can be a good manager," Conte said. "He has the right personality, has great experience with many managers and has won a lot. It's important to start your career with this at your back. Then it's also very important to take your time to understand which is the best way for you when you finish playing football… If you ask me if he has the characteristics to be a good manager in the future, then yes, yes.
"If you are able to mix your knowledge over the many years to work with different coaches, it's important to have your own ideas when you start to become a manager or coach yourself."
Asked about whether his prior opinion of Terry changed from having known and worked with the Chelsea captain, Conte explained it only grew, as he recognised what a leader he was.
"I always thought of him like a champion, like a great player. For sure, John Terry is one of the best defenders in the world and I always saw him with this vision. Then, if you ask me about the human part, after this season I can tell you that he's a really good person. When you are at the end of your career, it's not easy to put yourself to one side and to think first about your team, and he did this. For this reason, he's a great man before a great player.
"I like to talk about the person above all when I know the person because, when you don't know very well the person, it's very difficult to judge. I can tell [you] after this season my opinion about John. My opinion is a great opinion about him: I saw every day a captain, a captain on and off the pitch. His thought was always first for the team, and then for him. For this reason, he helped me a lot to transfer my ideas, my concepts [on to the team]. I have a great opinion about John."
With Terry already having shown a lot of emotion when scoring in - and right throughout - Chelsea's 4-3 win over Watford on Monday, Conte acknowledged how difficult it must be for him to leave the club he has always known, but the manager emphasised that it forever "be his house".
"It's not easy. For sure, it's not easy. I was in another situation with [Alessandro] Del Piero in my first season at Juventus, when he finished to play with them. It's not easy. When you are used to having a club in your life every day, and when you start your day you have the club in your mind, it's not easy to start to think about starting a new day with this situation finished. But I think it's right, this situation, in his mind, mustn't finish. Chelsea will always be his house. Now he wants to play regularly, so it's right for him to go and play. Chelsea will always be his house for him."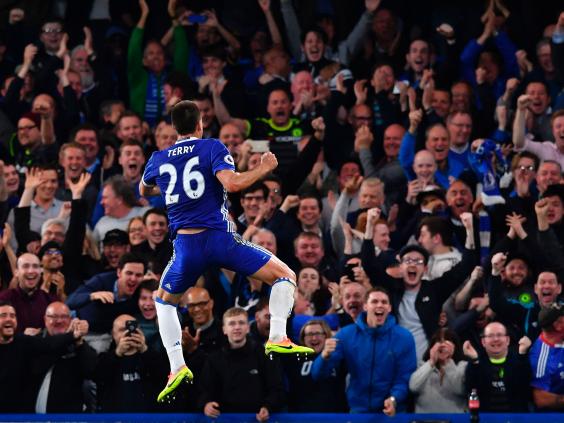 Emphasising that he is looking to make "history" this season by having Chelsea become the first Premier League club to claim 30 wins out of 38 for the first time, Conte was also more comfortable about the future, as he said that his wife and daughter will finally join him in London this summer.
"Honestly, honestly, for sure this season wasn't easy for me about my family because we decided, my wife and my daughter, they would stay in Italy to allow my daughter to finish school. But, for sure, next season our intention is to keep all the family in England and stay together. It will be a good opportunity, also, for my daughter to live in another country. To go to school in another country is a fantastic opportunity, and a great gift for her."
Reuse content