There's an old Catalan phrase that comes to Francesc Fabregas's mind as he prepares to travel to London to watch his son Cesc in the blue of Chelsea against Arsenal on Sunday. "Bon vent i barca nova" translates literally as "good wind, new boat" and the underlying sentiment is "thanks, but now it's time to move on".
Francesc uses it to describe his son's switch from Barcelona to Chelsea but it could be the motto of Fabregas Jr's entire career.
Cesc has never been afraid to jump from the comfort zone. He was developing well at Barcelona's La Masia youth academy but he made the bold switch to Arsenal in 2003; he was captain at Arsenal but wanted to run out at the Nou Camp so he moved back to Barcelona in 2011; he had a contract until 2016 at Barça but longed to be the leader of a team again and so accepted Jose Mourinho's advances this summer.
"He feels important again," said Francesc. "He's happier with his football, I get more calls from him about the games he's played in. I'm happy because he's happier."
Fabregas's return to Barcelona was not the disaster some have suggested. He scored 42 goals in 150 games and won six trophies. But the midfielder came back just as the team had peaked and the downward curve was inevitable. Pep Guardiola left the club and his replacement  as coach, Tito Vilanova, became seriously ill. The team could not hit the heights of previous seasons. When the criticism came, it seemed to be disproportionately aimed at Fabregas.
"Some of it was unacceptable," said his father of the whistles directed Fabregas's way in games where he had been no worse than the other nine Barcelona outfield players.  "I'd have one bad game and it would set me back in people's minds 10 good games," was how Fabregas summed it up in his final season.
What no one expected was that it would be Mourinho, the former Real Madrid coach, who would offer Fabregas a way out, such had been the run-ins the pair had in clasicos.
What that analysis ignores is that while they may have been on different sides, Fabregas has that same firestarter devil in him as his new manager. It is 10 years this month since the "Battle of the Buffet" when Fabregas allegedly flung pizza at Sir Alex Ferguson when Arsenal's 49-game unbeaten run was ended by Manchester United.
Chelsea v Arsenal: Will Arsene Wenger finally get his first victory over Jose Mourinho?
Chelsea v Arsenal: Will Arsene Wenger finally get his first victory over Jose Mourinho?
1/11 Arsenal 2 Chelsea 2 (Premier League, 12 Dec 2004)

Eidur Gudjohnsen scored just after the break to equalise after Thierry Henry had netted twice for the Premier League champions. John Terry was also on target for Chelsea. The draw maintained the Blues five-point lead over Arsenal

2/11 Chelsea 0 Arsenal 0 (Premier League, 20 April 2005)

Jose Mourinho's side were held at Stamford Bridge, but it was soon celebration time; they won their first league title in 50 years 10 days later at Bolton

3/11 Chelsea 2 Arsenal 1 (Community Shield, 7 Aug 2005)

Didier Drogba scored twice to begin his terrorising campaign against Arsenal. Cesc Fabregas later pulled one back for Arsenal

4/11 Chelsea 1 Arsenal 0 (Premier League, 21 Aug 2005)

That man Drogba scored against Arsenal again, giving Philippe Senderos an afternoon to forget

5/11 Arsenal 0 Chelsea 2 (Premier League, 18 Dec 2005)

Arjen Robben and Joe Cole scored as the Blues swept the Gunners aside at Highbury, leaving Arsene Wenger's side a mammoth 20 points off the top of the table

6/11 Chelsea 1 Arsenal 1 (Premier League, 10 Dec 2006)

Mathieu Flamini's 78th-minute strike looked to give Wenger his first victory over Mourinho...until Michael Essien smashed the ball in with six minutes remaining

7/11 Chelsea 2 Arsenal 1 (League Cup Final, 25 Feb 2007)

Theo Walcott's first goal for Arsenal sparked pandemonium in one half of the Millennium Stadium, but then the Gunners' old nemesis Drogba scored a double to secure the trophy for Chelsea. During a melee at the final whistle, John Obi Mikel was sent off for the Blues, while Kolo Toure and Emmanuel Adebayor were dismissed for Arsenal

8/11 Arsenal 1 Chelsea 1 (Premier League, 6 May 2007)

Arsenal holding Chelsea to draw at the Emirates Stadium only benefited one team - Manchester United, who were crowned Premier League champions for the first time since 2003. Gilberto Silva opened the scoring from the penalty spot after Khalid Boulahrouz was sent off for Chelsea, before Essien equalised against Arsenal again. Jose Mourinho implored Blues' supporters to keep their chin up (pictured) after the match after they lost their title after successive seasons as champions

9/11 Arsenal 0 Chelsea 2 (League Cup fourth round, 29 October 2013)

Six years after their last face-off, Mourinho and Wenger renewed their rivalry in the Capital One Cup. Despite home advantage, and a number of first team members starting the match compared to the Blues' impressive second-string, the Gunners succumbed to a two goal defeat thanks to a goal from Cesar Azpilicueta and the genius of Juan Mata

GETTY IMAGES

10/11 Arsenal 0 Chelsea 0 (Premier League, 23 December 2013)

The match ended a dour stalemate at the Emirates. Olivier Giroud missing the best chance of the game. Arsenal missed the chance to leapfrog to the top of the Premier League after the draw

11/11 Chelsea 6 Arsenal 0 (Premier League, 22 March 2014)

Wenger's 1,000th game in charge of the Gunners ended in this devastating defeat

Getty Images
He may have been on the opposite side to Mourinho in the battle in Spain but the fighting styles are comparable. The two might also share a certain sense of having been spurned by Barcelona, Mourinho never getting invited back when he applied to succeed Frank Rijkaard in 2008.
Fabregas admitted in an El Pais interview last month that when he called Barça's sporting director Andoni Zubizarreta a week after the end of last season to tell him that he wanted to leave, he was left in no doubt that by asking to go he was doing the club as big a favour as he was himself – there were no pleas for him to stay.
On Sunday, on the opposing side will be Fabregas's first, and arguably most important mentor, Arsène Wenger, who he called before his Chelsea move. Arsenal had first option on the Spain midfielder but Wenger could see no room for another No 10 in his squad and the path was clear for Mourinho to sign him.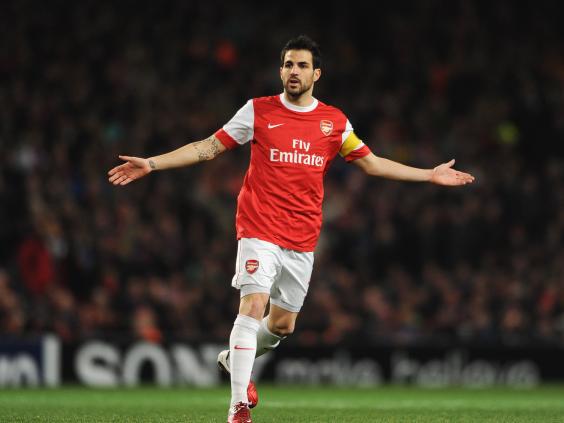 Not that Fabregas has taken the No 10 role at Chelsea, more often than not operating alongside Nemanja Matic in central midfield. The box-to-box energy that at times handicapped him at Barcelona because it dragged him out of the team's strict positional play, is once again his forte – that and those sublime assists to Spain team-mate Diego Costa.
And if he's happy on the pitch, he is also happy off it. It is over a decade since he shared a flat with Philippe Senderos as an Arsenal 17-year-old on £4,000 a week. "Do you feel British?" he was asked in that El Pais interview. "No, but I do feel a Londoner," came the reply. In Sunday's London derby between old club and new club, he should feel right at home.
Reuse content