Cesc Fabregas was made at Arsenal. This isn't a fact, or indeed wrong. It is the opinion of Chelsea manager Jose Mourinho, who moved to sign Fabregas from Barcelona in the summer for £30m, and the man who will likely select Fabregas to start Sunday's Premier League fixture against Arsenal, the club he used to captain.
It's already been a tough season for Arsenal fans, what with the narrow progress into the Champions League group stage, injuries to key players and the annual transfer limbo of 'will he, won't he' when it comes to Arsene Wenger's transfer dealings. Fabregas was one of those, but Wenger decided against making a move for the Spaniard even though Arsenal ensured they had a clause in his Barcelona contract that would give them first refusal on his services. As it was, they refused.
I can guarantee that the majority of Arsenal fans were watching the first Monday night fixture of the Premier League this season, not only to see how rivals Chelsea were shaping up, but to see what had become of the former Emirates favourite. He certainly turned the style on, laying on a beautifully disguised pass into the path of Andre Schurrle. At that precise moment, hearts across north London and beyond sunk – Cesc has still got it.
18 things Wenger has still never done at Arsenal
18 things Wenger has still never done at Arsenal
1/18 1. Won the Champions League

Closest he got was the 2006 Champions League final defeat by Barcelona.

Getty

2/18 2. Beaten Jose Mourinho

12 times Wenger has tried to beat the Special One, 12 times he has failed.

Getty Images

3/18 3. Broken the world transfer record

His record signing remains Mesut Ozil at £42.5m.

GETTY IMAGES

4/18 4. Retained the Premier League

Three times the Gunners have won the league under Wenger, three times they have been unable to retain it the following season.

GETTY IMAGES

5/18 5. Won the League Cup

Two finals, two loses. One to Chelsea, and one to Birmingham City. Who could forget that Obafemi Martins effort?

GETTY IMAGES

6/18 6. Sent a tweet

Many a fake Wenger account exists on Twitter, but not one by the main man himself. Managers that tweet are a rare breed. See Ronald Koeman.

REUTERS

7/18 7. Lost his unwavering faith in Abou Diaby

The midfielder may be almost-permanently injured, but Wenger has not given up hope. Wenger recently said he would convert him into a deeper lying midfielder.

Getty Images

8/18 8. Had the motivation to write a book

After former nemesis Sir Alex Ferguson released his tome last year, Wenger said: "I have no plans to write my own book, that might change. But I don't have that motivation at the moment."

Getty

9/18 9. Eaten a meal out with David Dein if Arsenal lose

Arsenal's former vice-chairman and friend of Wenger will book a table for the pair for after every Arsenal match. But if the Gunners lose he will not turn up for the reservation, Dein revealed.

Getty

10/18 10. Won a European competition

Following on from No 1, he has never won a European trophy with Arsenal (no, the Emirates Cup does not count). A UEFA Cup final in 2000 was lost to Galatasaray on penalties.

GETTY IMAGES

11/18 11. Revealed the culprit of Pizzagate

Arsenal's 49 match Premier League ended in pizza-throwing infamy after the 2-0 loss in October 2004. But who was threw pizza at Sir Alex. Wenger has always kept mum on the subject.

GETTY IMAGES

12/18 12. Publicly criticised his players for indiscipline

103 red cards for Gunners' players in the 18 years under Wenger. He "did not see" them, of course.

GETTY IMAGES

13/18 13. Been able to devise a gameplan to stop Drogba

15 goals in 15 matches for the Ivorian against Arsenal. Terrorising.

REBECCA NADEN/PA

14/18 14. Hired an assistant that was not a former Arsenal defender

Pat Rice and Steve Bould have been his trusted right-hand men during his spell.

GETTY IMAGES

15/18 15. Lost a Champions League play-off qualifier

Every time the Gunners have progressed when in the play-offs for Europe's elite competition, without losing a tie.

Getty Images

16/18 16. Finished below fourth

A few scares over the years, but fourth has always been secured.

GETTY IMAGES

17/18 17. Drastically changed his hairstyle

Slightly greyer now but the classic style remains. If it isn't broken why fix it?

GETTY IMAGES

18/18 18. Never lost an FA Cup third-round tie

The domestic competition has always started victoriously.

GETTY IMAGES
But when he walks out at Stamford Bridge this weekend, one of the most important aspects of his performance will be how he keeps check of his emotions. Fabregas might acknowledge the away section, he might choose to ignore the Arsenal support until the full-time whistle before making his way over to give them a wave, or he could turn his back on them completely. He's a Chelsea player now.
So what will the Arsenal faithful do? Their first instinct will be to boo him, after all this is a club great who has joined one of their arch rivals. But I'm going to try and convince you why you shouldn't, and furthermore why you should applaud him – at least when he walks out of the tunnel.
Mourinho said at his pre-match press conference: "Fabregas was, I don't say born, almost made at Arsenal. The feeling should be good between them. You could see the Chelsea fans with Lampard. If 40,000 Blue fans want it, nobody will listen to 3,000 Red fans."
Fabregas was allowed to leave his childhood club Barcelona at just 16 years old. That's a blow for any young aspiring player, as it confirms the club you've supported for as long as you can remember believes you can't cut it to the required standard they want. Still a teenager, he forged a new life in London, and by the age of 20 he had already played in a Champions League final against his former club as well as secured a Premier League and FA Cup under his belt.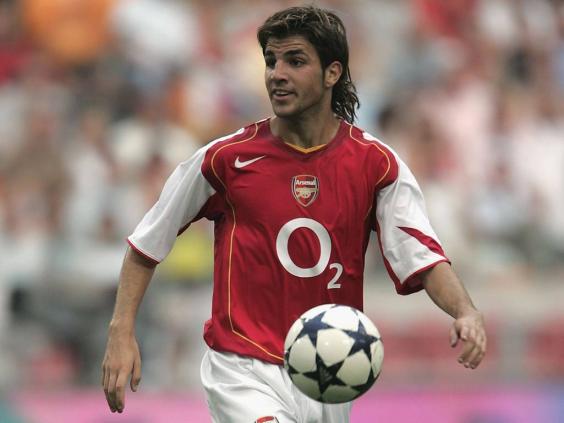 He went on to assume the captaincy after Thierry Henry left the club in 2007, and you lose count when you try to recall how many matches he changed single-handedly for the Gunners. Memories of the long-range strike against AC Milan in 2008, his superb solo effort against Tottenham in 2011 and his final Premier league goal for the club against – of all team's – Chelsea come flooding back. And what about his commitment? Just take one look at his fiercely hit penalty against Barcelona in 2010. He hit the ball against the hometown club that was already courting him with enough venom that he broke his leg. Clever? No. Memorable? You bet.
His departure was inevitable, but his failure to solidify his place among the Barcelona side was certainly a surprise. We all thought he'd be back in London should he leave Arsenal, but to join Chelsea? "Traitor!" was screamed, not from the rafters but on social media, where you must vent your football opinion before any other platform in this day and age.
Yet it was Arsenal that decided against singing him as they already had Mesut Özil and Aaron Ramsey in the similar position. Fabregas could have strengthened the side no doubt, but it would have been £30m spent on an area that does not need strengthening as much as the defence and attack – not that those areas were heavily invested in, either.
When Fabregas walks out, he'll stare at the fans that used to hold him so close to their heart. The best thing they can do is return the feeling. Fabregas had to join someone, it just happened to be Chelsea that offered the best package.
Take Lampard's example. Not only did he move to the United States only to return to Premier League champions Manchester City, he went and robbed the Blues of two points in their recent encounter. And yet the Chelsea fans stayed silent, some even applauded – I wouldn't suggest cheering a goal against your own side, but each to their own – but to boo a player who put so much into your club? That's just wrong.
Come the final whistle regardless of the result, I expect Fabregas to head over to the Arsenal fans in Lampard-esque fashion. Don't give him a reason not to.
Reuse content