Same old Arsenal, causing their downfall
Three moments decided this match, all went in Chelsea's favour and on all three occasions Arsenal were to blame. The first was the Gabriel Paulista red card. Diego Costa fouled Laurent Koscielny, chested him over then became engaged in a row with Gabriel. The defender should know better, he allowed Costa to get under his skin and reacted. It was a deserved red card, and wholly avoidable. Then for the goal Kurt Zouma - the 6ft 3in, 14 stone Kurt Zouma - was left completely unmarked at the back post.
Arsenal were a man down and defensive assignments may have changed, but you can't leave a player of Zouma's stature all alone like that. The final mistake was made by their captain, Santi Cazorla, who elected to dive in on Cesc Fabregas in a tackle that picked up a deserved second yellow card. Completely unnecessary and it only made life that much easier for the hosts.
Chelsea 2 Arsenal 0 player ratings
Chelsea 2 Arsenal 0 player ratings
1/22 Asmir Begovic, Chelsea

Saved Walcott's 28th-minute effort and provided a strong presence in goal throughout the game. 7

Getty Images

2/22 Branislav Ivanovic, Chelsea

Put in an improved showing after being rested against Maccabi Tel Aviv. The right-back was tested by Sanchez's pace regularly but often did enough to track back and stop the Arsenal winger from causing too much damage although it earned him a yellow card. 6

Getty Images

3/22 Kurt Zouma, Chelsea

The Frenchman was superb at the heart of Chelsea's defence and again, like against Maccabi, worked well with Cahill. After firing a speculative shot high in the 36th minute, Zouma scored the opener with a fine header at the near post. 8

Getty Images

4/22 Gary Cahill, Chelsea

Provided leadership at the back and was never afraid of coming out to clear his lines - indeed it was Cahill who worked well with Zouma to snuff out Sanchez's 59th-minute run as Arsenal looked for the equaliser. 8

Getty Images

5/22 Cesar Azpilicueta, Chelsea

Was never really troubled by Ramsey and looked comfortable back in his left-back position after being utilised at right-back against Maccabi. 7

Getty Images

6/22 Cesc Fabregas, Chelsea

Looked invigorated against his former side after scoring a goal in the Champions League on Wednesday, and delivered the free-kick that Zouma scored from. The midfielder also showed how important he can be in setting up attacks with a superb lofty ball to Pedro just after the half-hour mark. 7

Getty Images

7/22 Nemanja Matic, Chelsea

Protected Chelsea's back line well and provided a good defensive body in the middle of the park although he made a few sloppy passes in the match. 6

Getty Images

8/22 Oscar, Chelsea

The Brazilian enjoyed another good game from his central position and worked the lines well to help build up Chelsea's attacks. 6

Getty Images

9/22 Pedro, Chelsea

Came back into the starting line-up after recovering from a minor thigh strain and, while the winger wasn't as effective as he has been in previous outings, he tried his best to score with several shots at goal. 5

Getty Images

10/22 Eden Hazard, Chelsea

Had an early penalty appeal turned down, but the Belgian's pace gave Bellerin work to do on the left before his powerful shot in the 90th minute deflected off Chambers and into the back of the net to make it 2-0. 7

11/22 Diego Costa, Chelsea

The striker was undoubtedly the main controversial figure of the clash. While he was Chelsea's main threat up front as he regularly pulled Arsenal's defenders out of position with his runs, he should have been sent off for striking Koscielny's face and then chesting him down to the pitch after being confronted by the Frenchman. Costa later provoked Gabriel enough to see him be sent off, which turned the game around. However, put in a good showing for the home side. 6

Getty Images

12/22 Petr Cech, Arsenal

The goalkeeper looked at ease despite playing at his former stomping ground and made several saves to keep his side in the contest until Zouma scored. May feel he could have done more to try and stop the Chelsea defender's header. 6

Getty Images

13/22 Hector Bellerin, Arsenal

The right-back had a busy afternoon trying to contain the threat of Hazard but often used his speed to stop the Belgian from wreaking havoc. However, he could have given away a second-half penalty for his challenge on Costa just inside the area. 6

Getty Images

14/22 Laurent Koscielny, Arsenal

The defender lost Zouma in the build-up to the opener, but admirably did not react to Costa striking his face. 6

Getty Images

15/22 Gabriel, Arsenal

Was needlessly sent off just before the break for swinging his leg at Costa after a confrontation with the striker, which reduced Arsenal to 10 men and turned the game on its head. The defender could have done better not to react to Costa's goading but defended well otherwise. 4

Getty Images

16/22 Nacho Monreal, Arsenal

The left-back snuffed out some early Chelsea chances, first doing enough to stop Costa as he attacked and then pressurising Pedro into hesitating with only Cech to beat. But he found it harder to defend as well as he had in the first half when Arsenal went down to 10 and then nine men. 7

Getty Images

17/22 Francis Coquelin, Arsenal

Played an important role in clearing the danger just in front of Arsenal's defence in the first half but came off. 7

Getty Images

18/22 Aaron Ramsey, Arsenal

Never really troubled Azpilicueta on the right flank, and his best moment to score came when he was set up by Ozil just before the break - but he hesitated which led to Arsenal's fine counter-attack collapsing. 5

GETTY IMAGES

19/22 Santi Cazorla, Arsenal

Was shown his second yellow card of the afternoon and subsequently sent off for a reckless tackle on Fabregas in the 79th minute which reduced Arsenal to nine men after having been cautioned for an earlier foul on Pedro. 4

Getty Images

20/22 Mesut Ozil, Arsenal

Made a fine run to set up Ramsey on the counter but, other than that, could not work his way past Chelsea's stubborn defence. Was taken off in the 75th minute. 5

Getty Images

21/22 Alexis Sanchez, Arsenal

He tested Ivanovic with his pacey runs down the left flank several times during the game, but was marked well when going on the attack. Substituted in the 74th minute. 5

Getty Images

22/22 Theo Walcott, Arsenal

Wenger started the 26-year-old up front as the lone striker and although he was a threat early on – indeed he forced Begovic into a save in the 28th minute with his low shot – he could not get the better of Zouma and Cahill to score. 6

Getty Images
Cech's muted return
The Chelsea legend got a bit of a poor reception by his former supporters. Stamford Bridge was only half full when his name was called out and the stadium announcer, disappointingly, failed to give Cech the kind of build-up his long career in Blue deserved. Most probably didn't even realise his name had been called.
Once the whistle started it was all business for the keeper who looked calm and assured. He did well to anticipate a fantastic ball over the top from Fabregas and thwart Pedro and also made another decent stop in the first half from the former Barcelona winger. He was far busier as Arsenal laboured with two men less.
Terry not missed, but Cahill not the answer
The big decision by Jose Mourinho was to drop his captain John Terry, a somewhat harsh decision given the struggles of the players supposed to be offering him protection. Mourinho kept the pairing that performed well against Maccabi Tel Aviv in midweek, Gary Cahill and Kurt Zouma. Like that game in the Champions League, it was again the younger Zouma who outplayed his more experienced partner.
Zouma, of course, got the opening goal but his general play was much better than the England centre-back. Cahill is more eye-pleasing, especially in possession, where Zouma can look a bit raw and rushed, but all the problems that Theo Walcott caused in the early going came down Cahill's side. He struggled to deal with the pace and movement of the striker, whereas Zouma was able to track him better and had the speed to contain him.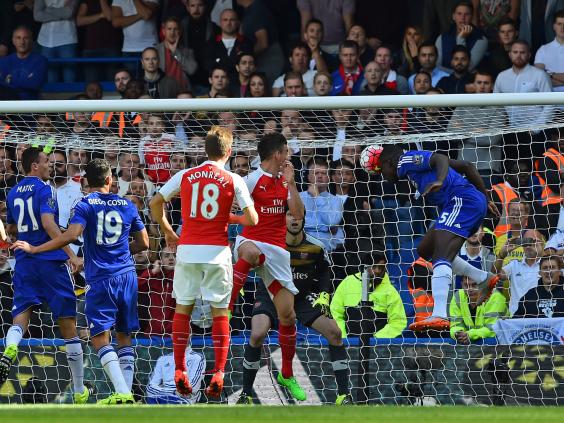 There wasn't much to do after Arsenal went down to 10 men, but Chelsea looked fine without their captain and will likely continue with this pairing, at least until their next defensive collapse (if there is one).
Ivanovic back to his best
It wasn't a surprise to see Ivanovic in the starting XI, but that made it no less nervy for Chelsea fans, or exciting for Arsenal fans, who had seen the division's best right-back crumble into a complete mess in five matches this season. With Alexis Sanchez lining up on his side the Gunners looked to attack early and often down the left and for the opening 10 minutes it worked; Ivanovic looked vulnerable.
He dived into a couple of challenges after arriving late and found himself chasing the Chilean's ghost. But as the game went on Ivanovic grew in confidence and before long he had completely nullified Sanchez. Not only that but where he had looked laboured in getting up the pitch in recent weeks he was a constant outlet on the right and actually provided some dangerous crosses for the first time this season. Much more like it. 
The garden of Eden
The reigning Player of the Year is another who has started the season badly and, unlike Cesc Fabregas, had a bit of a mixed performance against Maccabi. He started this one quietly with Pedro, Fabregas and Oscar seeing more of the ball in the opening half hour.
But Hazard eventually grew to become the game's most influential attacker. He should have been awarded a penalty when he drove at Paulista and was wrestled to the ground, and after the Gunners went down to 10 men he was all over the pitch, picking up the ball at will and getting Chelsea onto the front foot.
He may have done better after he rolled Calum Chambers and went through on goal, but finally got a deserved first goal of the season right at the end, courtesy of a heavy deflection off Chambers. Has to produce like this regularly for Chelsea to have any chance of catching Manchester City.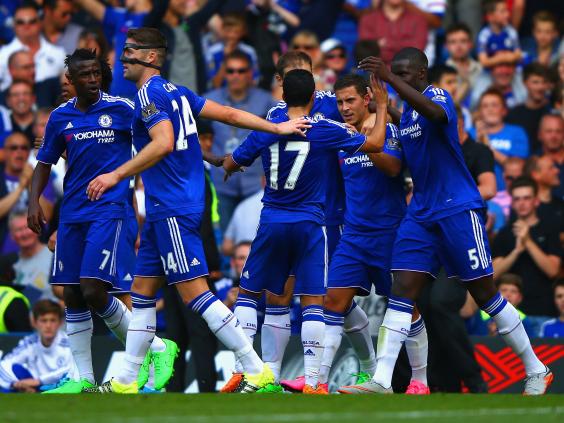 Walcott doesn't get his chance
His game was pretty much over as soon as Arsenal went down to 10 men. Walcott still has plenty of work to convince the doubters that he can be the main striker in a team with Champions League and title ambitions, but for 40 minutes it was a decent, if flawed, showing.
He caused Gary Cahill a lot of problems with his pace in the early stages and made three really intelligent runs to find space in behind the defence. The Chelsea defence eventually caught on, however, and Walcott was then caught offside each of the next three times Arsenal tried to spring him loose.
He cut a lonely figure when Arsenal sat deep after conceding and his only half-chance came entirely of his own making, picking up the ball on the left and curling one over the top. He's definitely more likely to cause problems for opponents than the immobile Olivier Giroud, but still has plenty to prove.
Matic vs Coquelin
Nemanja Matic has had a poor season so far, no one will deny that. But at Stamford Bridge, against a young contender in Francis Coquelin, who was taken off at half-time, he just about proved that he still holds the crown as the best defensive midfielder in the Premier League.
He holds one great advantage over the promising, fiery Coquelin - he is much better on the ball. Coquelin is the more athletic, a stronger tackler and, arguably, better in that role as a destroyer, but he is not on the same level as Matic with the ball at his feet. The giant Serbian can not only do all those things but he is able to carry the ball forward and start attacks of his own, as well as setting the tempo of the play with his accurate passing.
Coquelin is close, but he needs the superior Santi Cazorla and Aaron Ramsey next to him to look after the ball.
Oscar the workhorse
It was the same problem with the Brazilian, one that I've repeated time and again. Jose Mourinho picked Oscar over Juan Mata 18 months ago because the former is a willing worker, decent in the tackle and plays with high energy.
Mata, now of Manchester United, is none of those things. But what Mata has that Oscar does not is a huge amount of quality on the ball. Yes, Oscar won numerous tackles and helped his team on the bad foot when Arsenal looked threatening in the opening exchanges, but what he didn't do was provide a telling pass when it was needed; there were several opportunities for the Brazilian to play a good through ball but he couldn't manage it - his general play was sloppy as well, he completed just 78 per cent of his passes before he was taken off with 20 minutes left, fewer than any player except Diego Costa, Aaron Ramsey, Theo Walcott and Hector Bellerin.
He put in a fantastic shift but he's playing in a position where more attacking flair is needed.
The Big Ticket
Love him or loathe him, Costa is the hottest ticket in the Premier League. He's the centre of attention at all times, it's impossible to take your eyes off the striker. From a dive in the opening minutes of the game - where he asked Mike Dean to book Coquelin - to his pantomime villain theatrics that led to Gabriel Paulista being sent off, Costa was the star of the show.
On and off the ball he was an absolute menace, causing problems for the Arsenal defence with his movement from left to right, in possession he was decisive, showing neat touches and great hold up play. He continued to cause Arsenal a problem driving at the defenders, and although he didn't get a goal it was an eye-catching, if dirty, performance. 
The Independent has launched a new football app! Live scores, in-game stats, breaking news, videos and push notifications are just some of the many features. Use the links below to download and get more from Indy Football...
 iPhone
http://ind.pn/iphonefootball
 iPad
http://ind.pn/ipadfootball
 Android
http://ind.pn/androidfootball
Reuse content