Antonio Conte made it clear to Diego Costa that it would be the manager not the striker who would decide on which substitutions Chelsea would make during a game after the Italian ignored his player's request to be taken off during the 3-0 win over Leicester City here on Saturday.
Midway through the second half, with Chelsea 2-0 up, the striker, who scored the opener and was a booking away from being suspended for the league match against Manchester United, started gesticulating wildly at the bench demanding to be substituted. He was left on with Eden Hazard instead being withdrawn.
"I keep Costa on until the end because he is important for the team. He is a good personality, he is special. We need him in every moment of the game. I risk him because if he gets another yellow card he misses the next game. But he is important for the team.
"I decide every substitution. Always, I take the responsibility. I take the risk if he gets a yellow card or an injury."
Conte was a ball of energy on the sidelines, gesticulating just as wildly as Costa but for 90 minutes. He said he was so demonstrative during matches because things can change quickly in football. "I know in football you are winning 2-0 and 15 minutes later you can be 3-2 down," he said. "I always stay this way to maintain the right atmosphere for my players on the pitch. You are lucky because sometimes I can lose my voice and I can't do the press conference. One match a week is easier for me."
So was he happy not to be in Europe then? "No! I'm prepared to lose my voice to be in the Champions League."
The Italian was delighted with the performance and the shape of the team who played with three at the back. "Our football in the first half was very good," he said. "We had high intensity, with good passing between the lines, we created many chances to score. We were very aggressive with the ball. Today I'm pleased because I saw the things we were working on during the week in terms of the system.
Conte said the victory was for his midfielder Willian whose mother died this week. Both Hazard and Costa had also made supportive gestures when they scored. "I want to dedicate the performance and the win to Willy," Conte said. "It is a bad and sad moment for him and also for us because we are very close as a family."
Chelsea vs Leicester City player ratings
Chelsea vs Leicester City player ratings
1/22 Thibaut Courtois - 6 out of 10

Did not have a single shot on target to save

Getty

2/22 Cesar Azpilicueta - 6 out of 10

Untroubled in the back three yet still picked up a booking for a clumsy challenge on Musa.

Getty

3/22 David Luiz - 7 out of 10

As entertaining as ever. Nearly scored a sensational free-kick in the first half before coming close to putting through his own goal in the second.

Getty

4/22 Gary Cahill - 6 out of 10

The comfortable afternoon that the stand-in Chelsea captain so desperately needed.

Getty

5/22 Victor Moses - 7 out of 10

An unusual choice at right-wing back, he excelled in the second period as he pushed further forward. Capped the afternoon off with a fine third.

Getty

6/22 N'Golo Kante - 8 out of 10

An excellent display against his former club that only lacked a goal that he really should have bagged when faced with an open net.

Getty

7/22 Nemanja Matic - 7 out of 10

Solid in midfield, and prevalent in attack. His flick to Costa got the scoring rolling for the afternoon.

Getty

8/22 Marcos Alonso - 7 out of 10

Heavily involved down the left, and provided defensive cover on the rare opportunities that Leicester pressurised.

Getty

9/22 Pedro - 7 out of 10

Came into the side for Willian and was both inventive and energetic as part of the forward three.

Getty

10/22 Diego Costa - 8 out of 10

Linked well with Hazard throughout, scored his seventh of the season and, most impressively, kept himself out of trouble.

Getty

11/22 Eden Hazard - 8 out of 10

Clever and sharp movement in and around the penalty box, he showed wonderful composure when scoring Chelsea's second.

Getty

12/22 Kasper Schmeichel - 6 out of 10

Had little chance in keeping out the goals he conceded, but made smart stops in the second half.

Getty

13/22 Luiz Hernandez - 5 out of 10

In for Simpson at right-back, he offered little service from the flank.

Getty

14/22 Wes Morgan - 5 out of 10

Lost concentration and Costa in the build-up to Chelsea's opener, but produced an excellent block to deny Kante later in the game.

Getty

15/22 Robert Huth - 4 out of 10

A difficult afternoon in which he was booked. A lack of communication saw him culpable for Chelsea's second.

Getty

16/22 Christian Fuchs - 5 out of 10

Unable to get forward and influence attacks, he was pinned back by the movement of Hazard and Costa.

Getty

17/22 Jess Schlupp - 4 out of 10

Grew frustrated after an anonymous first half and was eventually replaced.

Getty

18/22 Danny Drinkwater - 6 out of 10

Tried all he could to get himself involved in the action, but was always up against it.

Getty

19/22 Daniel Amartey - 5 out of 10

Overran by the fluidity of Chelsea's midfield and forwards.

Getty

20/22 Marc Albrighton - 5 out of 10

A willing runner but was most often required to double up in defence.

Getty

21/22 Ahmed Musa - 5 out of 10

Flashes of blistering pace, but his final ball lacked quality.

Getty

22/22 Jamie Vardy - 5 out of 10

Another frustrating away day for the Leicester striker who received no service from his teammates.

Getty
Claudio Ranieri, whose Leicester side did not manage a shot on target, had no regrets about resting players despite his champions being so poor in the first half at Stamford Bridge.
Chelsea were 2-0 up at half-time through goals from Costa and Hazard and it could have been more with David Luiz hitting the post. Leicester, for their part, were toothless and had Copenhagen in the Champions League on Tuesday in mind.
"Yes of course we did," admitted Ranieri who started Riyad Mahrez and Islam Slimani on the bench. "The Premier League is one year long. The Champions League is two months. You want to go in the knockout stages. To achieve this you need all your players fit. I prefer to preserve my players for Tuesday night.
"I didn't recognise my players in the first half," admitted Ranieri. "I will speak to them, ask what happened, ask why. But it is better to happen now so we can react than at the end of the season."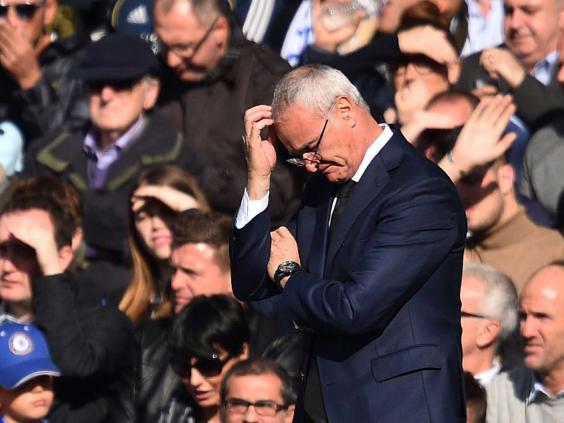 Leicester, who only lost three games last season, have now been beaten by a three-goal margin by Chelsea, Liverpool and Manchester United during this campaign. At Stamford Bridge – as they had at Old Trafford – they conceded from a corner and Ranieri admitted they must work harder at defending set-pieces.
"We made some mistakes," the Italian said. "We must be more concentrated at corners. We tried to react and the second half was much better. We have to react because on Tuesday is the Champions League. I forgot the first 45 minutes already. They played so well and we conceded everything."
Leicester were better in the second 45 minutes and could have got back into the match when Luiz put the ball against his own post. "We changed and the second half was much better," Ranieri said. "I explained the model we have to use. Maybe if we had scored when Luiz hit the post we would have been back in the match. But it wasn't true. Three-nil for them was very easy.
"Copenhagen are well organised," he added looking forward to Tuesday. "We have to react or it could be a very bad match."