On the eve of Chelsea's Champions League campaign, Jose Mourinho was fighting old battles, ferociously defending his managerial record and insisting "nobody can steal our trophies".
The Chelsea manager admitted yesterday that his team's Premier League start, of four points from five games, the worst of his managerial career, "really is so bad". But when asked whether this underlined a long-standing problem in his career, whether he was having the same third-season crisis he has had before at Chelsea and at Real Madrid, Mourinho snapped, giving a brief and rather partial history lesson before decrying the "stupid question".
"My third season in Porto, I didn't have a third season," Mourinho said. "In Inter, I didn't have a third season. My third season at Chelsea the first time [2006-07], I won the FA Cup and the Carling Cup, and I played the Champions League semi-finals. The third season in Real Madrid [2012-13] I won the Super Cup, lost the Copa del Rey final, and I went to the Champions League semi-finals. These are my third seasons."
Mourinho's third season at Real was slightly more complex than that but he was clearly affronted by the question, and he made very clear what he thought about it. "So click on Google instead of asking stupid questions," he said. "You spoke about the third season, and I'm telling you the question is stupid. I know the point is that the question is stupid."
When the direction of the questioning was changed, to ask whether Mourinho could go on to complete four seasons and beyond with Chelsea for the first time in his career, he insisted he did not have anything to prove to anyone.
"That is another question, I haven't done that," he said. "This is the first time I'm going for that, and I don't have experience of it in the past. I have nothing to show to  anyone. Nothing."
For such an ambitious, inventive, forward-looking coach, this was a rather backward-looking performance from Mourinho, who invoked the Chelsea fans' chant about being "champions of England", insisting that no one could "steal" that status from them.
"We know what we are, the same music the fans sing every game," Mourinho said. "We know what we are, champions of England. It's not because we start so bad – and it really is so bad – that somebody can steal what we are. Nobody can steal our trophies, our history. Nobody can do that. You can try, but you can't do that. We know what we are. Champions of England."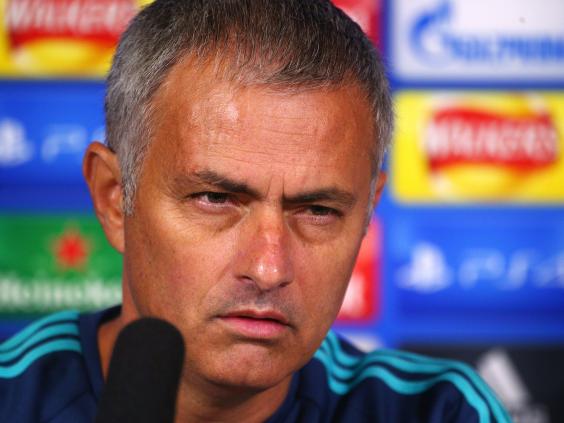 As usual, Mourinho made reference to the fact that he is criticised far more than less successful managers at other clubs, who do not have to live up to the same lofty standards he does.
"Why some managers can't be in difficult situations after five, six, 10 years and I am the current champion of England?" he said. "Why should I be in trouble? Why? I think that's a good question you don't know how to answer.
"In our case you have to go back three months. Three months we were the best team in the country, the best manager, the players. So we're not happy, but we know what we are."
Amid all of the self-justification, Mourinho tried not to give too much away about what had happened to his team who are already far off the pace in the Premier League. "We are not all smiles, laughing and joking," he said. "It is basic. When people are not getting their success that you work for, and I promise you we work a lot for that, people are frustrated and not happy."
Mourinho said that he was "working every day" for solutions to Chelsea's problems and was likely to make a few changes to tonight's team to face Maccabi Tel Aviv in search of the sharpness that has evaded them so far this season.
"I cannot be worried about what you say or write, I have to be just worried about my team and players," he said. "I will make a couple of changes because I have to try a different dynamic,
"I have to try and couple of different faces, and to give chances to people who have not been playing but have been working hard."
"There is one point that is fundamental in football for sure, and that is the confidence levels. Especially with people who are used to winning all the time. When you don't it's a strange feeling."