Fate decreed that the final seconds of Frank Lampard's career in the familiar surroundings of Stamford Bridge were spent grappling with John Terry. Once the whistle blew, the fevered synchronicity of a typical corner-kick gave way to a mutual embrace which revealed the contradictions of a schizophrenic occasion.
These were the History Boys in the equivalent of late middle age. Terry had been fallible in the build-up to Manchester City's equaliser; Lampard was restricted to a 15-minute cameo appearance on a night his former club cemented their position at the top of the Premier League. Lampard lingered, and was the last to leave the pitch. He placed his hands above his head and applauded those who remained. It was an act of genuflection which summoned images of the poster which once punctuated the walk to the stadium. It featured Lampard's profession of love for a "club which becomes you once you've played for it".
He will not be easily excised from the record books, which proclaim him as arguably Chelsea's greatest player. Only the token eccentric denied him his due. One could only wonder at the lonely hours which a middle-aged man filled with a piece of cardboard and a felt-tip pen. He paraded around the West Stand with a placard which proclaimed: "Lampard. You are not a legend any more. You are a traitor to Chelsea FC and Chelsea fans." Sad, simply sad.
The subject of his ire found the perfect perspective. "From a personal point of view it was a bit of a strange day," Lampard said. " I was a bit nervous but I was delighted with the reception from both sets of fans."
Chelsea vs Manchester City player ratings
Chelsea vs Manchester City player ratings
1/23 Thibaut Courtois - 4

Horrendous mistake for the first goal, completely mistiming his punch. Was solid in every other part of his game but matches of this magnitude are often won and lost on the small details.

2/23 Branislav Ivanovic - 6

Terrible first half performance that included three terrible errors that, fortunately for Chelsea, went unpunished. Made up for that with a brilliant pass to find Hazard for the goal and was much better after half-time.

3/23 John Terry - 7

Made one bad error when he got underneath a long ball to allow Aguero through on goal but again proved he is the best English defender out there.

4/23 Kurt Zouma - 8

Still has huge room for improvement but the 20-year-old has all the tools to become one of the very best in the world. Deserves to be keeping England's first-choice centre-back on the sidelines.

5/23 Cesar Azpilicueta - 5

Jesus Navas had the better of his compatriot all evening. Azpilicueta was beaten in a way Chelsea fans have not often seen.

6/23 Nemanja Matic - 8

Stepped up his game in the absence of Fabregas to put in a complete midfield performance. Truly great on and off the ball, the giant Serbian was the best player on the park.

7/23 Ramires - 7

Held his position well as the holding midfielder and only made the occasional burst forward, Ramires was very good but its hard to argue that the Blues missed the wizardry of Cesc Fabregas.

8/23 Willian - 5

Hassled and harried his way through the 90 minutes, Willian was excellent in the defensive and middle thirds of the field but produced little to nothing in areas where he could do damage. Set-pieces delivery was also poor.

9/23 Oscar - 6

Another who failed to produce in the final third, Oscar played deeper than he has done for the most part this season which blunted his effectiveness

10/23 Eden Hazard - 6

Brilliant in the first 45, causing all sorts of problems for Bacary Sagna but was extremely quiet after the break as City closed off the space around the dangerous Belgian.

11/23 Loic Remy - 7

Was brilliant in the lone striker role, holding the ball up well to bring his team-mates into the game. Great movement to find space for the goal, it was a shame for Chelsea that the trio behind him starved the striker of service.

12/23 Joe Hart - 6

Nothing he could do about the goal and was hardly tested otherwise by the home side. Looked reasonably solid throughout, bar one dodgy kick.

13/23 Bacary Sagna - 6

Struggled in the first half against Hazard but grew into it as it went on, to snuff out the Hazard threat. Combined excellently with Jesus Navas. Lost Hazard for the goal.

14/23 Vincent Kompany - 7

Defender manfully, though he wasn't always the most comfrotable in possession. In truth, Chelsea didn't offer much threat.

15/23 Martin Demichelis - 7

Had an excellent match but went to sleep to allow Loic Remy to steal into yards of space for the goal.

16/23 Gael Clichy - 8

Didn't put a foot wrong on the left and never gave Willian the chance to do anything of note in the final third. Offered a good outlet going forward as well.

17/23 Fernandinho - 7

Was one of the best City performers with a display full of energy and purpose. Pushed the visitors forward, passed well and was not averse to stopping Chelsea by any means necessary.

18/23 Fernando - 7

Gave Matic as good as he got in midfield and provided the City defence with superb cover throughout the game.

19/23 Jesus Navas - 7

Gave Cesar Azpilicueta the hardest game he's played all season but for all the occasions he beat his opposite number he failed to deliver that telling ball.

20/23 James Milner - 7

Barely troubled Ivanovic as an attacking force but you can't downplay his importance to the City cause as a worker and defender.

Getty

21/23 David Silva - 7

Was not able to offer his usual craft when in possession as he was well marshalled by Matic and Ramires, but got an absolutely vital touch to turn Aguero's shot past Ivanovic.

22/23 Sergio Aguero - 5

Five games since returning from injury and the usually lethal striker is misfiring. Latched on to a Terry mistake to race through on goal for a chance that a pre-injury Aguero would have tucked away - he fired wide.

23/23 Frank Lampard - 5

The stage looked set for another Lampard goal against his former club but it was not to be. Given a great ovation at the end from his former supporters.

Getty Images
Everyone knew the subtext of Jose Mourinho's decision to indulge in one of those strangely eloquent silences, which scream different things to different audiences. Referees, FA blazers, TV pundits, armchair critics and laptop moralists were all supposedly excoriated by his reticence.
He remained uncommunicative, safe in the knowledge his primary aim, recreating the siege mentality with which he is so comfortable, was easily achieved. He turned a disconcerting majority of Chelsea fans into Pavlovian dogs of war. Goaded and castigated for a lack of support at strategic moments this season, they were finally praised. "We are a team," Mourinho said through his favoured medium,  the programme notes.  "I love these players.  I love this club."
Unsurprisingly, they responded to his unspoken invitation to celebrate the club's outlaw status. Stamford Bridge was emotional charged. The wit and wisdom of the brain surgeons in the Matthew Harding Stand could be distilled in a single word, starting with the letter "c".
It was directed towards Jamie Redknapp in the Sky studio, yet it was pantomimic rather than threatening. The bile of Liverpool's visit in midweek was diluted. There was none of the venom of a London derby against Tottenham, or against City's neighbours, United. City are just mildly irritating. The ritual abuse signalled the importance of the occasion rather than the nature of the competition.
The Premier League may be marginally off the pace in terms of the Champions League, but a record 26 broadcasters were at the Bridge to record the latest episode of a soap opera that links Azerbaijan to Zimbabwe. The estimated global audience, 650 million, will dwarf the 160m for Sunday night's Super Bowl.
All eyes were on Mourinho, whose midweek clash with Brendan Rodgers signalled the end of a fine bromance. Since Manuel Pellegrini has an absurdly high boiling point, he was never going to be a willing dance partner in the technical areas. They shook hands sharply, and kept their distance.
The Chelsea manager was hyperactive, yet referee Mark Clattenburg, outstanding throughout, was measured in his tolerance. Mourinho's mood shifted with the rhythms of an intense match shaped by the failings of the two captains. Vincent Kompany seemed at times questionably cautious, Terry was similarly guilty.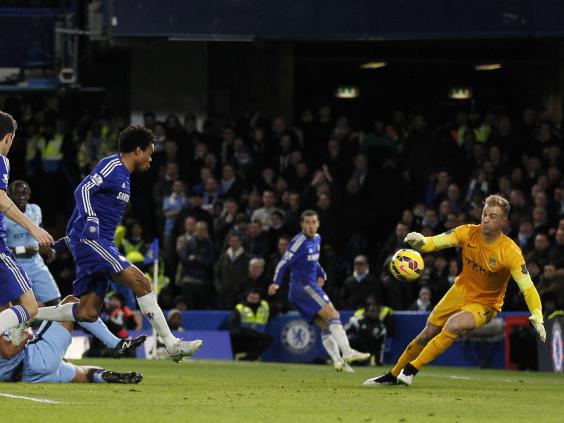 The Homecoming, promoted as a feelgood movie for our age, will win few awards. The plot was strong, but the dramatic content was minimal. Lampard, though, left them wanting more. On occasions such as this, that is not a bad strategy.
Reuse content