It might seem a strange thing to say about the team who are five points clear at the top of the Premier League but Chelsea might well set up as the away team in the big game against Manchester City.
I say that because of the players they are likely to have missing: the suspended Diego Costa and Cesc Fabregas.
One of the reasons Chelsea have done so well this season is the presence of Nemanja Matic alongside Fabregas, giving protection to John Terry and Gary Cahill but also allowing Fabregas to go forward. It has meant that Chelsea have not had to worry defensively about the Spaniard's excursions. Their manager, Jose Mourinho, must decide whether to bring in a more defence-minded player in place of Fabregas – like John Obi Mikel or Ramires – and operate on the basis that what you have you hold, as Chelsea did so effectively at Stoke and Liverpool. Or he must bring in a player with the same attacking ambition as Fabregas.
With Costa's suspension meaning Didier Drogba or Loïc Rémy is likely to come in, I would say make the defensive shield stronger than usual and go long to Drogba. Make it more an even ratio than usual between defensive and attacking players. Make it five of one and five of the other.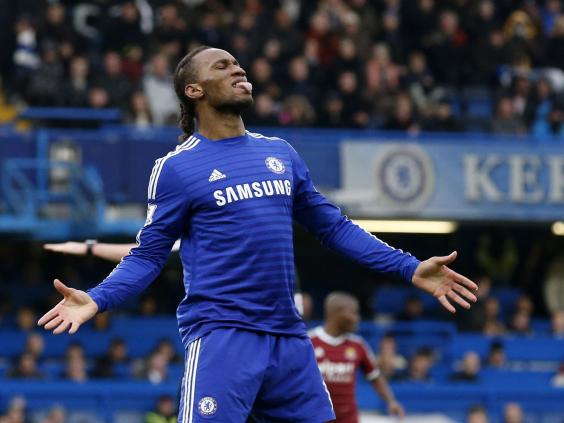 I believe the complexion of the league table means Chelsea would be happy with a draw from the game, especially with those two big components missing from the spine of their team. That lends extra argument for a more defensive set-up. But I think another reason to play that more cautious way is the frustration we repeatedly see from City when they are not allowed to create in the central areas.
Analyse two of their most disappointing defeats this season – the FA Cup and League Cup exits to Newcastle and Middlesbrough – and we can see that frustrating their attempts to weave moves in those central areas in the final third is a good way of dealing with them.
Chelsea, meanwhile, have the ability and drive to exploit the wide areas. While Matic and Mikel, sitting deep, like to venture out wide to track runs, we often see a City vulnerability down the flanks because their own full-backs like to venture upfield at the same time. In the FA Cup last week, Middlesbrough's wingers Albert Adomah and Patrick Bamford tracked the City full-backs but when there was a turnover in possession they didn't even look at the ball. They just tore off at pace into the wide areas vacated by City's full-backs, to capitalise on the space created behind them, with City's central defenders isolated.
There will be a lot of talk about Frank Lampard today and he will be the impact player, I'm sure. He is still one of the best when it comes to arriving in the box. We saw that when he scored the late equaliser in these two teams' game at the Etihad. But if you have got Matic and Mikel, or Ramires, sitting there, you would back them to track runs like his.
Perhaps City's manager, Manuel Pellegrini, has something up his sleeve but we probably know how his team can be challenged. Having Yaya Touré playing in the African Cup of Nations doesn't help. For Chelsea, setting up and playing like the away team is far more than a defensive strategy. They can prosper from it.
Reuse content