The last time Tottenham Hotspur went to Stamford Bridge they lost their lead, the title and their heads. They arrived still chasing Leicester City, and even went 2-0 up, but by the end of the night it was Jamie Vardy who was having the party.
That evening still feels like a turning point. Spurs have won seven out of 20 Premier League and Champions League games since. They look a long way from the team that was the best in the country for most of last season. All that old rhythm and power is gone.
But Spurs go back to Stamford Bridge with very little sense of bitterness or regret. Mauricio Pochettino admits he made a "mistake" that night by going on the pitch. Him and Chelsea assistant Steve Holland have apologised to each other for their teams' behaviour. But Pochettino bears no grudges, not even at the provocation his players fell for.
For Pochettino, emotion and confrontation are part of football. His players went too far that night but for him that is better than not going far enough. There was no great public apology, no retreat and certainly no disavowal. As Pochettino admitted himself, when it was all kicking off he started to wish he was still out there.
Pochettino's one real involvement was to go onto the pitch to break up a fight between Danny Rose and Willian, for which he did express regret. "It was a mistake, yes, I cannot go onto the pitch," he admitted. "But in that moment, I was involved in the game, and forgot."
That was the extent of Pochettino's public regret. In private, him and Steve Holland have apologised to each other, when they met at the Spurs training ground last month to discuss Spurs' players' roles in the England set-up Holland is now part of. "We apologised to each other," Pochettino explained. "I think we all behaved badly in that moment. Because we believed something about them, they believed something about us, there was too much stress."
Pochettino could have blamed Chelsea's players for provoking his own, but he did not. There was no bitterness and no rancour towards them. For Pochettino, it is all part of the game. "The provocation was not the only problem," he said, looking back on what went wrong. "For different reasons, we arrived at that game in a very sensitive moment. We were very aggressive in all that was happening."
In truth, Pochettino knows that the title was lost when Spurs blew their lead against West Bromwich Albion, if not before that. "We didn't lose the possibility to lose the league against Chelsea, I think it was before," he reflected. "Against West Brom, or from before that. Or at the beginning of the season, when we conceded a lot of draws. We cannot blame the game against one team."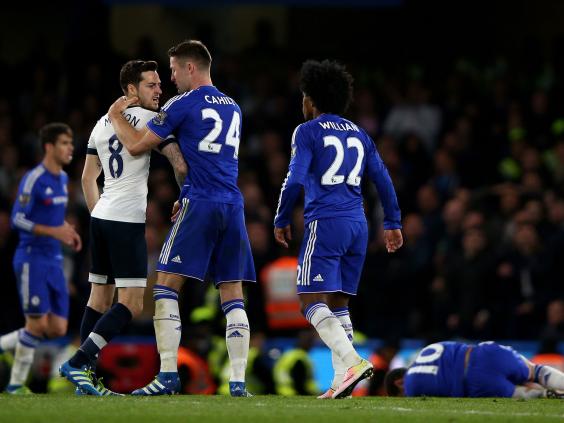 This is why Pochettino said that the whole context of that night explains why his players acted the way that they did. Pochettino is fiercely loyal to them and he was not going to throw them under the bus. "It was a very special moment," he said. "Out of context, we can say 'why did Tottenham behave like this?' But with all the context, it was normal."
That ultimately explains how Pochettino feels about that night. Football is meant to be emotional, and channelling emotion has always been at the heart of Pochettino's work. It is all part of the game, which is why Pochettino said him and Holland understood as only "football people" can.
Pochettino is not against violence in football. How could he be, after the playing career that he had? The real problem he had with the battle of Stamford Bridge was the fall-out, not what went on the pitch. For Pochettino, it is all part of the modern need for everything to be watched, recorded and measured, with all of the infringements that entails.
"I was just telling Eric Dier how different football was 20 years ago," he said. "I used to watch the ball and watch the opponent, because maybe you would receive a kick or punch. There were not too many cameras to get suspended, like now. I felt more freedom, and so there was not so much consequence. Before, you could make a lot of mistakes as a player. Today, every action, you are in the spotlight. It is too difficult to show your real emotion. You need to have more control, and it is difficult."
Reuse content