I am very much looking forward to see Chelsea take on Tottenham at Stamford Bridge. That 2-2 draw in May was the best game I saw in the Premier League last season and if this one is half as good as that we will be in for a treat.
It has been remarkable how good Chelsea have been recently, cantering away from opponents and never giving them a look-in. Their 4-0 win against Manchester United and 5-0 against Everton were two of the top performances of the Premier League season so far. With their 3-4-3 system they can absolutely dominate opponents, taking the ball away from them, never giving it back, getting all over them from the start. Antonio Conte has been playing this way for two months now and no opponent has yet figured it out.
But I do think there could be a way for Spurs to get at Chelsea this Saturday. The vulnerable men in the 3-4-3 are the two wider centre-backs, Cesar Azpilicueta and Gary Cahill, and the way to play against that system is with two strikers.
Spurs need to drag them out into the wider areas and try to get in behind them. Azpilicueta is a natural full-back so would not have too many problems. But Cahill is not a left-back and he does not want to have to go out there. He is the man that Spurs should try to target.
That is why I think Spurs' most important player could be Son Heung-min. I know he had a difficult night in Monaco on Tuesday but he makes fantastic runs into the channels and has genuine pace. If he run into that left-back area, between Cahill and left wing-back Marcos Alonso, that probably represents Spurs' best chance.
Of course, it is going to be a very difficult game for Tottenham. They are not looking like the same team they were last year. I think that moving their European games from White Hart Lane to Wembley has hit them, and cost them valuable momentum. But they are also leaky at the back and dreadfully missing Toby Alderweireld. Even with Jan Vertonghen and Kyle Walker coming back in, the Spurs defence will have a difficult time up against Eden Hazard and Diego Costa.
Middlesbrough vs Chelsea player ratings
Middlesbrough vs Chelsea player ratings
1/22 Middlesbrough: Victor Valdes - 7 out of 10 out of 10

He made a number of crucial saves throughout, and in regard to the goal, he was left helpless following a defensive error. It was a good performance from him today.

2/22 Antonio Barragan - 6 out of 10

Looked very promising from the start, with his diagonal through balls causing problems for the Chelsea defence.

3/22 Calum Chambers – 7 out of 10

Made a number of vital clearances that saved his side at times, looked strong in his tackles and worked well from the back out.

4/22 Ben Gibson - 5 out of 10

It was a mediocre performance from Gibson today. He worked hard, but was wasteful in possession at times.

5/22 Fabio - 5 out of 10

There was a feeling of confidence about his performance today, and it showed in his movement and passing. However, he was going missing at times.

6/22 Adama Traore - 7 out of 10

His pace caused Chelsea problems when he charged at them. He's a powerful player with an eye for attacking and this should have been used to more of an advantage for Boro.

7/22 Adam Forshaw - 6 out of 10

His work rate was faultless today and he really appeared to find his feet as the game progressed.

8/22 Adam Clayton – 5 out of 10

He showed glimpses of brilliance when on possession, but was quiet for the majority.

9/22 Marten De Roon - 6 out of 10

He was a battler throughout and used possession well. However, he was clumsy in a few of his tackles which was unnecessary. 6 out of 10.

10/22 Gaston Ramirez - 6 out of 10

He was a key element to the Middlesbrough attack, but aside from this he was persistently giving away fouls.

11/22 Alvaro Negredo – 5 out of 10

Aside from his late chance which tested Courtois, it was a relatively quiet performance by a man of such high standards.

12/22 Chelsea: Thibaut Courtois – 6 out of 10

He had very little to do today, except one late strike from Negredo.

13/22 Cesar Azpilicueta – 5 out of 10

Looked dangerous going forward, but gave away a number of silly fouls.

14/22 David Luiz – 6 out of 10

He was very physically strong today and done well in the air.

15/22 Gary Cahill – 6 out of 10

It was a classic Cahill performance today. Played well, tackled well and used possession well from the back.

16/22 Victor Moses – 8 out of 10

His impact on the team is phenomenal. He's quick, clever on the ball and an absolute powerhouse – great game for him today.

17/22 N'Golo Kante – 7 out of 10

He worked well with Moses, creating numerous chances and deliveries into the danger zones.

18/22 Nemanja Matic – 6 out of 10

He was at the heart of a number of Chelsea attacks today. His passing was faultless, but was caught out of position occasionally.

19/22 Marcos Alonso – 6 out of 10

Made a few bad decisions when in possession, but aside from that he worked well today and created a few chances.

20/22 Pedro – 7 out of 10

His work rate was faultless and he came very close to getting himself on the scoresheet, only to be denied by the crossbar.

21/22 Diego Costa – 8 out of 10

His goal was an example of his true poaching nature as he pounces on the first Boro mistake. Great performance all round from him today.

22/22 Eden Hazard – 7 out of 10

He created a number of chances throughout and was a key element to the Chelsea strikeforce.
The beauty of Chelsea's 3-4-3 is that it allows Eden to play closer to Diego without having to do too much defensive work. Eden has been breathtaking recently while Diego looks just as good as he did in his first season at the Bridge. That is a testament to Antonio's communication skills, telling Diego exactly what he expects from him and how well he is doing.
Chelsea have great strength in depth – with John Terry, Branislav Ivanovic, Oscar, Willian and Jon Obi Mikel all out of the side at the minute. But for me Diego Costa is the one man they cannot do without. If he is injured then Chelsea could struggle. But if not, they have a very serious shot at the title.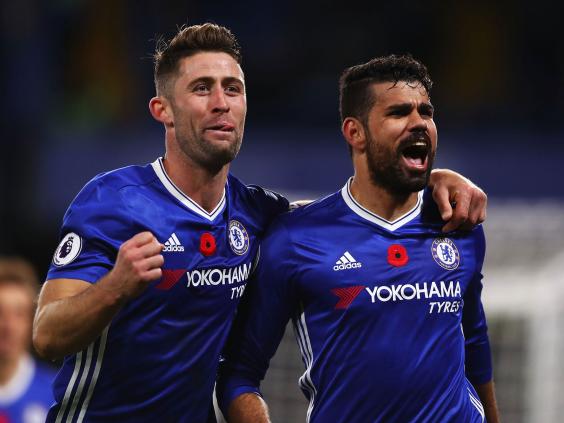 Toure can raise City intensity after Guardiola lifeline
Pep Guardiola must know by now the difference between the Premier League and European football, and if he thinks that Manchester City can play at Burnley like they did at Borussia Monchengladbach then they will be in serious trouble.
I watched Manchester City on Wednesday night against Borussia Monchengladbach and I must say I thought City were very average.
City were playing against clearly inferior opposition. Monchengladbach are in 13th place in the Bundesliga and the reality is that the majority of English fans would not have been familiar with their players.
But in games like that the better team has a responsibility to go out and batter the opposition. That is what makes you a good team. That is what being a good team is all about. But City really struggled to get past Monchengladbach. They could not beat them and they found it difficult to contain them too. It became a very uncomfortable evening for Pep Guardiola's men.
I know that City played their 3-4-3 formation but I don't think the formation was the problem. It was more to do with the wrong attitude from the players. They did not bring the right intensity or approach with them. They thought it was going to be easy, which made it harder than it should have been. They got themselves complacent and started to take liberties.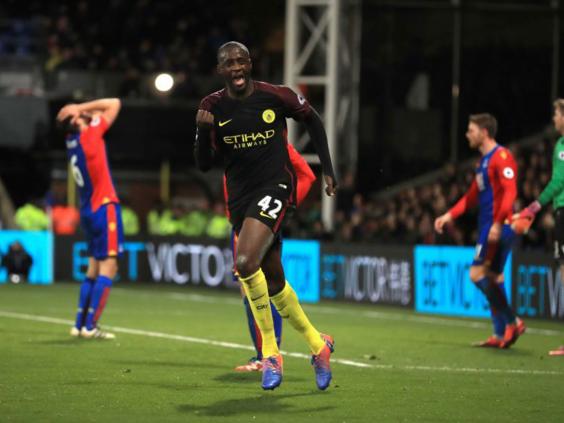 Burnley will not allow them to do that at Turf Moor on Saturday lunchtime. They need a totally different mental approach, because Burnley will make that game a real 90 minute fight. They work so hard, they have tremendous energy and they always get the ball forward early. Sam Vokes has been a genuine threat.
This means that City will have to be up for this game, far more than they were in Germany in midweek. But if they have one advantage it is the return of Yaya Toure, who is not part of their Champions League squad.
We saw last Saturday at Selhurst Park how influential Yaya can still be, now that he has got back into shape and rediscovered his zest for the game. Having Yaya back in the team is like having a new £35m signing. He has given City an enormous boost and his experience and quality could be crucial on difficult away games like that.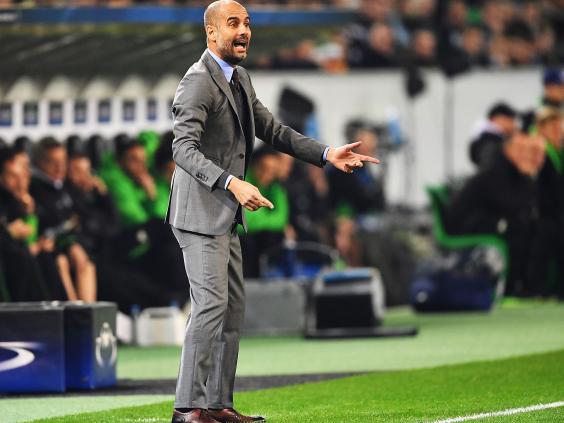 It was obvious how thrilled his team-mates were to have Yaya back last Saturday, you could see how they celebrated his two goals. I think he can be a regular starter from here, and get back into Pep's Champions League squad. He could do with helping City to another win on Saturday.
Reuse content