Chelsea edged past London rivals Watford on Monday night to keep their title celebrations going.
Goals from John Terry, Cesar Azpilicueta, Michy Batshuayi and Cesc Fabregas sealed a 4-3 win for the Blues but the home side were pushed to the edge by the Hornets.
Walter Mazzarri's men drew level with their opponents on two occasions, with Etienne Capoue, Daryl Janmaat and Stefano Okaka all striking to keep Watford's hopes of an upset alive.
It wasn't to be, though, with Fabregas' late goal handing Chelsea victory.
Here's five things we learned
Conte turns his attention to the double
Antonio Conte made nine changes to the side that secured the Premier League title at West Brom on Friday night, with the Italian now turning his attention to the FA Cup final. It's been a long old slog for Chelsea on the road to success – not that this has stopped the side from claiming their sixth English title. Nonetheless, prior to Monday's game Chelsea had used the joint-lowest amount of players in the top flight while Conte made the least amount of changes to his starting XI throughout the season. His decision to rest a number of key players, then, made complete sense as Chelsea look to recharge their batteries ahead of the final at Wembley later this month.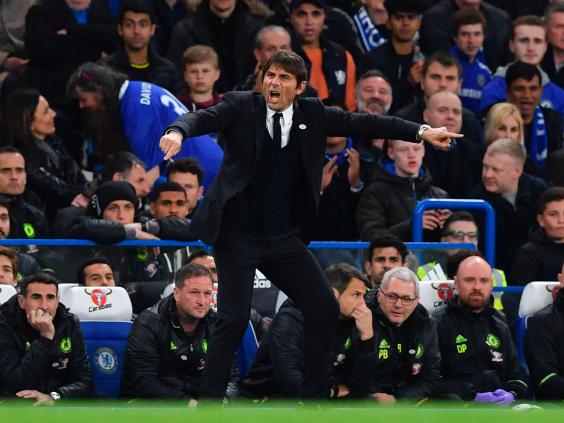 Chelsea take their foot off the peddle
Chelsea's superiority in terms of quality and individual class was clear to see on Monday evening as the likes of Eden Hazard and Willian set about terrorising the visitors. Even with nine changes to the side, the Blues were ultimately the better side and saw out victory to keep the title celebrations going.
Nonetheless, the champions were guilty of taking their foot off the peddle. Watford were thrice let back into the game, striking shortly in the wake of Terry and Batshuayi's goals, with Okaka drawing the visitors level for a second time in the 73rd minute. On all three occasions a lapse in concentration, partnered with something resembling complacency, enabled Watford to pull back.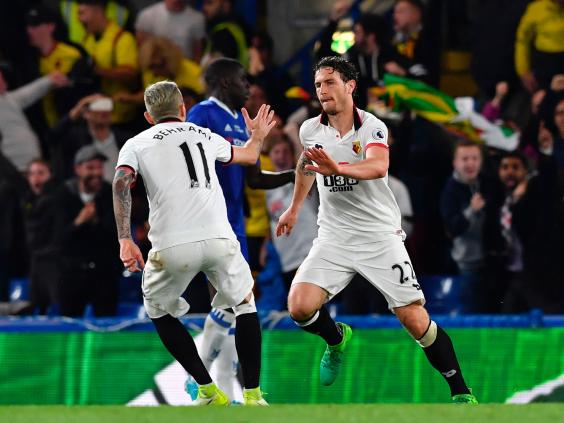 Janmaat's goal was particularly impressive. After pouncing on Kurt Zouma's sloppy past, the Dutchman embarked on a superb slalom run before finding the bottom right-hand corner with a brilliant curled effort. From there the visitors clawed their way back into the game, enjoying a greater share of possession to create chances and push Chelsea back into their own final third. This pressure paid off in the form of Okaka's goal and Watford's third. Although Chelsea held out for the win, the meticulous Conte won't have been happy with this close call.
Plenty of positives in defeat for Watford
Watford's recent run of poor form, which has seen them lose four consecutive matches and drop down the table, has prompted talk that Mazzarri will be parting ways with Watford in the summer. The manager and his side have been at a crossroads and headed into Monday's clash in desperate need of a convincing performance.
They may have taken a while to warm up but Watford by all means responded to their manager's demands to go in hard against the Blues.  After Capoue's equaliser, the Hornets looked far more purposeful on the ball and played with a desire that has been missing in recent weeks. Even after Batshuayi's goal, the visitors continued to push on and were rewarded for their efforts with Okaka's close-range strike to draw the score level at 3-3. Capitalising on their opponent's sloppy mistakes, and lack of coherence at the back, Watford pushed Chelsea all the way up until Fabregas' late winner in the 88th. A defeat but one from which plenty of positives can be taken from at a difficult time.
The tale of two Terrys
 "Captain, leader, legend," reads the banner displayed at the Bridge week after week. In light of all that Terry has achieved at the club, there's no doubting that the defender will go down in Chelsea history as one of the greats.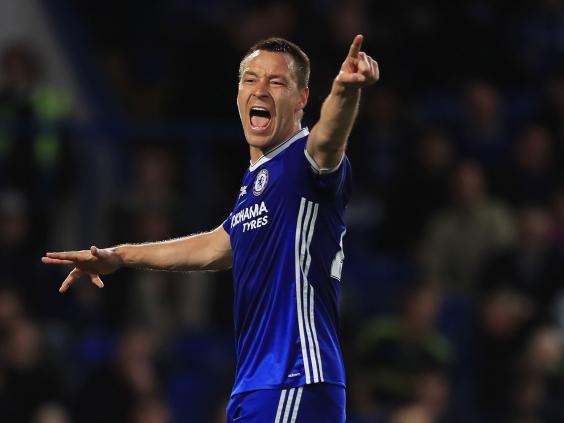 Having been included in the starting XI for the first time since September, Terry's night got even better after he scrambled in Chelsea's opener following a corner in the 22nd minute. But when has football ever followed a pre-determined script? After playing himself into the squad, the captain shortly played himself back out of it after providing Capoue with the assist to draw Watford level. Stamford Bridge fell quiet at what it had just witnessed. Managing just 10 touches in the opening half hour, there was certainly a sharpness missing from his game. Love him or loathe him, Terry certainly knows how to keep himself relevant.
Deeney's Watford days numbered?
Troy Deeney's time at the club looks to be coming to an end, as the captain was once again left out of Mazzarri's starting XI. It's understood the pair have not always seen eye to eye this season and the latest reports are now linking Deeney with a move away to West Brom in the summer. As one of Watford's key players, his fractious relationship with Mazzarri has served as a detriment to the side who have missed his hard-working ethic and passion on those occasions when he has been left out. His exclusion from Monday's clash could be the straw that breaks the camel's back and pushes Deeney out of Vicarage Road.
Reuse content