It does not matter how well Manchester City and Tottenham are playing, if Chelsea keep on like this there will be no title race. Antonio Conte's side cruised to another win tonight, a 2-1 dispatching of West Ham United which showcased everything that is going to make them the Premier League champions of 2016-17.
This was not quite a complete performance, it was tainted by conceding a consolation goal to Manuel Lanzini with the last action of the match. That made the score 2-1 but that is no reflection on the balance of play in a game that Chelsea dominated and controlled. Much like most of their away wins this year, Chelsea always had this game exactly where they wanted it.
West Ham vs Chelsea player ratings
West Ham vs Chelsea player ratings
1/22 Darren Randolph – 7 out of 10

Not at fault for either of Chelsea's two goals. Made a superb reaction save in the second-half to deny Diego Costa from point blank range.

Getty Images

2/22 Cheikhou Kouyate – 4 out of 10

Shifted into defence so as to accommodate Noble. He committed more fouls in the first-half than Chelsea did as an entire team, which rather sums his performance up.

AFP/Getty Images

3/22 Winston Reid – 6 out of 10

Made two crucial first-half interceptions and proved more solid than the decidedly erratic Jose Fonte.

Getty Images

4/22 Jose Fonte – 4 out of 10

The winter signing struggled against Chelsea's pace and made two first-half howlers: first doing too much on the ball and dribbling into trouble, then suffering the indignity of an air-kick as he went to boot the ball away from Pedro. Spurned two good goal-scoring opportunities in the second-half.

West Ham United via Getty Images

5/22 Aaron Cresswell – 6 out of 10

One of West Ham's better players and overlapped nicely with Snodgrass down the left. Their partnership shows promise. Put some good balls into the box for Carroll to contest but exposed defensively by Hazard. .

Getty Images

6/22 Mark Noble – 5 out of 10

Struggled. The West Ham captain is too frequently overran in the big games. Lacked the pace to compete with Chelsea's scampering midfield and offered little going forward.

West Ham United via Getty Images

7/22 Pedro Obiang – 6 out of 10

One of West Ham's better players but he won't want to see Chelsea's second goal again: a Cesc Fabregas corner skimming off the top of his head and into the path of Diego Costa for the easiest of close-range finishes.

AFP/Getty Images

8/22 Sofiane Feghouli – 6 out of 10

Started the game impressively and initially looked to have Alonso's number, showing promise in the final third. But faded as the game went on.

West Ham United via Getty Images

9/22 Manuel Lanzini – 7 out of 10

Took his late goal very well, firing past Courtois after being played in by Ayew. A talented, but ultimately limited to a role on the periphery tonight.

West Ham United via Getty Images

10/22 Robert Snodgrass – 6 out of 10

Made some impressive darting runs behind Victor Moses and worked nicely with Cresswell but will be disappointed he didn't stretch the Chelsea defence more.

West Ham United via Getty Images

11/22 Andy Carroll – 6 out of 10

A hard-working performance but Carroll, rushed back from injury for this game, never looked a threat unless the ball was in the air. Even then, he was well dealt with by Cahill and David Luiz.

West Ham United via Getty Images

12/22 Thibaut Courtois – 7 out of 10

Rarely called into action but did well against the aerial threat of Andy Carroll. Made a fine save to keep Jose Fonte out.

Getty Images

13/22 Cesar Azpilicueta – 6 out of 10

The Spaniard had been identified as a potential weak link before the match but was rarely troubled.

West Ham United via Getty Images

14/22 Gary Cahill – 7 out of 10

Another solid performance from Chelsea's skipper. Won an impressive 5 aerial battles and made two significant interceptions.

West Ham United via Getty Images

15/22 David Luiz – 7 out of 10

Looked confident playing alongside Cahill and also dealt with Carroll well, frequently drifting into Azpilicueta's territory to ensure the forward didn't isolate his smaller team-mate.

West Ham United via Getty Images

16/22 Victor Moses – 6 out of 10

The wing-back — a revelation this season — has looked a little tired in recent weeks and was again below-par for the league leaders. It may be time for Antonio Conte to give him a brief rest.

Getty Images

17/22 N'Golo Kante – 7 out of 10

Not the Frenchman's finest performance but he was still a menace in the middle of the park, winning four tackles and joining the counter attack whenever possible.

West Ham United via Getty Images

18/22 Cesc Fabregas – 7 out of 10

Another encouraging performance from the midfielder which suggests he has truly revolutionised his game under Antonio Conte. No player ran further and his through-balls proved a constant threat.

West Ham United via Getty Images

19/22 Marcos Alonso – 7 out of 10

Restricted to just the one barnstorming run forward this week. Feghouli made a bright start down his flank but Alonso quickly recovered and kept him quiet for the rest of the evening.

Getty Images

20/22 Pedro – 7 out of 10

Looked very dangerous on the counter-attack and combined well with Eden Hazard. Should have done better with a first-half chance though, which was deflected clear by Obiang.

Getty Images

21/22 Eden Hazard – 9 out of 10

Brilliant against Swansea last week and tonight he was once again Chelsea's most dangerous player. Took his goal with confidence and was a frequent menace on the counter-attack.

West Ham United via Getty Images

22/22 Diego Costa – 7 out of 10

An almost anonymous first-half during which he only touched the ball 24 times, but what does that matter when he got his name onto the scoresheet? A poacher's finish but they all count.

AFP/Getty Images
Before conceding to Lanzini in stoppage time, Chelsea had disdainfully held off West Ham's powerful but predictable attacking pressure. With Andy Carroll up front, West Ham just slung crosses into the box at him all evening. Against other opponents it might have worked and there was a theory going into this game that if Chelsea had a weakness, it was in the air. But Gary Cahill and David Luiz won every header and at no point did West Ham look like they were going to break through.
Back in October West Ham overpowered Chelsea here in the League Cup, producing one of the few memorable nights this new stadium has seen so far. That was a different Chelsea team, one still finding its feet, and here the difference in class between the two sides meant that this never got off the ground as a contest.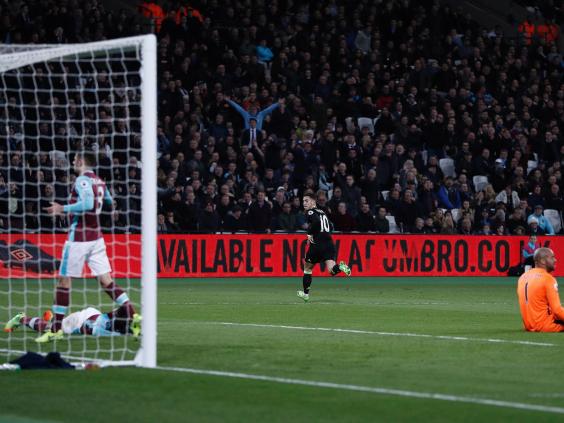 West Ham often had more possession and territory than Chelsea but since when did that ever bother Antonio Conte? This was a perfect display of counter-attacking efficiency and cutting edge. Chelsea scored their first with a brilliant one-touch break half-way through the first half. They added their second from a set-piece five minutes after half-time and that was the end of the game.
Even though Lanzini scored in added time, that does not detract from the fact that the second half was an exercise in control. Chelsea and Conte both know about seeing out titles even if this is the first time they have done it in each other's company. There was never any doubt about the destination of the three points.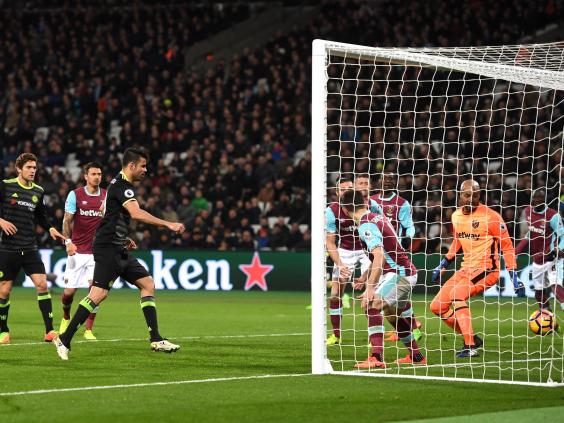 Those points move Chelsea 10 points clear of Spurs and 11 points ahead of City, who do have an extra game to play. But City and Spurs could win every remaining match this season and still not bother the engravers. This Chelsea team is a machine and looks very capable of hitting the 92-point target Conte has set for them. That would make them the second-best team in Premier League history, behind Jose Mourinho's first Chelsea side, and that does not feel like excessive praise.
Chelsea spent the first 20 minutes defending crosses but once it was clear they could do that they were under no real pressure. They did not get into the game but that did not matter. This is a deadly counter-attacking team and it only took one break for them to take the lead. West Ham sent too many men forward for a free-kick and when it came back to Mark Noble he lazily passed straight to N'Golo Kante instead of Robert Snodgrass.
Chelsea exploded up the pitch: Kante  found Hazard, breaking through the middle. He passed to Pedro, who first-timed the ball back into Hazard's path. His first touch wrong-footed Darren Randolph, then he slotted the ball into the net. London Stadium stewards were then called into action as a home supporter jumped the advertising hoarding to confront Hazard, but he was stopped before he could make his way to the Chelsea players and later arrested.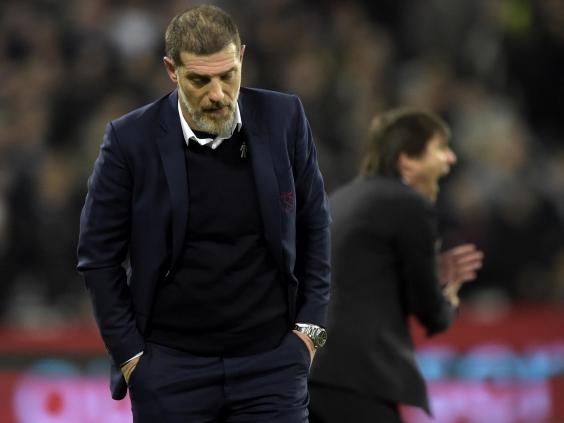 They nearly scored with their second attack too, another Hazard break. His pass was just behind Diego Costa, and it took Aaron Cresswell to block from Moses and Randolph to save from Pedro before the danger was cleared.
West Ham needed to improve after the break but in reality they gifted Chelsea a second goal, with a sloppiness that characterised the difference between the two teams. West Ham have a habit of making unforced errors that would make a serious team blush and it cost them again here.
First they gave away a corner which Cesc Fabregas clipped into the box. Pedro Obiang touched the ball on at the near post and it flew across goal to Costa, inexplicably unmarked, drifting away from Winston Reid.. He just had to cushion the ball into the goal off his thigh before Reid and Robert Snodgrass, on the line, realised what was happening.
That lead was enough for Conte and he went into lock-down mode, switching to a 5-3-2 system and bringing on Nemanja Matic, Kurt Zouma and Willian. They nearly closed out the win in classic Mourinho-era fashion until, in the 92nd minute, Lanzini skipped into the box and beat Thibaut Courtois with a low shot. His goal desperately flattered West Ham and while it may have spoiled Courtois' night, it will not spoil Chelsea's season.
West Ham (4-2-3-1) Randolph; Kouyate, Fonte, Reid (Byram, 64), Cresswell; Noble (Fernandes, 77), Obiang; Feghouli (Ayew, 64), Lanzini, Snodgrass; Carroll
Chelsea (3-4-3) Courtois; Azpilicueta, Luiz, Cahill; Moses (Zouma, 76), Kante, Fabregas, Alonso; Pedro (Matic, 64), Diego Costa, Hazard (Willian, 85)
Reuse content