When Tim Sherwood was appointed as Aston Villa manager, in the middle of February, Christian Benteke was in the midst of a goal drought that would make the Gobi Desert look bountiful.
The Belgium international had scored three times since the start of December - and one of those was against Blackpool in the FA Cup.
Fast-forward two months, and Benteke is in the midst of his first hot streak since his 19-goal burst two seasons ago lifted Paul Lambert's strugglers above the relegation mire.
The hat-trick against Queens Park Rangers last night, sealed with an exquisite and momentous free kick to rescue a point, means Benteke now has seven goals in his last five games - and eight if you count a strike against Cyprus two weeks ago in Belgium's European Championship qualifying victory.
Villa remain in perhaps their most dangerous position yet experienced during five years of toil amid the Barclays Premier League's nether reaches. Yet Benteke has given Sherwood even more cause to show the kind of manic emotion for which he's quickly become renowned.
"He's in a rich vein of form - it doesn't come much better than that," Sherwood roared after the 83rd-minute equaliser that kept QPR rooted in the relegation zone, and Villa's noses just above the trough.
"It was fantastic for him to score the goals, it was just a shame we couldn't get the three points. Christian's pulled one out of the bag for us late in the game. We're grateful for that."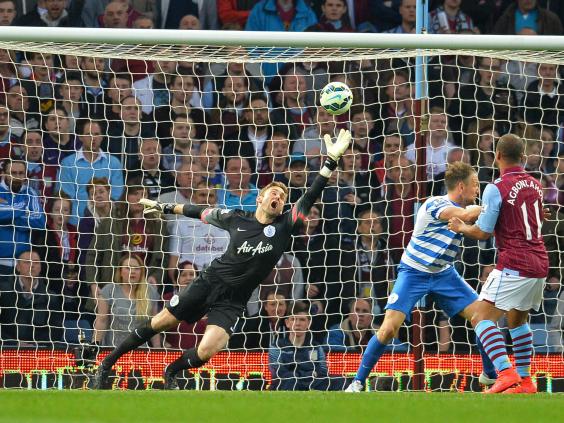 Sherwood undoubtedly has cause to feel grateful for his striker's form - but can he take credit for it?
Villa have certainly played more expansively since the former Tottenham head coach arrived at the club - their vastly improved goal record, as well as their worrying propensity to leak goals at the other end, is testament to that.
Benteke has benefited from a rejuvenated Gabriel Agbonlahor, who set up Villa's second for him last night to put the Midlands club in front.
With Agbonlahor's pace and strength once again drawing the concern of defences, the Belgian has had far more room to wreak havoc.
But just, if not more, crucial is the fact that, after persistent injury problems, he seems finally match-fit again.
He was troubled first by an achilles injury, then by a bad hip in the manner of a doddery geriatric, but belatedly, as Villa's need for him becomes that much more acute, he seems to be running with the smoothness of a thoroughbred colt.
Sherwood, of course, witnessed a similar revival during his ill-fated time at Spurs, when Emmanuel Adebayor rose Lazarus-like to become a force once again.
On that occasion, the former Blackburn midfielder made a beeline to bring the tempestuous Adebayor back into the fold, with productive results.
Benteke is nothing like as difficult to manage, though he has Adebayor's tendency to blow hot and cold.
Villa's situation is simple. If he's hot during the run-in, they look odds-on to stay up. If his form tails off again or he suffers a recurrence of an injury, then the trapdoor beckons. And no one at the club, least of all the ambitious Sherwood, would like to contemplate that.
Reuse content