The season is barely a month old but already the north London rivalry is raging. Arsenal emerged 1-0 victors from an early Premier League derby thanks to an Olivier Giroud goal, but since both sides have brought in news players to strengthen their sides – in Mesut Ozil for Arsenal and Christian Eriksen for Spurs – and the two clubs sit second and third in the standings.
Both made their impact in the English top flight felt in the weekend's matches. Ozil showed a lovely touch after a run in behind the Sunderland defence, before crossing for Giroud to continue his rich vein of form of scoring in every league game so far this season.
Eriksen meanwhile was busy displaying his undoubted talent at White Hart Lane, where he provided a lovely assist for Gyylfi Sigurddson to score his first of two goals that saw Spurs ease home against Norwich.
But how do the pair compare? Can the 21-year-old Dane be used in the same sentence as the 24-year-old German yet?
"I think he has achieved a little bit more than me," admitted a humble Eriksen, in his first interview since arriving from childhood club Ajax in the summer for £11.5m.
"I am a few years younger and still have to learn a lot. It is nice to be compared, but from what I have heard it is not good to be compared with Arsenal players! But really, it is pretty cool to be compared with such big players."
Eriksen will have to wait until March 15 for his first taste of the north London derby, having missed the Emirates meeting, but he already has eyes on being the dominant "No 10" – Ozil wears 11 and Eriksen 23 but both play just behind the striker – in north London.
Ozil has been at the top of European football for a while now though despite his tender age, wowing fans in both Germany and Spain before his move to England.
Eriksen has so far conquered the Eredivisie, and although the Dutch league comes with far less prestige than the Bundesliga, La Liga or the Premier League, it takes a special player to force his way into the Ajax side at just 18-years-old.
"I never got to train with the likes of Wesley Sneijder and Rafael van der Vaart but I am from the club where they were," explains Eriksen.
"I am not Dutch, but I am from a club where they both played with the same style.
"They've had really big success when they left Ajax so I hope I can achieve the same."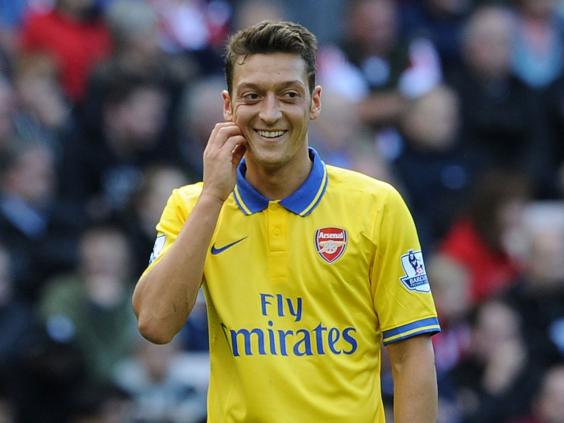 Eriksen was linked with a move to Manchester United not so long ago, with Sir Alex Ferguson believed to be keeping an eye on the then-teenager, and getting a closer look when United took on Ajax in the 2011-12 Europa League.
However, Eriksen chose to move to Spurs after the United interest appeared to fade away, and in a summer where manager Andre Villas-Boas spent over £100m – due to the £86m received for Gareth Bale – the fee for Eriksen was relatively remote for such a promising young player.
"Why did I come to Spurs? It just felt right," said Eriksen.
"I talked a little bit with the manager — but I had more to do with the chairman (Daniel) Levy and the director (Franco) Baldini. They were the guys who really had the right words.
"The things they said and when it came to looking around it just felt right and it was pretty easy for me to say yes.
"I also talked a lot with (former Ajax team-mate) Jan Vertonghen and texted him a few times so he had a big role."
But after 18 years of finishing behind their fierce rivals, Eriksen knows they must finally beat Arsenal in the league this season, while also ensuring they qualify for the Champions League.
"I think everybody, first and foremost, wants to be in the Champions League next season, for sure," he said. "Then we have, of course, to become champions. That is why he spent so much money on good players. That is just the sort of thing I want to be part of.
"I think our title chances are really good. We have had a good beginning and it is pretty easy to play with such good players.
"Arsenal are above us in the league at the moment, so we will have to turn that around for a start."