Jose Mourinho has revealed he has "no relationship" with former player Cristiano Ronaldo.
Under Mourinho at Real Madrid, Ronaldo helped the club break Barcelona's dominance scoring 60 goals in all competitions in the 2011-12 season for Los Blancos to win La Liga, their first since 2007-08.
But Mourinho, who returned to Chelsea at the start of last season, often fell out with his Portuguese compatriot and has said the two would not be found "hanging around together".
"The relationship between Ronaldo and myself is non-existent," Mourinho told TV1. "He plays for Real Madrid, I'm the Chelsea manager.
"You would not find us hanging around together. The relationship does not exist, but the remembrance of his impact does. I have to remind myself that he is a goal machine who helped me become a Liga champion, win the Copa del Rey and the Supercopa.
"I try to keep the best memories of Cristiano Ronaldo with me and I wish him all the best in his career - especially with Portugal, but also with his club."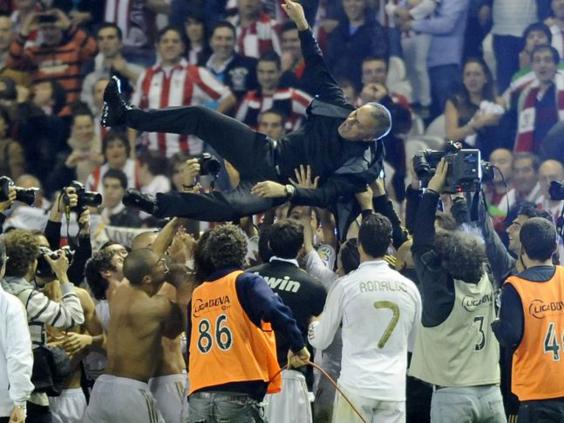 The Ballon d'Or winner is believed to be unhappy at Real Madrid, after the sales of Angel Di Maria and Xabi Alonso this season and Mesut Ozil last season, and is being linked with a spectacular return to Manchester United.
Mourinho also said he was proud of his record at Madrid and that he would go back if he had the chance. Mourinho won one title and one Copa del Rey in three seasons but only managed to reach the semi-final of the Champions League in all three seasons.
"On one hand I achieved a goal: to win three championships that I consider the most important in the world. That goal was important," he said.
"Yes, definitely [I would go back]. It was an experience as a man and as a coach that I would repeat again without thinking twice."
However, he refused to be drawn on the reasons behind his exit from the club.
"You won't hear me talk about what happened in the past, whether it be positive or negative. I left Real Madrid with a fantastic relationship with the president, the executive director and the entire club after making a decision which was best for my career. 
"I am a happy man, I am going to matches and training with great joy and I am not a person who likes to be talking about the past."
Reuse content