Selhurst Park. The place where vague title aspirations come to die. Manchester City should have won this match, but that just makes it another thing to add to the list of things they should have won but haven't.
They were dominant. They were irresistible. But in the noise of the South London night, all four stands seeming to pogo up and down on their foundations, they allowed themselves to be burgled.
Jason Puncheon's free-kick just after half-time which clinched it bent round the wall and smirked at Joe Hart's desperate finger tips from close range before rolling low into the net. There are many down here who think that is a scenario that should have been practised on the England training ground before now. Such calls will not be getting any quieter.
Yaya Touré fired in a trademark thunder bolt with 12 minutes to go. Absolutely unstoppable – just like they always are. The party carried on, but where once there had been raw volume, now there was fear.
The 13 Manchester City players under threat from the axe
The 13 Manchester City players under threat from the axe
1/11 Yaya Toure

Getty Images

2/11 Samir Nasri

Samir Nasri cushions the ball down

Getty Images

3/11 Pablo Zabaleta

Pablo Zabaleta vies for the ball with Philippe Coutinho

Getty Images

4/11 James Milner

Getty Images

5/11 Edin Dzeko

Edin Dzeko only managed four minutes against QPR

Getty Images

6/11 Martin Demichelis

Reuters

7/11 Bacary Sagna

AP

8/11 Stevan Jovetic

Getty Images

9/11 Aleksandar Kolarov

Getty Images

10/11 Fernando

Albert Adomah of Middlesbrough chases Fernando of Manchester City as he underhits a backpass

Getty Images

11/11 Micah Richards

Liverpool bound? Micah Richards is one English player who may leave City

Getty
James McArthur cleared a ball so narrowly over his own bar it frankly should have gone in. Frank Lampard loitered with intent around the penalty spot, while David Silva and  Samir Nasri terrorised the flanks. It wasn't enough.
The last time this corner of Croydon went this crazy, Luis Suarez was down on his haunches, crying in the centre circle, hiding his face below his shirt, a 3-0 lead thrown away. Now it was City's turn. With Chelsea facing the far tougher run in, and their players suddenly looking like the strangers to squad rotation they have been all season, a perfect last eight against eight beatable teams might well have done it for City. Surely, not now.
Alan Pardew is a man who once claimed, while manager of West Ham, that to beat an Arsenal team then well on their way to a Champions League final, "some" of his players would have to give "an 8 out of 10 performance."
Self-belief is a potent thing in football, and Pardew has flooded Selhurst Park with it, but too much of the stuff can kill you.
Right from the first whistle, Crystal Palace went at Manchester City as if this was their match to win. Even so, that they went in at half-time 1 - 0 up was close to a football miracle.
It was Glenn Murray who did it. Thirty-four minutes had gone, around 32 and a half of which had been played within 10 yards of Crystal Palace's goal. But when a Palace corner was played back into the City box, Hart could only stop Scott Dann's shot with the inside of his thigh and Murray was on hand to smack the ball into the empty net from less than a yard.
Was it offside? Vincent Kompany certainly thought so, and his remonstrations delayed the restart by what felt like several deafening minutes, the Holmesdale Road Stand looking as if it might lift off into the South London sky.
But when Dann hit his shot, Murray was behind him. Debate over.
Before that, to call it one-way traffic would be an understatement. Yes, Wilfried Zaha should have scored with less than a minute gone, when he spurned a low Martin Kelly cross by shooting high into the stand with the goal begging.
But City aren't used to anyone trying to play them at their own dynamic game. The gauntlet had been thrown down and soon they were relishing it.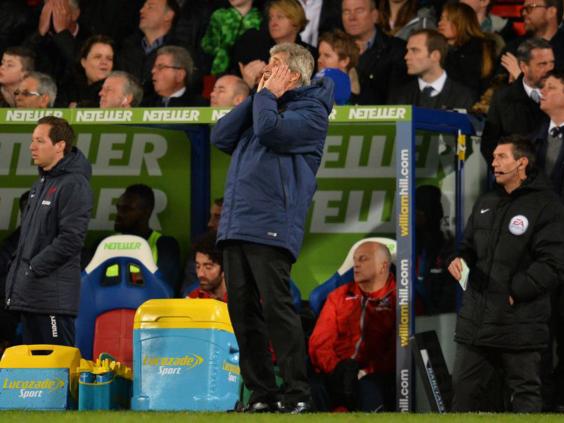 Suddenly Julian Speroni was scrabbling around on the edge of his penalty area, the goal perilous. The Holmesdale Road Stand drew breath, the noise crescendoed, but City came again and again, down the flanks, through the middle. Sergio Aguero fired a low drive that pinged off the foot of the post. On the edge of Palace's box, Silva orchestrated everything, upping the pace, slowing it down again, rolling the ball behind the Palace full-backs as though it were a hand grenade, its devastation imminent.
Then came Murray. Marouane Chamakh and Dwight Gayle have both had their chances in one of football's most privileged positions – being the beneficiary of Crystal Palace's two magical wingers, Zaha and Yannick Bolasie. They didn't take them.
Those who've been around Selhurst Park since before this latest spell in the top division have seen Murray score dozens of goals, albeit in the Championship. He is the man, they have long argued, who deserves the chance he is now getting. When he put them into a lead they could scarcely have imagined possible, the noise was the loudest it's been here all season.
For City's part, no one did a Suarez when the whistle blew. Yes, they may not feel they have squandered the league, as that man did, but whatever fire exists in the belly of this extortionately expensively assembled collection of players always tends to stay there.
The best teams are always a blend of rapacious youth and wise old heads. City are not. Is this a squad that, almost without realising, has gone over the hill together? An FA Cup, and two League titles, both won by less than the skin on the teeth is a poor return on ten million barrels of oil. They have waited too long now, for glory. Last night it felt like Godot had finally arrived instead.
Reuse content