Manchester United's Daley Blind has insisted that the legendary Amsterdam self-confidence which he possesses will enable him to stand up for himself in a dressing room of superstars and that he will not be "shy" with Angel di Maria and Radamel Falcao for company.
The 24-year-old was a back-up buy for United this summer, with United's interest in Juventus' Artuto Vidal and Sporting Lisbon's William Carvalho coming to nothing. But Blind - who was with Ajax in Amsterdam from the age of eight - insisted that the Amsterdamse Bluf instilled into players at the club's hugely proficient acadamy will allow him to punch his weight.
Blind said: "I'm not a player United [paid a fortune for] like Di Maria, but that doesn't make me a shy boy in the dressing room and on the training pitch. Thanks to Amsterdamse bluf, we Ajax players have a natural self confidence."
Blind also revealed that Louis van Gaal - another Amsterdammer - is receiving Sir Bobby Charlton in the United dressing room after matches and that while Sir Bobby says very little, his presence is a motivating factor for the young midfielder.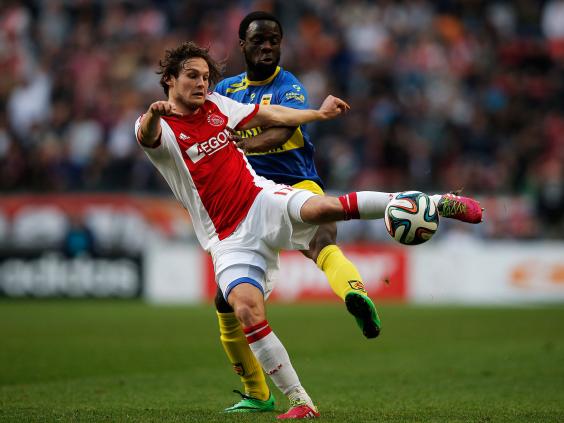 "Sir Bobby doesn't speak much, but he is there, standing as a living legend of his club," Blind said. "Keeping those traditions makes a difference at a club."
The Amsterdamse bluf Blind spoke about is a common characteristic in the Dutch capital. Amsterdammers can have a tendency to think that they are the best in Holland and in the past this has made adaptation to life in the city difficult for players who are arrive from the provinces.
It can trigger the same aversion to the place that some northerners feel for London, with a common complaint from outsiders being that Amsterdammers show too much 'kapsones', which translates as 'hubris.' Zlatan Ibrahimovich, who was hardly lacking self-belief when arrived at Ajax from Malmo in 2001, complained about it.
Blind's technical ability and versatility has seen him make an immediate impact at United, with Michael Carrick injured and not expected to feature in United's starting line-up until Chelsea's visit on Sunday week,at the earliest. Despite question marks about his pace, he has impressed. 
The former United keeper Edwin van der Sar, who has seen Blind's development at close quarters as Ajax marketing director in the past two years, said: "The steps he has made here in 18 months have been immense and we always try to develop multi-functional players and the benefitted him.
"That multi-functionality helped him. With him in the middle he has more feeling for the space around him and what he can and can't do."
Reuse content