Liverpool striker Daniel Sturridge could be out until the end of October after undergoing hip surgery in New York on Thursday.
It's yet more bad news for the England striker who only managed to start seven Premier League games for the Reds this season after suffering a number of injuries and set-backs, including calf, thigh and hip problems.
The 25-year-old will now be sidelined for the start of next season as it has been revealed it will be another four months before he can even start full training.
10 players who could leave Liverpool this summer
10 players who could leave Liverpool this summer
1/10 Steven Gerrard

The Liverpool captain is a certainty to leave this year as he has announced a move to Major League Soccer franchise LA Galaxy, following in the footsteps of his former England team-mate David Beckham and ex-Reds colleague Robbie Keane. Having made his Liverpool debut in 1998, the final Premier League game this season – against Stoke – will bring the curtain down on a tremendous career at Anfield.

Getty Images

2/10 Brad Jones

The goalkeeper situation at Liverpool is a tricky one, given that Rodgers elected to drop first-choice Simon Mignolet earlier in the season after his poor run of form up to Christmas. In came Brad Jones, but the back-up was far from convincing and suffered an injury which allowed Mignolet to return to the starting line-up and rekindle something of his best form. The club are believed to be actively searching for a goalkeeper to provide competition for Mignolet, which would likely spell the end of Jones' five-year stay at Anfield.

GETTY IMAGES

3/10 Glen Johnson

The England defender has been hampered by injuries this season and has fallen down the pecking order on the international stage as a result. His current deal expires at the end of the season, and with no sign of a new offer coming his way – given his current £120,000-a-week wages – it looks as though the 30-year-old will be available for a free transfer in the summer.

GETTY IMAGES

4/10 Kolo Toure

While Johnson is on his way out, Kolo Toure has the option of whether to stay at Anfield or move on. The club have offered him a new short-term contract with his current deal expiring in just over two months. However, while the Ivory Coast international mulls over his future, the belief is that he could hold the key in luring his brother Yaya Toure to the club should he leave Manchester City.

GETTY IMAGES

5/10 Martin Skrtel

A third defender could be set for an exit with Martin Skrtel's future far from clear. The Slovakian captain is yet to agree a new contract, and German club Wolfsburg have emerged as a possible suitor for the 30-year-old should he decide to leave the club in the summer.

GETTY IMAGES

6/10 Javier Manquillo

The Spanish full-back in currently on a season-long loan deal with the club from Spanish side Atletico Madrid, with the Reds holding an option to sign him on a permanent transfer in the summer. Having appeared both on the right and the left of defence as well as further forward in midfield, Manquillo has struggled to tie-down a permanent position in Rodgers' side, and the club are unlikely to take-up the option to complete a permanent move for him, paving the way for him to move back to Madrid.

Getty Images

7/10 Raheem Sterling

Much has been made over the interest in Raheem Sterling given his refusal to sign a new £100,000-a-year contract with the club. Sterling has put off talks until the end of the season, but with two years remaining in his current deal, the club stress they will not be forced to sell this summer. That could change though should Manchester City or Chelsea come calling with a large offer, while European heavyweights Bayern Munich, Real Madrid and most recently Juventus are continuing to be linked with a move.

GETTY IMAGES

8/10 Mario Balotelli

The Italian's £16m move from AC Milan has been nothing short of a disaster, and he looks set to leave the club in the summer after just one season with the club. Balotelli has failed to find anything close to his best, and with Rodgers losing patience over the 24-year-old, who recently ruled himself out of two important matches in their hunt for a top-four finish, it appears his stay at the club will be brought to a premature end.

Getty Images

9/10 Rickie Lambert

Rickie Lambert arrived in the summer in a fairy-tale story that culminated a full circle, having been released by the club he supported when he was a young boy. With a relatively cheap £4m transfer fee from Southampton, Liverpool hinted that Lambert would never be the go-to striker, but even by those standards he has seen his opportunities significantly limited, and needs to leave the club in the summer if he is to make anything of the later years of his career.

Getty Images

10/10 Fabio Borini

Another Italian striker who was determined to show Rodgers just what he was made of proved he couldn't cut it at the club. Fabio Borini rejected a second loan spell with Sunderland in order to admirably fight for his place, but the return of Daniel Sturridge and Rodgers' decision to push Sterling further forward limited Borini to brief cameos from the bench at best. The expectation is that he will join Balotelli and Lambert in being shipped on this summer.

Getty Images
With his pre-season now effectively starting in September, it will be around mid-to-late October before Sturridge is available for selection at Anfield.
The Liverpool medical team, however, do see the surgery as a success and believe it will be beneficial in the long run to the striker.
The surgeon who performed the procedure, Dr Bryan Kelly, reported to the club that the operation identified and addressed an issue that could be linked with the various muscle problems Sturridge has fallen to this season.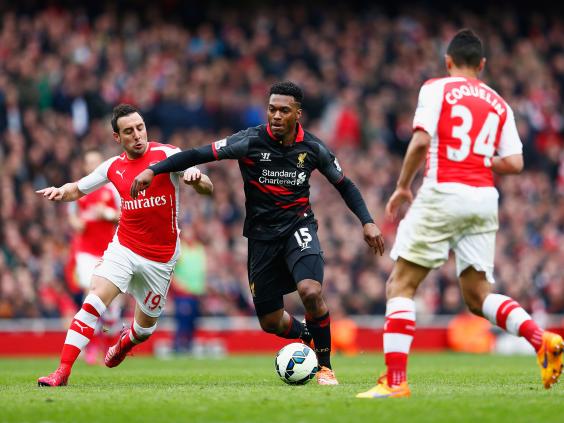 "Just want to let the world know I've had a successful operation on my hip today and I want to thank God for allowing that to be possible," Sturridge posted on Instagram.
"Onwards and upwards from here. Thanks for the support. Daniel x"
Speaking at his press conference on Friday, Rodgers said: "We anticipate that Daniel will be back, hopefully to train around about September.
"Obviously it is long period of time out but we hope the problem and issues have been resolved with the operation.
"We hope he is available to train in September and then it is about getting his fitness in."
Rodgers was asked whether, with the time it would take for Sturridge to get back to proper match fitness, the chances were they were unlikely to see the best of the striker until November.
"It is not just about fitness but football fitness, and that takes a bit of time," he added.
"The important thing will be to let him recover, work hard in his rehab and we have great support form our owners in that he is able to go to the world's leading specialists in America.
"He will work very hard to get back fit and the sooner the better for us.
"He has been a big miss to us this season but let's hope he can get back fit and contribute to the club.
"Once he's fully fit we know what he can produce and if he is at that level of fitness he can certainly be a key player for us."
Reuse content