I want to start with some figures because I think they tell a story. In the first 12 games of last season, Liverpool scored 18 first half goals: three quarters of their total. In the first 12 games of this season, they have scored six, just over a third of their total.
That is the statistical way of describing how the counter-attacking game they played last season isn't working. Last season, they went off like a train every week. They were saying to their opponents at the start of a game: 'you can have the ball if you like.' And then, when the other side had started getting excited with the space at their disposal, Liverpool would break out and attack like fury, exposing the mess those opponents had got themselves into, with all their players out of position. Bang. No other side in the Premier League had that trigger point. It was like springing a trap. 
But that strategy was built around having pace to kill sides when the trigger was pulled. Luis Suarez and Daniel Sturridge made it happen. Now those two are gone - one permanently; one just for now - and there is no one, Raheem Sterling aside, to give that pace. Liverpool have not changed the way they try to play, though.
They are still far more concerned about attack than defence. The central midfielders point forwards, the full backs bomb on at the same time, yet opponents are not afraid because they no longer have that fearsome pace to worry about. The opposition are the suddenly the ones who are soaking up the pressure and breaking out on the counter-attacking. Liverpool are being Liverpooled, you might say.
Ludogorets 2 Liverpool 2 - player ratings
Stoke City - who Liverpool play this weekend - are the worst team to be up against. They showed in their win at Manchester City that Their 4-2-3-1 will morph to a 4-5-1 when they are defending, allowing no space, but then they will use the pace in the team to counter. Victor Moses is injured but Mame Biram Diouf, who sank City, Steven Nzonzi, Bojan Krkic have pace. Marko Arnautovic can shift, too. 
I see a real problem with leadership in the Liverpool team. The periods when you really see that component are the first 20 minutes of a game - trying to get the side off to a flying start - or the last 20, holding on strongly to what they have. It says everything that Liverpool have conceded seven out of their last eight Premier League goals in either those first 20 or last 20 minutes. Steven Gerrard and Sterling, because of his ability to create, are the only leaders on the field, for me.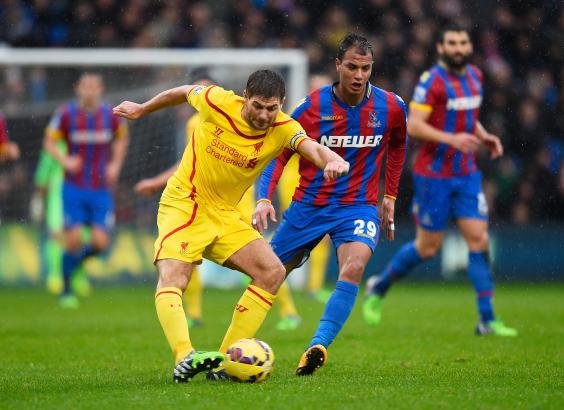 But more than that, Brendan Rodgers need to stop changing formations and simply create the means to stop his team conceding. Gerrard is not struggling because he has become a worse player than last season overnight - but because the players around him, Joe Allen and Jordan Henderson, are both forward-thinking players, rather than those who are willing make the tackle. How Gerrard would love the protection that Cesc Fabregas has with Nemanja Matic alongside him. From holding midfield, Fabregas has provided the most assists in the Premier League.
Everyone is talking about everything stemming from Luis Suarez's absence - but remember Liverpool had won three, drawn one and lost one of the five games he missed at the start of last season and were second in the table when he came back.
Rodgers has to introduce conservatism into that midfield. It needs to be defence-minded. He cannot be allowing both his full backs to fly forward at the same time, leaving the centre backs to venture outside the width of their 18-yard box, which they will hate.
And because that pace is missing, I say he needs to play Rickie Lambert through the middle and make him the focal point, with runners going with him for the knock-downs. It might not be the Liverpool we have come to know but sometimes you need to look at what you have at your disposal first. Liverpool can't be a fast, furious counter-attacking team at the moment - however much they might want to be.
Reuse content