Statistically speaking Aston Villa's survival is not quite guaranteed going into this weekend but it's a virtual certainty. Their anxiety is beginning to recede – and all because of Tim Sherwood's appreciation that a minor tactical twist would make all the difference.
Sherwood has not even changed the formation at the club since he took over as manager in February. Just like Paul Lambert, he is using a 4-3-3; the difference being that he has one 'sitter' and two midfielders going box to box, while Lambert had two sitting and only one advancing. For Sherwood it's Ashley Westwood holding back, which has meant that both Fabian Delph and Tom Cleverley have been able to get ahead.
At the start of the season, under Lambert, it was ponderous and that meant there was very little support for Christian Benteke. Teams concluded that if they could stop Benteke, they could stop Villa.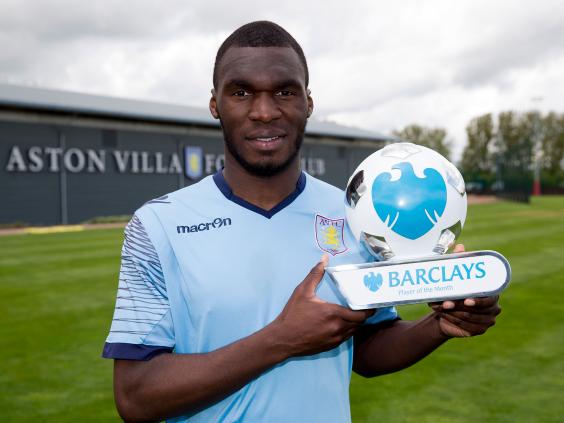 Not everything has changed under Sherwood. The team is still conceding a lot of goals. But he seems to be telling players like Jack Grealish and Charles N'Zogbia to get right on Benteke's toes in support. Grealish was almost Benteke's shadow in the FA Cup semi-final against Liverpool. Both N'Zogbia and Gabriel Agboblahor are getting narrow so they stay within two yards and support him, too.
It means they are able to supply Benteke but, even more importantly, it means they are there for the second ball, which is so important. It might mean taking the ball which the opposition player heads down when trying to win an aerial battle, or receiving the Benteke flick-on.
I'm convinced Sherwood has simply thought: 'Who is my strongest asset? Benteke. And how can I get the best out of him? By getting support to him'. When Benteke is isolated, you can get two or three defensive-minded players on him and know that he has nowhere to go, with no Villa shirts near. I noticed earlier in the season that he was needing four or five touches before any team-mate got close in support.
As well as the front three benefitting from this change in philosophy and priorities, those two box-to-box midfielders are playing an important part in it all, too.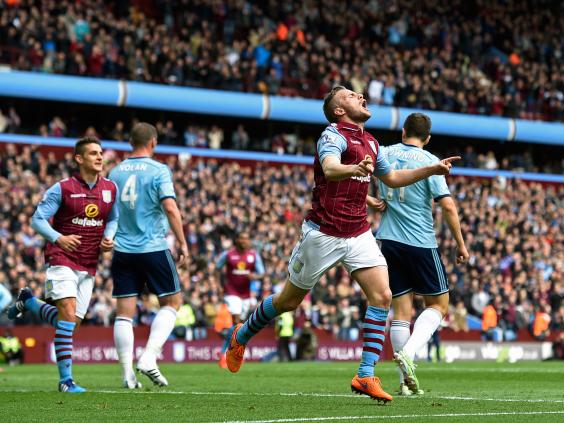 I saw this week that Sherwood said Cleverley feels like one of his own, even though he is only on loan. And, while he had been deeper and struggled to make an impact earlier in the season, he is getting forward now and has scored three goals in the last three games. Delph is creating far more too, while he was operating far deeper and to far less demonstrable effect earlier in the season.
It has been a bold approach from Sherwood and the way he has prioritised has impressed me. He has just said 'scoring goals is what we need to look at'. As is so often the case, away games – where teams are under more pressure – provide a very good barometer. Villa had scored four goals in 13 away games before Sherwood came in. They've scored eight in five away games since.
As someone who has been relegated from the Premier League twice, with Derby and Southampton, I can tell you that another of the factors which comes into play at the dog-end of the season is how much fighting a club have had to do in the previous nine months.
There's very often one team – like Hull City – who find they have crashed into the relegation fight late on. They just don't have that same scrapping mentality that is inured in some teams who have been battling and worrying all season, never able to relax. It's very hard to suddenly find that from nowhere.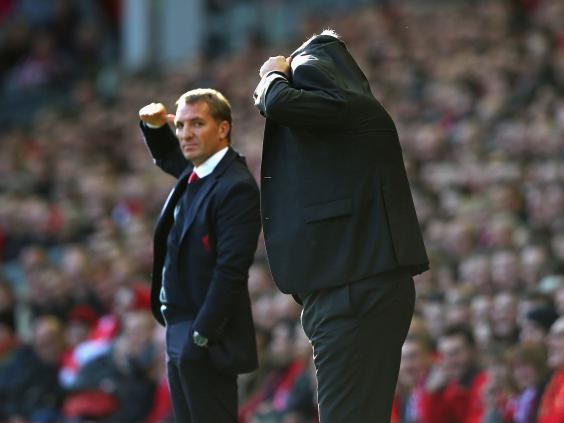 In that sense, you might say it's a less agonising time for Leicester City, who will fancy their chances of completing the survival mission with an incredible seventh win out of eight at Sunderland today – and it's a far more agonising one for Hull at Tottenham.
People are talking about Tottenham's minds already being on the beach after one win in six but I don't buy that. It's their last home game and they'll want to sign off with a little bit of pride. I'm sorry to say I don't see Hull getting another point this season, with the visit of Manchester United to wrap up their campaign. I expect the bottom three to stay as it is, with Hull lodged within it.
Villa are one of the teams who have known this anxiety all through this bumpy campaign. They've never been in cruise control but they have a manager who has changed everything with a subtle tactical touch. Tim Sherwood is the reason why they will live to fight another day.
Danny Higginbotham's autobiography, Rise of the Underdog, published by Trinity Mirror Sport, is out now (£16.99. Kindle £6.99)
Reuse content