There is no doubt where the game of the weekend is. I know what a Tyne-Wear derby means, having experienced the highs and lows of it during my time at Sunderland. And that game is everything to the people in the area. It is a special occasion.
I remember all through my time at Sunderland, when I was living in Durham, that this fixture was massive. If you ever saw a supporter on the street – which often happened – they would say not to worry about the most recent defeat, as long as we just beat Newcastle. The week leading up to it, you could not go anywhere without being stopped. "We need to beat Newcastle. We need to beat Newcastle."
I will never forget my first derby, at the Stadium of Light in November 2007. We had just lost 1-0 at Manchester City on the Monday night, and when manager Roy Keane picked the teams for 11 v 11 training on Thursday, I knew that I wasn't going to be playing against Newcastle. I was gutted.
But then on the Friday, we played five-a-side between us and I scored a hat-trick. And the next morning, when Roy named the team, there I was. I remember the occasion – it was an early kick-off, and there were police helicopters over the ground beforehand – the atmosphere was unbelievable. I have played in some other great derbies – Southampton v Portsmouth and Derby County v Nottingham Forest – but the sheer number of people in the stadiums for this game makes it massive.
Newcastle were the fancied team, as we were newly promoted to the Premier League. But we took the early lead. Kenwyne Jones won us a corner, after we had been defending. I was on the edge of our 18-yard box, and just started running forward, with no one marking me. Grant Leadbitter saw me running in, played a brilliant ball to the far post, and I headed it in (above).
We conceded a poor goal towards the end of the game and drew 1-1. But afterwards one of the physios called me and said his mate had named his son after me, because I'd scored in the derby! That shows just how much it means. Even though that season was up and down for me – I feel I should have done better – everyone held me in high regard because of that goal. If you can play well in that game, everything before is forgotten.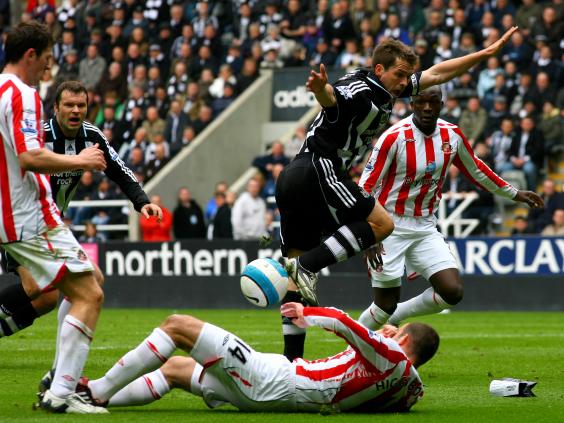 I know all about the complete reverse of that too. At St James' Park that April I gave away a penalty and we lost 2-0. After the high of scoring in the derby, this was the opposite low, the chalk and cheese feeling.
We knew all about it afterwards, and felt we had let the fans down. Supporters who pay their money are entitled to let you know if they are unhappy. You have to take the rough with the smooth.
While Sunderland are struggling to score goals – they have not found the right balance between defence and attack – they should just try to frustrate Newcastle tomorrow. When you play away, the onus is on the opposition. If they can get men behind the ball, they can quieten the fans, frustrate them, and that will make the players anxious. Then they can pick off Newcastle.
Stoke have more chance against teams like Chelsea
Stoke City are masters of playing away, with their counter-attacking style, and that could help them in Monday's Premier League game with Chelsea. They have found it difficult to break down teams at home – Leicester, Burnley and Aston Villa – but they beat Arsenal at home, and won at Tottenham Hotspur and Manchester City.
Chelsea are going to come to try to dictate the game, but that works for Stoke. They can sit back, allow Chelsea on to them, and then counter with the pace of Mame Biram Diouf and Steven N'Zonzi. They actually have more of a chance than they do against lesser sides.
Reuse content