Paul Scholes has arrived at Manchester United's Carrington training base a day after David Moyes was sacked as manager, with the former midfielder expected to be confirmed as the assistant to interim manager Ryan Giggs on Wednesday.
The club announced that Giggs would take over first-team responsibilities until they can appoint a permanent replacement for Moyes, who was dismissed less than 10-month into his reign at Old Trafford having succeeded Sir Alex Ferguson last summer.
Giggs' installed former team-mates Nicky Butt and Phil Neville as first-team coaches following the exit of Moyes' backroom staff members Steve Round and Jimmy Lumsden, and the sight of Scholes pulling up at Carrington shortly after the Welshman's arrival has led to the expectation that the former England international will be confirmed as a part of the temporary United line-up sooner rather than later.
The club's official Twitter account, which broke the news that Moyes had been sacked on Tuesday morning, tweeted that it was " great" to have the United legend back at the ground.
"It's great to see Paul Scholes here at the Aon Training Complex today, assisting Ryan Giggs, Nicky Butt and Phil Neville," although an official confirmation of a role is yet to be announced.
It's great to see Paul Scholes here at the Aon Training Complex today, assisting Ryan Giggs, Nicky Butt and Phil Neville. #mufc

; Manchester United (@ManUtd) April 23, 2014
Scholes held a coaching role at the club for six months after his initial retirement in 2011, only to put the boots back on and help United to a 20th league title in Ferguson's final year last season.
The club issued a statement on their website confirming that Scholes was assiting Giggs, Neville and Butt on Wednesday, having helped out in the past.
The staement read: "Ryan Giggs, Nicky Butt and Phil Neville were today assisted by former team-mate and Reds legend Paul Scholes at the Aon Training Complex.
"Giggs was placed in temporary charge of the first team on Tuesday and was joined at this morning's training session by Butt, Neville and Scholes following the departures of David Moyes, Steve Round and Jimmy Lumsden.
"This season Butt has been working with United's Under-19s and Under-21s as a technical coach, while Scholes assisted him during the Reds youngsters' UEFA Youth League campaign earlier this season.
"Giggs, Butt, Neville and Scholes have collectively made 2,453 appearances for United, while Ryan is still registered as a player of course and could feature in the remaining four matches of the season against Norwich, Sunderland, Hull and Southampton."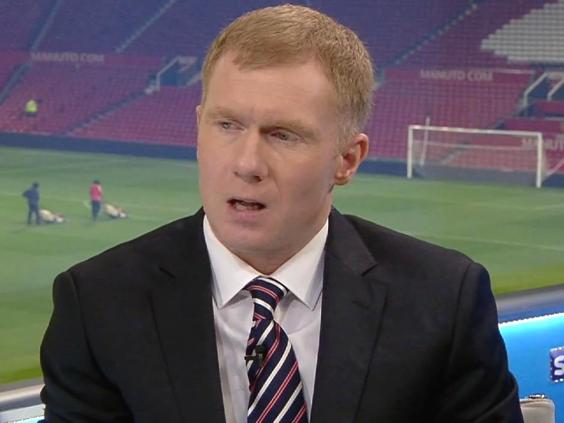 Having assumed control, Moyes also tried to tempt Scholes into a coaching role, but he was put off by his lack of involvement and instead chose to pursue other interests and projects, which included the purchase of local club Salford FC along with the Neville brothers Gary and Phil, Giggs and Butt. He also made his TV analyst debut with Sky Sports, where he gave a scathing analysis of United's performance against rivals Manchester City.
Reuse content