Diego Costa is unable to play games three days apart, Chelsea manager Jose Mourinho revealed last night.
The Spanish striker, who has made an incredible impact since joining from Atletico Madrid with seven goals in four Premier League appearances, was left out of the starting line-up for last night's Champions League tie.
With Chelsea failing to take their chances and ending the night at Stamford Bridge with a 1-1 draw with Schalke, Mourinho explained why Costa only came on as a 75th minute substitute.
"Diego Costa is not in condition to play three matches in a week," he said. "He has problems when he plays one game, he needs a week to recover and now playing matches Tuesday and Wednesday he can't do it. He was not in a condition to do more than he did."
Mourinho explained the problem was picked up whilst on international duty and has admitted it is impossible to put a time-frame on the issue.
"Next week, against Bolton [in the Capital One Cup], for sure he isn't [going to play]," said Mourinho. "We have to manage the situation until the moment he's completely fine. I don't know [how long that will be]."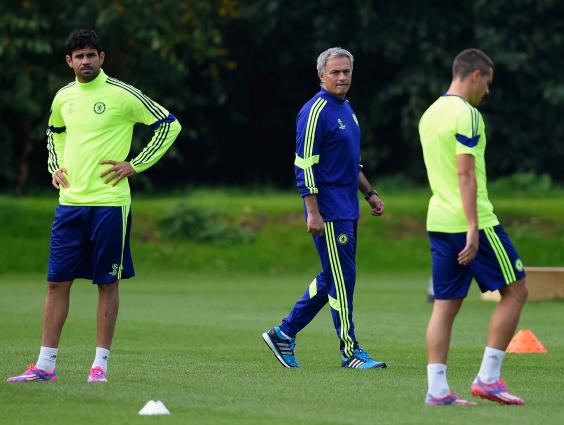 With Didier Drogba yet to score since returning to the club and Loic Remy still establishing himself following his arrival from QPR, Costa has immediately become Chelsea's main man when it comes to goals. But it seems they will have to do it without him for some matches this season.
Mourinho has already indicated that Costa will be unavailable for the Capital One Cup tie against Bolton next week. If the problem were to continue until Christmas, the 25-year-old would miss four Champions League group phase games should he start in the preceding Premier League matches. Following last night's 1-1 draw, the Blues' must now battle their way through to the knock-out phase with a tough away tie against Sporting Lisbon next up.
Costa would also miss the London derby against Tottenham at the start of December should he play at the weekend.
Midweek Chelsea fixtures prior to Christmas (Premier League unless stated)...
Manchester City vs Chelsea - Sunday 21 September
Chelsea vs Bolton - Wednesday 24 September - Capital One Cup
Chelsea vs Aston Villa - Saturday 27 September
Sporting Lisbon vs Chelsea - Tuesday 30 September - Champions League
Crystal Palace vs Chelsea - Saturday 18 October
Chelsea vs NK Maribor - Tuesday 21 October - Champions League
Chelsea vs West Brom - Saturday 22 November
FC Schalke vs Chelsea - Tuesday 25 November - Champions League
Sunderland vs Chelsea - Saturday 29 November
Chelsea vs Tottenham - Wednesday 3 December
Newcastle vs Chelsea - Saturday 6 December
Chelsea vs Sporting Lisbon - Wednesday 10 December - Champions League
Reuse content