Chelsea striker Diego Costa has defended his aggressive style of play, arguing that although he does like to wind opponents up, he has never tried to intentionally injure another professional player.
The Spanish striker has just finished a three-game ban he received for stamping on Liverpool defender Emre Can - though some argue he only stood on him - and has been involved in a series of altercations throughout the season.
Costa, who will return to the Chelsea team for the match against Paris Saint-Germain on Tuesday after missing matches against Manchester City, Aston Villa and Everton, admitted he likes to wind players up to prove a reaction.
Football's dirtiest players - the contenders
Football's dirtiest players - the contenders
1/7 Diego Costa

In addition to his two stamps against Liverpool, the Chelsea striker picked up 10 bookings in all competitions last season. For a defender that might not be a terrible record but for a striker who doesn't strictly need to make many tackles, it's shocking. The chants of 'Diego, Diego' from Chelsea fans just seem to spur him on.

Getty Images

2/7 Pepe

The Real Madrid man has built a career on being a no-nonsense defender. When he appeared to stamp on the hand of Lionel Messi during El Classico in 2012 he took it a bit far. He didn't do his side any favours in the 2010/11 Champions League semi-final either when he managed to get sent off during their defeat to great rivals Barcelona.

GETTY IMAGES

3/7 Sergio Ramos

Real Madrid have not one but two contenders for dirtiest player in the land. Ramos is a great talent, no doubt about it. But he's also an absolute liability. During the course of his career he's seen a stunning 19 red cards (although he didn't get sent off at all last season). To put that in context, that's more than Roy Keane (7) and Patrick Vieira (8) saw in the Premier League combined.

Getty Images

4/7 Luis Suarez

The Barcelona forward picks up bookings and red cards, but he also bites opponents (as Branislav Ivanovic, Giorgio Chiellini and Otman Bakkal can testify) and flips the bird at supporters that give him stick. A real contender.

5/7 Sergio Busquets

However, Suarez might not even be the baddest man at the Nou Camp. Busquets has been a central player in Barcelona's brilliant team over recent years but whilst the rest are playing tiki-taka, the midfielder can usually be found kicking opponents in the shin. He once stood on the head of Pepe, regularly dives and was accused of calling Marcelo a "monkey".

Reuters

6/7 Philippe Mexes

If Mexes already had a reputation as a bad boy on the pitch he confirmed it just this weekend when he grabbed Lazio captain Stefano Mauri by the throat, an incident that earned him a four-match ban.

GETTY IMAGES

7/7 Joey Barton

Whilst the QPR midfielder parades as a reformed character more interested in philosophy than fighting, there remains a sense that trouble is never far from Barton. Away from the pitch he has stubbed a cigar into the eye of a young team-mate and been sent to prison for assault and affray for an incident in Liverpool city centre. Meanwhile he's been banned numerous times for on-field offences and most notably for 12 games for a training ground incident involving Ousmane Dabo in which he left his team-mate unconscious.
Asked if he has the mentality of a street footballer, Costa told Sport magazine: "It depends on the point of view. Some of the kicks I suffer in England would be punished with a red card in Spain.
"My challenges on the ball are strong but noble at the same time. If you check my records, you will find out that I've never caused a bad injury to any player. The bottom line is that sometimes the little things I do on the pitch provoke exaggerated reactions.
"But if you rewind a bit and go through what they did to me, you may have another point of view. I consider myself a player who fights and gives everything on the pitch. Those who know me and appreciate those values understand what I say."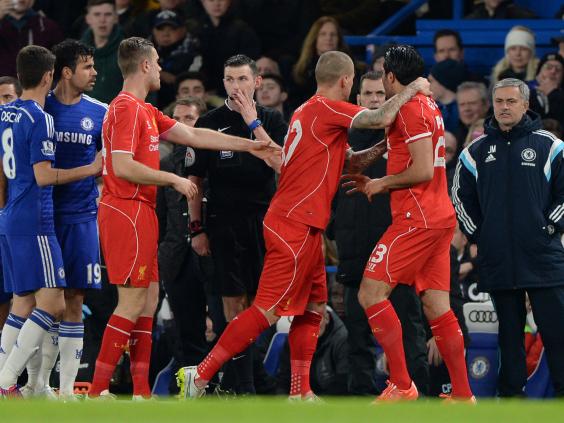 Costa also said that in the Premier League he is getting kicked more than ever.
"Yes, I am getting used to getting kicked more than before. Premier League defenders are really strong and physical.
"In England, the referees don't call many fouls, as opposed to Spanish football. Consequently, you must be really strong all through the 90 minutes."
Reuse content