Suspicions that Google is an Arsenal fan will only increase after Tottenham were used to help define yet another derogatory term on the world's biggest search engine.
Last month it was spotted that if the word 'lackadaisical' was typed into Google it provided a definition (lacking enthusiasm and determination; carelessly lazy) and then used it in a sentence with a little help from Mauricio Pochettino's side.
It stated: "a lackadaisical defence left Spurs adrift in the second half".
Now Tottenham have been used to help define the word 'dodgy'.
Google defines the word as 'dishonest or unreliable; potentially dangerous; of low quality' and then uses it in a sentence.
It reads: "Spurs' dodgy defence has thrown away a 2-0 lead".
Synonyms for 'dodgy' include second-rate, third-rate, substandard and low-quality.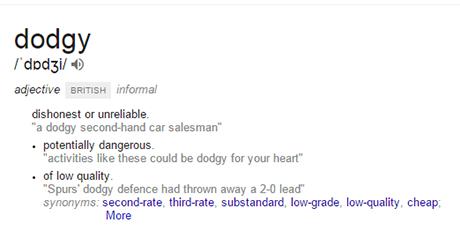 The 16 weirdest transfer deadline day stories
The 16 weirdest transfer deadline day stories
1/16 Manchester United sign Andy Kellett

Manchester United, the self-style biggest club in the world, were in dire need of defensive reinforcements. They seemed to be linked with just about every centre-back going, but it seems one player was overlooked. Step forward Andy Kellett. The Bolton player was deemed the worst defender in the Championship according to one statistical analysis website, but that didn't put United off and the 21-year-old joined on loan in one of the strangest deadline signings in memory.

GETTY IMAGES

2/16 Peter Odemwingie to QPR?

One of the weirder stories of recent years. Odemwingie took it upon himself to drive to London from West Brom and spoke of his excitement about joining QPR. Unfortunately the Nigerian was to discover his club hadn't given him permission to speak to Harry Redknapp's side so Odemwingie suffered the indignity of being locked out of Loftus Road and sent back to the Hawthorns with his tail firmly between his legs. Unsurprisingly he was shipped out of West Brom as soon as the window next opened.

Getty Images

3/16 Dimitar Berbatov to Manchester - but City or United?

Dimitar Berbatov completed a last minute move from Spurs to Manchester United in 2008 but when he travelled north to complete the deal the cigarette-smoking Bulgarian apparently thought he was signing for Manchester City. United were the ones that picked him up from the airport though and it was Old Trafford he ended up at.

GETTY IMAGES

4/16 Robinho's slip of the tongue

Newly rich Manchester City might have been pipped to the signing of Berbatov, but they did their own bit of hijacking by snatching Robinho from under Chelsea's noses. Following his arrival Robinho explained how the deal went down: "Chelsea made a great proposal on the last day and I accepted". When asked if he meant Manchester City, Robinho replied: "Yeah. Manchester. Sorry!"

PA

5/16 Ryan Babel's mystery flight

Ryan Babel was spotted getting in a helicopter bound for London on deadline day in 2010 but where was he headed? No move ever materialised and the mystery continues to this day. Just where was the Babelcopter going?

REX IMAGES

6/16 Is that what I think it is?

The cheering and jeering behind tired-looking Sky Sports reporters giving bulletins from outside training grounds was nothing new, but last year the rowdy crowds managed to take things to a new level. Incidents involving swearing and a sex toy led Sky to take the cameras out of reach of the public for the latest deadline day, probably much to the relief of their staff.

Youtube

7/16 How much?

When Chelsea splashed £50m on Fernando Torres, in 2011, some felt they'd overpaid. Fortunately Kenny Dalglish and Liverpool were on hand to put things into perspective by immediately spending £35m of that money on Andy Carroll - a man with just a good half season of Premier League football behind him. Dalglish lost his job and Carroll is now at West Ham.

AFP/Getty

8/16 Julian Faubert to Real Madrid

Arguably one of the strangest transfers of all time, in 2009 Real Madrid took Julian Faubert on loan from West Ham. To the surprise of no one it wasn't a success, Faubert made just two appearances and once fell asleep while on the bench during a game.

GETTY IMAGES

9/16 It was the snow!

When that window slams shut (it always slams) trading ceases - unless you're Arsenal that is. The arrivals of Danny Welbeck and Mesut Ozil took what felt like an age to be confirmed but Andrei Arshavin's £15m arrival in 2009 literally took days to be announced. There was some excuse about adverse weather conditions, but that didn't stop Arsenal's Premier League rivals from raising an eyebrow or two.

GETTY IMAGES

10/16 David Beckham joins PSG

While any criticism of Sir David of course borders on sacrilege, and Beckham's decision to give all his wages from the club to a children's charity is to be applauded, the fact that he chose to make the move on deadline day when as a free agent he could move whenever he liked, did seem quite a lot like attention-seeking.

Getty Images

11/16 Benjani's airport nap

Sounding more like the badly thought through excuse of a schoolboy than a reason that almost scuppered a transfer, Benjani wrote his way into deadline day folklore in 2008. Flying from Portsmouth to Manchester to finalise a move to City, the striker rather unfortunately fell asleep in the airport, missing two planes and nearly ruining his chances of a move. In the end Man City fans must have wished he had.

GETTY IMAGES

12/16 Samba time

Nothing sums up the mad decisions made by desperate clubs during the January window than the signing of Chris Samba by QPR. The relegation threatened club forked out an incredible £12.5m to bring in the former Blackburn centre-back to save their season - and also agreed to pay him £100,000-a-week. Turned out he wasn't much help, at one stage even having to apologise for being at fault for two goals in the west-London derby defeat to Fulham. QPR were relegated and Samba returned to Anzhi Makhachkala.

GETTY IMAGES

13/16 Leeds let down

When Leeds fans were instructed by their club's official Twitter account 'Don't go to be just yet... there is still work to be done' excitement levels shot through the roof. Who was arriving? A star player from the continent? A big money deal? A little later the Twitter feed was used to announce Matt Smith and Dominic Poleon had left Elland Road. With the deadline klaxon then sounding and still no big arrival in sight, this dropped: 'After a busy last hour that is us done for the 2014 Summer Transfer Window #DeadlineDay'. What teasers.

14/16 Alan Pardew's lucky day

Bizarrely and seemingly with a whiff of something shady, 2006 saw Carlos Tevez and Javier Mascherano arrive at West Ham looking more than a little confused. In the end the third party deal was ruled illegal and West Ham had to pay a £5.5m fine and £20m compensation to Sheffield United who were relegated when Tevez's goals kept West Ham in the league later that season.

GETTY IMAGES

15/16 Arsenal signing Kim Kallstrom

The arrival of Kallstrom wasn't exactly what Arsenal fans were hoping for in January 2014, but Arsene Wenger explained it was an emergency loan. Fair enough. But it turned out the Swede had a back injury (from playing beach football) and didn't feature until the end of March, one of just four appearances for the Gunners.

Getty

16/16 Harry Redknapp DOESN'T lean out of his car window

It's a staple of the transfer window but one year the Sky Sports cameras failed to get any pictures of Harry Redknapp leaning out of his car window to offer up some juicy news. Actually, that's never happened. But how much stock can be put in Harry's words is debatable anyway. He once insisted nothing was going to happen only for Spurs to complete an eleventh hour £8m swoop for Real Madrid's Rafael Van Der Vaart. The scoundrel.

Twitter/@CarlWard
But before Tottenham fans start getting all Jose Mourinho and claim there is a campaign against them, it should be noted that the entry isn't the fault of Google. The search engine gets their definitions direct from Oxford Dictionaries, published by Oxford University Press.
The first edition was published in 1888, a second edition in 1989 and OED Online was launched in 2000.
Reuse content