There are suggestions that Emmanuel Adebayor could find himself booed by both sets of supporters this weekend when his current team Tottenham come up against his former club Arsenal.
But why is the striker so divisive - so much so Brad Friedel was moved ahead of this weekend's derby to try insist he wasn't such a "bad egg"? Here, we take a look at some of his misdemeanors.
September 2009 – Goal celebration and stamp (Etihad)...
The former Arsenal player caused huge controversy when he ran the full length of the field to celebrate his goal sliding in front of the enraged travelling fans, who hurled objects at him and one steward was knocked unconscious from it.
The Togo International was accused of having a poor attitude and work rate by Gunners fans and to make matters worse the then 25-year-old caught Robin van Persie's face with a reckless sliding tackle.
He was later handed a three match ban and a £25,000 fine. He received widespread criticism for the incident and only Alan Hansen joked that his pace was impressive.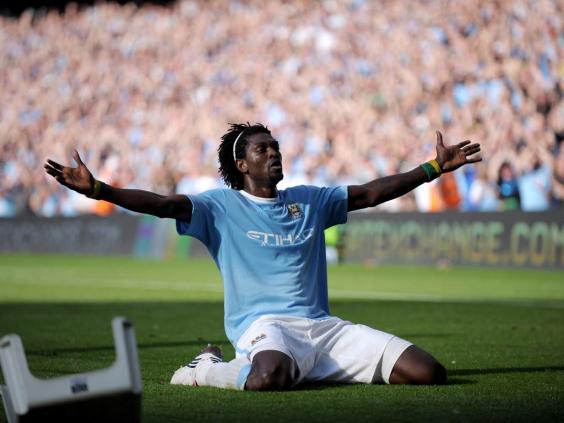 Barcelona are "cry babies" – 2011...
Adebayor, then on loan at Real Madrid, criticised Barcelona's players for overreacting to challenges in their Champions League semi-final defeat.
Pepe was sent off for the hosts and Adebayor wasn't happy.
"Whenever you play against Barca, whenever you touch them they are on the floor crying like a baby," he said.
"Whenever you make contact when going for a one-on-one or 50-50 ball they are on the floor crying, putting their hand up near their face.
"Their manager, fans and the players on the bench are always crying.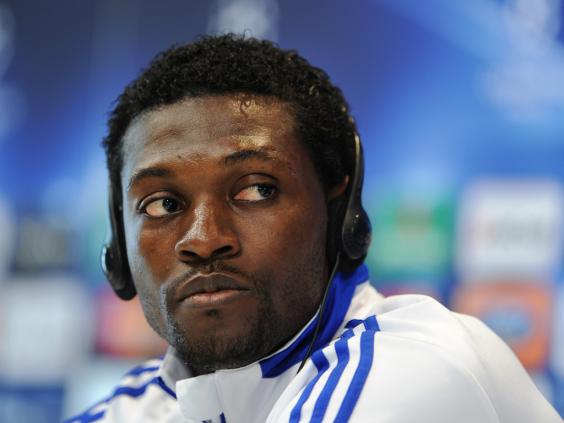 December 2013 (twitter photo controversy)...
The now Spurs man had to apologise to fans after tweeting a photo with teammate Benoit Assou-Ekotto (infamous for his quote, "I play for the money. Football is not my passion,") after he appeared to enjoy Spurs' 5-0 thrashing by Liverpool.
The pair were smiling and displayed five fingers between them – causing many to believe it was a joke at Tottenham's expense.
The striker posted on twitter his apology and urged fans to believe him that the picture was taken BEFORE the game and his pose was what he always did.
Poor form 2014 - "voodoo curse"...
Adebayor blamed his poor form for Spurs – two goals in over a dozen matches compared to 11 in 21 last year – on his mother who he claimed had been practicing a form of witchcraft, known as 'Juju', to stop him scoring.
Reports suggested that he had thrown his mother out of a family home in Africa so she had to resort to selling tomatoes for £1 a day. Adebayor vehemently denies this.
Fans have criticised the 30-year-old, who earns £100,000 a week, for his performances for the North London club and after falling out of favour again he looked set to move to West Ham but negotiations broke down.
A LIGHTER MOMENT: 2010 World Cup pundit phone ring...
BBC World Cup 2010 pundit Emmanuel Adebayor was left embarrassed when his phone starting to ring during the live coverage of Japan v Cameroon.
It turned out he was waiting for a call saying that his daughter had been born.
Reuse content