Mathieu Flamini believes Arsenal are finally getting to grips with the perils of life on the road in the Barclays Premier League after the Gunners rallied to hold Everton to a 2-2 draw on Merseyside.
The Londoners were humbled 3-0 at Goodison Park last season and looked to be headed for further embarrassment in Liverpool after Seamus Coleman and Steven Naismith gave Everton a two-goal lead going into the break.
But, after Aaron Ramsey cut the deficit in the second half, substitute Olivier Giroud headed a late equaliser to grab Arsenal a share of the spoils.
While the Gunners' title aspirations were largely undone by their weakness away from home last term, their French midfielder Flamini feels his team-mates are about to start enjoying their road trips again.
He told Sky Sports: "We have learned a lot from last year about playing these kind of teams away and we came back today and tried to be stronger.
"We didn't give up until the last second so it was a game to remember for us. It was a great performance from the team because being 2-0 down was not easy for us.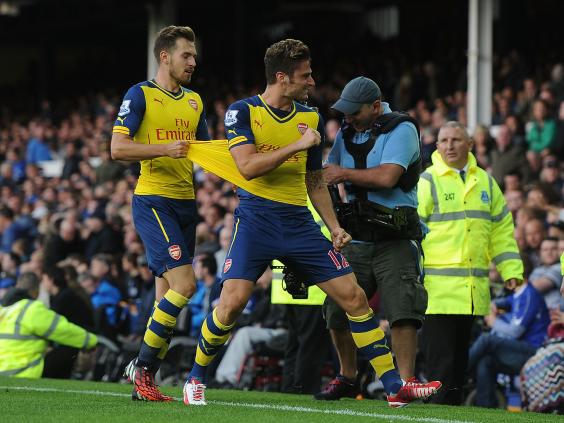 "Even though we were losing in the first half we had a few occasions to score so it was a bit unfair for us. There was great spirit from the boys today because we were losing this game, and it was not easy."
Referring to his compatriot Giroud, who replaced Alexis Sanchez at the break and nodded home the last-gasp leveller, Flamini added: "Obviously he was very important as he gave us a plus and he fought for every ball.
"It was a great help for us especially up front and then he scored the second goal so obviously he was great."
It was a second straight 2-2 draw for Everton, following their opening-day stalemate at Leicester.
Boss Roberto Martinez was delighted with what he saw in the first half on Saturday as the Toffees twice cut through the visiting defence to build a healthy advantage.
The Spaniard put his players' failure to hold on for victory down to fatigue.
"The performance was exactly as we wanted," he said. "The first-half performance is what we want to be doing.
"But we ran out of legs a little bit and Arsenal, as you would expect, threw everything forward and you get into a position where the third goal is going to be vital.
"At 2-0 up we were so comfortable in the first half. Tim Howard never had to make a save and we were always a real threat.
"The performance in the first half was exactly what we wanted. The result...at this stage of the season we'll take it.
"Obviously it's a disappointment to drop points but we were really happy with the performance and the way that we played Arsenal in the first half."
PA
Reuse content