When he managed Wigan Athletic, Roberto Martinez used to sign off his programme notes with the words "Sin Miedo" which in Spanish means "without fear".
During these last couple of months Everton's players and supporters have looked as if they had been watching The Omen with the lights out before every match at Goodison Park. For the first half hour in the Europa League against Dynamo Kiev on Thursday night everyone wearing or supporting a blue shirt appeared terrified. On Saturday evening Everton found themselves three points off a relegation place.
It says something that not until they were two-goals up and Fabricio Coloccini's brutal tackle on Aaron Lennon had seen Newcastle reduced to 10 men, did Goodison begin to relax and even then Tim Howard had to make fine saves from Moussa Sissoko and Rémy Cabella.
When, in stoppage time, Ross Barkley, who might have had a hat-trick in the quarter of an hour he was on the pitch, took the ball around Tim Krul for the third, this, finally, was the Everton of last season.
It has been a weekend in which the Premier League's north-east outfits have been handing out points to big clubs in fear of their future. What Sunderland did for Aston Villa on Saturday, Newcastle did for Everton. On this evidence, the upcoming Tyne-Wear derby will be nobody's clasico.
And yet, had Howard not made a fine reaction save from Gabriel Obertan and James McCarthy not cleared Mike Williamson's follow-up off the line, Newcastle would have been ahead before three minutes were up. Replays suggested McCarthy used his arm to make the block.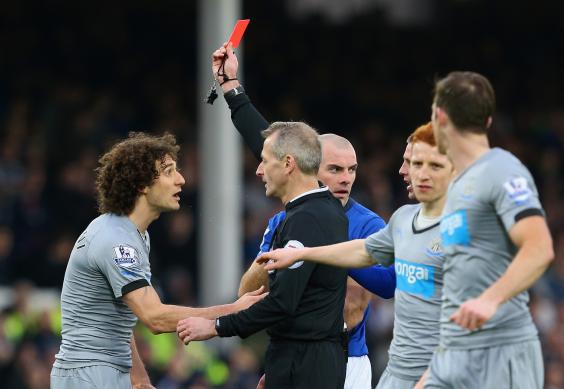 On Wednesday, Everton travel to Ukraine for the second leg of their Europa League tie and of the eight games shifted because of the competition, they have now won three. The first two were against Burnley and Queen's Park Rangers, clubs that have spent almost the entire season in the relegation zone.
"This was a big, big game for us," said Martinez. "We managed the game really well, which is something we have not done in the past when we got into winning positions. It has taken us a long time to perform after a European game but the squad reacted in a fresh, exciting manner.
"In the past there has been a fear of losing but Thursday night was a perfect preparation. The first 20 minutes against Dynamo Kiev were as bad as it can be and then, during the game, we found the responsibility to perform. There was no longer a fear of losing but a team that wanted to show what it can be. I think it was a real turning point."
It is one of the articles of faith at the St James' Park ruled by Mike Ashley that long cup runs by teams outside the Premier League's elite can drag a club down. Birmingham and Wigan, relegated after winning Wembley finals, are exhibits A and B and Everton this season might be another.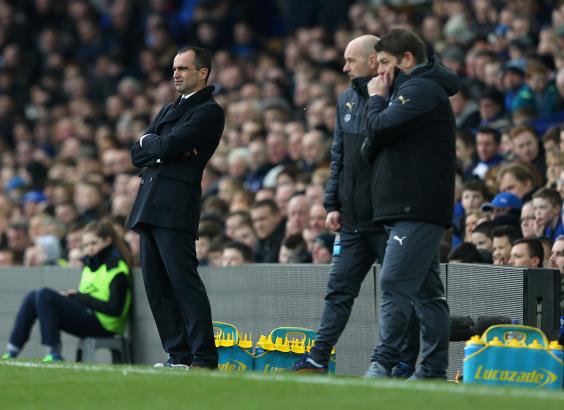 However, the supporters who travelled down from Tyneside would give a lot for a shot at glory and John Carver, who was Sir Bobby Robson's assistant in the days when Newcastle expected Champions League football, has some very thin resources to prepare for first Arsenal and then Sunderland with Papiss Cissé and now Coloccini suspended.
"In the dressing room afterwards I asked if anyone had anything to say," Carver said. "We had a proper, composed conversation, there were no cups being thrown around. It is those guys in the dressing room and the staff in there with them who can do something about the situation.
"We don't need to be motivated for Arsenal at home. We can't hide and we can't disappear; I have never thrown in the towel anywhere I have been. I am not Harry Houdini, I cannot magic something up but I will give it everything and real fans, the fans in the north – and I include Everton – know that."
Perhaps because they had a no-nonsense midfielder like Leon Osman in the heart of their team or perhaps because they realised the time for tiki-taka was past, Everton were far more direct than they have been. The opening goal was triggered by a long ball from Phil Jagielka that Romelu Lukaku took down and past Coloccini. The striker picked out McCarthy whose shot left Krul stranded. It looked as if the Dutchman had been beaten by a deflection but it turned out he had been wrong-footed by McCarthy's first, precious goal at Goodison Park.
Carver said he was impressed by the combination of Lukaku and Arouna Koné – "old fashioned centre-forwards who hold the ball up," he said. Koné appeared too keen to score a goal by beating every member of the Newcastle defence but Lukaku now has one more goal than he managed in last season.
It was a penalty and it was triggered by what can best be described as a striker's challenge on Lennon as he tried to take the ball past Yoan Gouffran. Lukaku struck the kick slightly better than he had against Kiev but the result was the same – a goal and a win. It was Everton's first back-to-back victory since Wolfsburg were beaten in November, around the time the blip started to become something altogether more serious.
Reuse content