"Go Everton". With these words and a punch to the palm of his hand, Sylvester Stallone launched Everton's latest attempt to re-ignite a season that has barely flickered into life. However, this league game against West Bromwich Albion failed to catch light either.
Eight years ago, Stallone had come to Goodison Park to watch Everton draw with Reading amid plenty of quips about how David Moyes's men lacked a knockout punch.
The actor who will be forever Rocky Balboa did not cross the Atlantic this time, which given the scoreline, was probably just as well. However, he was on Goodison's big screens urging the crowd to be filmed for his next Rocky movie Creed, which thankfully, given that the old boy is 68, sees him train rather than box.
If there was a knockout punch here, it was likely to be delivered in the home dressing room to Kevin Mirallas by his manager, Roberto Martinez, after the Belgian had committed the cardinal sin of overruling the regular  penalty-taker, Leighton Baines, taking a spot-kick himself and missing.
But Everton failed to heed Stallone's rallying cry and did not "go". They dominated possession, they created a few chances but this was the 12th game of the last 13, a sequence stretching back to 22 November, without a win and by the end there was not much of a crowd for anyone to film.
When Martinez made his second substitution, removing his best player in Muhamed Besic, Goodison seemed to have had enough and howled the substitution down. The mood was poisonous.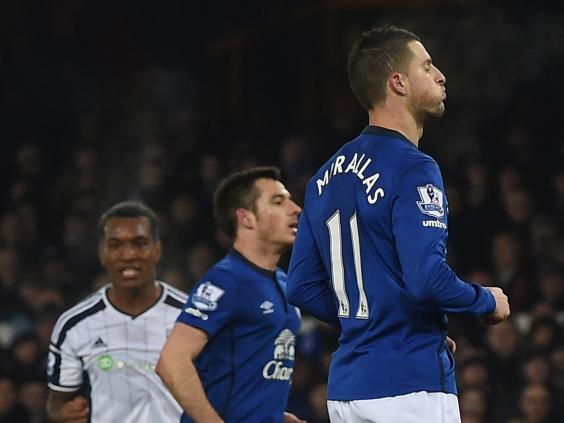 The point was of more use to West Bromwich, whose record at Goodison had been one win in 16 attempts since knocking Everton out of the League Cup in 1980. This, in some ways, was the least impressive of the four performances since Tony Pulis's takeover but they are still clambering upwards. Everton cannot resist the odd glance down.
The last time Pulis stood on the Goodison touchline, he had engineered a 3-2 victory for Crystal Palace that signalled the end of Everton's improbable bid for a Champions League place last season and confirmed the Welshman as the go-to guy for any chairman fearing relegation.
His remark that the task at The Hawthorns carried a greater degree of difficulty than the one spectacularly carried out at Selhurst Park appeared strange given West Bromwich's greater resources and the fact that in Saido Berahino they possessed an authentic Premier League quality striker.
Pulis's argument was that he had been appointed six weeks' later at West Bromwich than he had at Palace and had less time to plan changes. Certainly, during a first half that saw them pressed consistently back, they looked nothing like the Palace side he had reinvented.
Everton, however, looked like the team that had held Manchester City to a draw and participated in an epically draining FA Cup tie with West Ham rather than the club that had won one of its last dozen matches.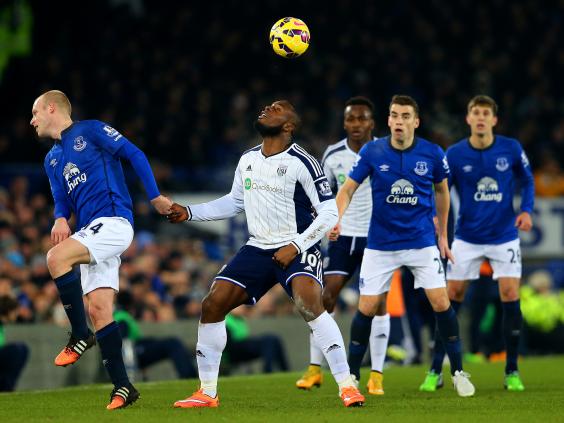 They were up against Joleon Lescott, who at both Everton and City was unfairly remembered for his errors than his exploits at centre-half. Back on Merseyside, he showed awareness and anticipation in abundance, especially when Romelu Lukaku tried to turn him on the edge of the West Bromwich area.
Then came the mistake. As Lukaku chested down Seamus Coleman's cross, the ball bounced and struck Lescott on the forearm. It looked a clear penalty – the fifth referee, Michael Oliver, had awarded to Everton in successive visits to Goodison.
It looked obvious that Leighton Baines, whose record for Everton is 14 successful spot-kicks from 15, would take it. Instead, it was, to the evident puzzlement of Ross Barkley, Mirallas who placed the ball on the spot.
Lukaku and Steven Naismith told him to let Baines take it, Mirallas ignored them, trusted in his own ability and missed. There was a minute until the interval and the Belgian, who is wanted by Tottenham, did not reappear for the second half.
As the teams went off for half-time, the Tannoy announcer pleaded with the Gwladys End to stay in their seats so they could appear in the crowd scenes for Stallone's new film. With a giant camera rig set up in the centre circle, the Gwladys did its bit, although when Creed is released next year American audiences might wonder why the crowd at "Madison Square Gardens" are chanting: "Kopites are Gobshites."
Reuse content