There is a moment in my conversation with Fernando Torres when he stops and goes right back to the start of his career, to when he was a teenager at Atletico Madrid, and recalls what it was like to be looking in from the outside at the high-stakes world of elite football, and all its imponderables.
He remembers the summer of 1998 when the Italian striker Christian Vieri left the club for Lazio having been La Liga's top goalscorer in his one season there. Torres was just 14 at the time and was "watching Atletico from the stands" right up to the moment he made his debut three years later. He was bemused by Vieri's decision to leave.
"I didn't realise how my life was changing," he says. "When I was 17, 18, 20, I didn't realise how big football was and everything around football. How many people live for football and love football. I was a professional but I was a supporter. When I was 14 years old and when Christian Vieri left I didn't understand why the players were leaving! Then through the years you understand more things and you have to be more careful when you do things."
Since then he has made his own big moves, from Atletico to Liverpool and on to Chelsea, the £50m transfer in January 2011 that made him the most expensive footballer in British history. Torres' story remains one of the most intriguing in English football, the man who was once arguably the deadliest striker on the planet with 81 goals in 143 games for Liverpool who has never been able to recreate that level of form at Chelsea.
Transfer analysis: The players set for major moves this summer
Transfer analysis: The players set for major moves this summer
1/21 Edinson Cavani

Another striker linked with Chelsea as they look to bolster their front line, the Uruguayan may have only recently joined PSG but that won't stop rumours about him moving from flying around all summer. Particularly if he impresses at the World Cup in Brazil where he will be coming up against England in the group stages.

2/21 Radamel Falcao

The Colombian surprised many with his move to Monaco last season but it would not surprise many if he moved on again this summer. Chelsea are one of many clubs reportedly keen to bring him in. He has been ruled out of the World Cup with a knee injury.

Getty Images

3/21 Toni Kroos

One player who's been creating transfer rumours for a while is Toni Kroos. The German has been linked with a move to Manchester United as his contract talks with Bayern Munich stall. Whether Kroos is simply exploiting United's need for midfield improvements simply to improve his Bayern contract remains to be seen. His superb goals against Arsenal at the Emirates the last two years running highlight just what a talent the Germany international is.

GETTY IMAGES

4/21 Victor Valdes

For some reason Victor Valdes wants to leave Barcelona this summer and Liverpool, Manchester City and Monaco have all been linked with his signature. A recent injury that saw him miss the end of the season and the World Cup could change things, with the Spaniard potentially choosing to stay until his recuperation is over.

GETTY IMAGES

5/21 Paul Pogba

Juventus are set to offer Paul Pogba a new contract according to some reports, however his £40m buyout clause must be tempting to some, former club Manchester United included. Comes with something of a reputation however, so would be a gamble.

GETTY IMAGES

6/21 Fabio Coentrao

The Portuguese left back nearly joined Manchester United in January and with the Premier League bracing itself for a flurry of activity in that particular position, Coentrao could be one man in line for a move. Particularly as he has struggled for appearances at Real Madrid this term.

7/21 Mario Balotelli

Why always linked with transfers? For one reason or another, Super Mario is one man constantly in the transfer spotlight with a potential reuniting with former boss Jose Mourinho at Chelsea being mooted by some while other reports suggesting he has been offered to Arsenal for £30m.

8/21 Arturo Vidal

The self-styled 'best in the world' in his role, has had a great season with Juventus and consequently finds himself in the sights of Real Madrid and Manchester United United according to reports. A good World Cup with Chile will only boost the likelihood of some offers.

GETTY IMAGES

9/21 Sergio Aguero

It seems unlikely that Aguero is likely to quit Manchester City but following his continuing excellence at the club, the Argentine forward reportedly remains a target for Real Madrid who might be the one club capable of luring him away from the Etihad. Them and Barcelona, who his father says would be difficult for Aguero to turn down.

GETTY IMAGES

10/21 Iker Casillas

Synonymous with Real Madrid for so long, Casillas fell out of favour with first Jose Mourinho and now Carlo Ancelotti and a summer move seems likely. Where the Spanish captain will go is less clear. Barcelona will be in need of a new keeper, but surely that move won't happen? Arsenal are another club reportedly interested in finding a new number one.

GETTY IMAGES

11/21 Shinji Kagawa

So exciting to watch at Dortmund, Kagawa has failed to shine at Old Trafford and has struggled to earn a first team place this season. Many blame the manager but few could complain if the Japanese star was keen to move on this summer. A return to Dortmund is a possibility.

GETTY IMAGES

12/21 Eliaquim Mangala

It seems like almost every top European club is looking to reinforce the centre of its defence at the moment and consequently Eliaquim Mangala could be in high demand. The Porto centre-back's value meanwhile is going up and up.

GETTY IMAGES

13/21 Julian Draxler

Julian Draxler has featured heavily in recent transfer windows and looks set to do so again this summer with Arsenal once again linked with the German star. The Germany international has signalled he's open to a move away from Schalke.

GETTY IMAGES

14/21 Luis Suarez

Liverpool's Suarez-inspired league form and subsequent Champions League qualification may help keep the Uruguayan on Merseyside, however rumours of a move to a bigger club will still persist this summer. Particularly when it seems whenever the striker returns to his native Uruguay he forgets about his affection for the Reds. An impressive World Cup, if he recovers from an injury in time, will only fuel speculation.

AFP/Getty

15/21 Jackson Martinez

Porto's Colombian striker is seemingly always mentioned in transfer gossip pages and this summer looks set to be no different. With Falcao set to miss the World Cup, this tournament could be Martinez's chance to really show himself off on the world stage with Colombia.

16/21 Mateo Musacchio

A free agent in June, which means a host of clubs could be interested in the 23-year-old centre-back. Manchester United are one of those reportedly keen on the Villarreal player.

Getty Images

17/21 Nicklas Bendtner

The 'Great Dane' is out of contract in the summer and if we are to believe the man himself then a move to Real Madrid or Barcelona beckons. A switch to Sunderland or Stoke might be more likely.

GETTY IMAGES

18/21 William Carvalho

Another player plying his trade in Portugal that is causing a bit of a stir. The 21-year-old is at Sporting Lisbon for the moment but a bumper offer could see him on his way. Fees in the region of £37m have been mooted for the defensive midfielder, with Manchester United one of those reportedly ready to stump up the cash.

GETTY IMAGES

19/21 Josip Drmic

There could be a battle on Merseyside between Liverpool and Everton for this young striker. The 21-year-old is currently playing for Nürnberg in the Bundesliga, and having already scored a couple of goals for Switzerland at international level, is a rising star.

GETTY IMAGES

20/21 Yann M'Vila

The France international has for so long been linked with a move to the Premier League that it's almost as if he's here already. But he's not, he's in Russia with Rubin Kazan. But that might not be the case after this summer for the 23-year-old with Liverpool in particular linked with the defensive midfielder.

GETTY IMAGES

21/21 Fernando Torres

They might have paid £50m for him, but Torres' days at Chelsea look numbered. Jose Mourinho has done anything but offer a ringing endorsement for the Spaniard and with the Blues linked with just about every striker going, Torres should move on. Despite his problems in front of goal, there won't be a shortage of suitors. Inter Milan have been linked as have his former club Atletico Madrid.

Getty Images
Torres does not do a lot of interviews but he has made an exception in this case and he faces the issues in his own career in unblinking fashion in a small meeting room at Cobham, having come straight from the training-ground pitch with the muddy shins to prove it. He is a thoughtful, contemplative type who weighs his answers carefully and does not dodge the difficult questions.
It has not been a good week at Chelsea. Two defeats, to Crystal Palace on Saturday and then 3-1 away to Paris Saint-Germain on Wednesday, in which Torres was a second-half substitute with André Schürrle picked ahead of him. Afterwards, Jose Mourinho was critical of his strikers. Asked whether he would have beaten PSG had he had their forwards at his disposal, the Chelsea manager replied, "Of course."
With Samuel Eto'o still injured it will be instructive to see who Mourinho picks to lead the line against Stoke City today. In a season interrupted by injury, Torres has scored eight goals, four of them in the Premier League. In the past, most notably at the end of the 2011-12 season, he has declared himself unhappy with any demotion from first-team action but not, he says, under Mourinho.
"He [Mourinho] has to choose the one [striker] he thinks is better and try to manage the situation with the players," Torres says. "He didn't do anything special with me. Just treats me like one more. He puts me on the pitch when he thinks I am the best option and on the bench when he thinks I am not the best option.
"My aim is to try to make him feel I am always the best option for him. You have to have ways to adapt to this situation. Blame the manager? Blame your team-mates? Blame everyone? Or ask from yourself a bit more. I think I can do better. I can make Jose think I am the best option. That is what I have to do every day in training, all the matches. I just ask of myself the responsibility.
"The things you cannot change you can't waste your time on. I cannot [automatically] change the way the manager thinks so I have to ask myself and be critical with myself to try to understand what he wants. I have to put more and more effort into these things. It is what I have been doing all my life … I cannot change the others so I have to be critical of myself.
"You have to prove yourself every day. You have to live for today. Three years ago? Five years ago? It's today. If the manager thinks there is another player better than you he is going to play and this is the way. You have to try to improve and keep fighting and try to change the manager's mind. Hopefully one day Jose can say 'This [Torres] is my striker, he is going to be my striker' like he does with some of the players who have won the appreciation from him."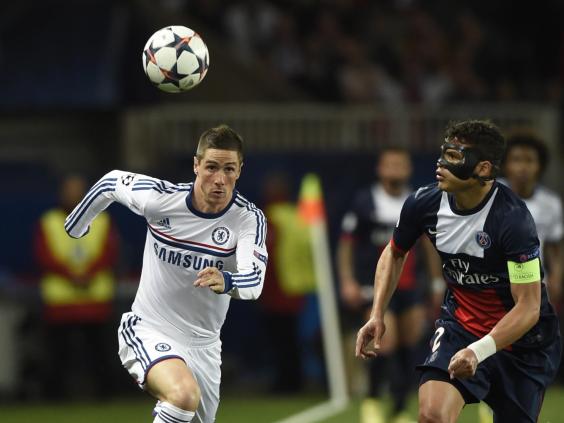 It is a strikingly humble approach from the man who has won a World Cup, two European Championships, a Champions League, Europa League and the FA Cup since he came to England in 2007. Watching him play, it can be difficult to read the emotions of Torres through that glassy-eyed stare maintained in triumph and calamity, but once he starts talking he is a fascinating subject.
Does he feel that, given what he has won, and having only just turned 30 last month, there is insufficient appreciation of his achievements? "I am sure people appreciate [me] … this is what I feel from people outside and from the supporters. Everything I have done in my career I have done from my values and doing things the way I like to do. So winning doesn't matter the world for me... it's worth it if you feel you fought for it and you have failed [along the way].
"This is the way to win, not everything is nice and you are the best in the world every day and you score five goals every game. Life is not like this. There are ups and downs and you have to go through all these things to appreciate when you win, this is a really good win.
"I feel I have had ups and downs and moments when I didn't want to go to training or moments I really wanted to go to training because the final was coming. We started last pre-season in America 10 months ago and now we are here and all this way there have been a lot of different feelings and emotions."
Last season was his best at Chelsea with 23 goals in all competitions, and a renewal of his partnership with his former Liverpool manager Rafa Benitez, the interim coach. Torres said he understood "what we wanted from the beginning". This season he says he has struggled more in the games where teams have sought to deny Chelsea space but that under Mourinho they are improving all the time on how to cope with the proverbial parked bus.
In fact, it is on his role in the team and how life has changed for him that Torres is at his most erudite and illuminating. I began by asking him whether the knee operation in April 2010, which prevented him from hitting the last World Cup finals at full tilt, had been the career-changing episode – less explosive pace and power – that so many have assumed it to be.
"Who knows? You are never going to have that answer. It was not that bad an injury. It gave me a few problems after that but it is not a massive one like [his Chelsea team-mate] Marco van Ginkel [cruciate ligament] … it was one month, two month, not too bad. But the World Cup was there. At the end I was in the team that won the World Cup. There is not the point that you can say after that [it changed] … it's not like this. Many, many things [happened]. Injuries always give you some extra problems in the future.
"You say people are always talking about fitness. Fitness is important but the most important thing is how you adapt and the way you feel physically. To adapt to a new position. To try to change your game."
Had he had to do that? "You adapt to the way the team plays. Chelsea is not an easy team to play for because you have great players and you have to be really, really aware of the small things. The teams that come to play us go very low [deep] so the space is not there. Willian and Oscar are very mobile and quick.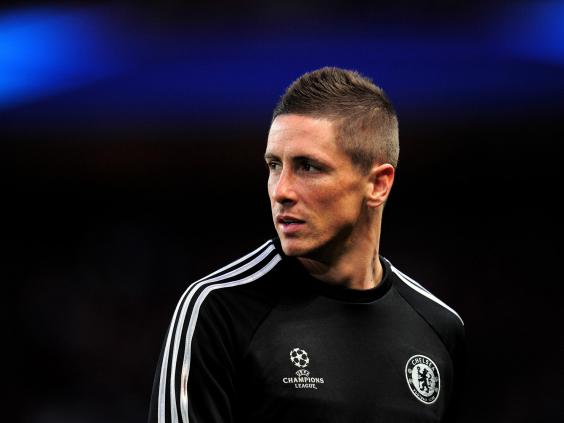 "When you have more space, for us it is better but also it is because the other team is better and we have to be more compact, against the big teams like Manchester City, Liverpool, Bayern Munich in the Super Cup. It is not easy. The Premier League is very difficult football and very different to when you play in Europe but the player has to have experience to adapt and this is the key point.
"To change the manager quite often is not the best thing because you don't have the stability but even doing this we won the Champions League, Europa League and FA Cup in the last two seasons, changing the manager many times. In football you cannot say: 'These are the way things are going to be.' Doing what is not supposed to be the right thing we won the Champions League, the most important trophy at club level. I don't know. Everyday I think I understand less!"
We go back to the subject of Torres having to change his game as he gets older, like, for example, Alan Shearer, the Premier League's all-time leading goalscorer. "Shearer is a clear example," Torres says. "He adapted his game to what is better for him and he did great, always. It is not easy for a footballer to understand. You have to change because when things are not [going] well you normally think 'I have to go back to basics, the things I have been doing'. But sometimes you have to change because the way you are playing.
"You adapt to the way your team is playing. It is what I am doing now. Atletico played one system. Spanish football is completely different. I came to England – completely different football – and I adapted very quickly because the Liverpool team with Benitez we played compact and so quick and it was easier for me. The national team and Chelsea are similar. We play with a lot of quality, we keep the ball, we pass the ball a lot of times."
What is Torres' future? There can be no doubt that Mourinho will buy a new striker in the summer with the preferred choice the Atletico striker Diego Costa, Brazilian-born but now a Spanish citizen who has also taken Torres' place in the Spain squad.
"In the last month I have moved to Atletico, Valencia, Inter and Monaco," Torres says with a smile, in reference to the stories written about him. "I have two more years left on my contract and I said on the first day that I have signed five years with Chelsea and I want to play five years with Chelsea. I have tried to win everything with this club and hopefully the Premier League is the next one. If we win the Premier League we have the chance to play the Community Shield, that's another one we don't have.
"We have to fight to win another Champions League and we have the chance to win the Super Cup, the Club World Cup. There are many things still to do and hopefully two years is enough. Who knows if after that more years are coming?"
There is no doubting he does want to complete the set, Community Shield and League Cup included. At the moment he faces the more pressing problem of whether he will be included in the Spain squad for the World Cup this summer having been part of the last three successful tournament campaigns. It would, I suggest, be a shame to miss out.
"It would be for me," Torres deadpans back. "Of course I can make it. Football is about the last month and a half and that is going to be very important. I want to be there. I love to play for my country and I have been lucky enough to be in two Euros and a World Cup. We made history. No one did it before, three in a row, and we want to do the fourth. It would be amazing for this generation. So I would like to be there, but if I want to be there I have to do well for Chelsea. Score goals and win trophies."
It is interesting to hear him talk about Costa without a hint of bitterness. "I read an interview where he [Costa] said Spain gave him everything," Torres says. "He moved from Brazil to Portugal when he was very young and after Atletico signed him he has been on loan everywhere in Spain. So I understand what he was trying to explain. He felt Spain gave him everything in football.
"He came from Brazil and loved Brazil. But in football he felt he had something to give back to Spain and it's great to have him. He's had a brilliant season and I am sure he will be important for Spain in the World Cup. A great player playing for us – and not for Brazil."
Others might have been less generous about a player switching nationality to take their place, but Torres is nothing if not gracious. He talks fondly of the Liverpool supporters who give him merciless stick in the stadium but are different "when they see me on the street or in the letters they send me". Hope seems to spring eternal for him, whatever the challenge. He believes he will reclaim his place for Chelsea and for Spain, and staying positive, surely, is half the battle.
Fernando Torres was speaking as part of the adidas "Forever Blue" campaign to launch the new Chelsea FC 2014-15 home kit. To  pre-order your new kit visit  www.chelsea.com/foreverblue and join the conversation at @adidasuk #allincfc
My other life: rock music
I am a rock man: Nirvana, Foo Fighters, Red Hot Chili Peppers (below). My brother Israel is seven years older than me and when I was a kid we shared a room. So I had no choice but to listen to the music he liked. I grew up with music from my brother in my ears. I saw the Chili Peppers at the O2 Arena and I'm waiting for the Foo Fighters to come.
I am a big fan of the Gallagher brothers. At Liverpool they came a few times, they are friends of Steven Gerrard. It was nice to meet them. When I was in Spain I couldn't speak English so I couldn't understand the lyrics. When I came to England I started studying music and trying to understand what my favourite songs said.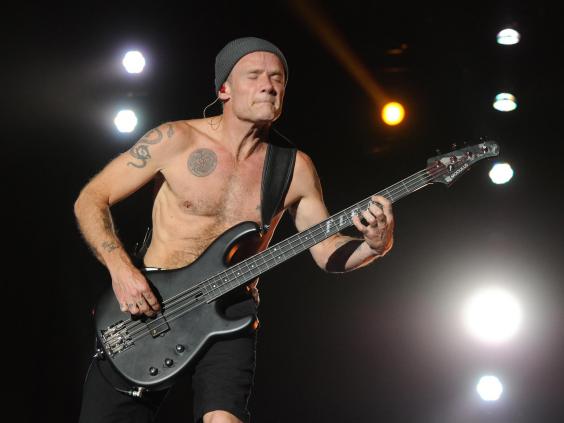 Torres tally: Goals per game average
Atletico Madrid
2002-03 14 gls/31 gm (0.45gpg)
2003-04 21/40 (0.53)
2004-05 20/49 (0.41)
2005-06 13/40 (0.33)
2006-07 15/40 (0.38)
Liverpool
2007-08 33/49 (0.67)
2008-09 17/38 (0.45)
2009-10 22/32 (0.69)
2010-11 9/26 (0.35)
Chelsea
2010-11 1/18 (0.06)
2011-12 11/49 (0.22)
2012-13 22/64 (0.34)
2013-14 9/33 (0.27)
Spain
2003- 36/106 (0.34)
Reuse content