Good old Newcastle United, the comedy club run by Mike Ashley that prides itself on lurching from one surreal episode to the next. Only the joke has been wearing thin for far too long now.
While most of Tyneside rejoices at the fact the Alan Pardew reign is over, what lies around the corner could swiftly wipe the smile off the faces of the Geordie faithful. Seeing Joe Kinnear back for another foul-mouthed stint at the club would not be a massive shock.
That Pardew survived this long is a miracle in itself. He has been constantly undermined by Ashley throughout his tenure. How little power Pardew held was shown inside two months when star striker and local hero Andy Carroll was sold, despite the manager's regular assurances that he was not for sale. It made him look stupid and weak – and he knew it.
Pardew again lost his key player in the last January transfer window when Yohan Cabaye was sold and not replaced. The team plummeted down the table and the fans' wrath turned on their manager.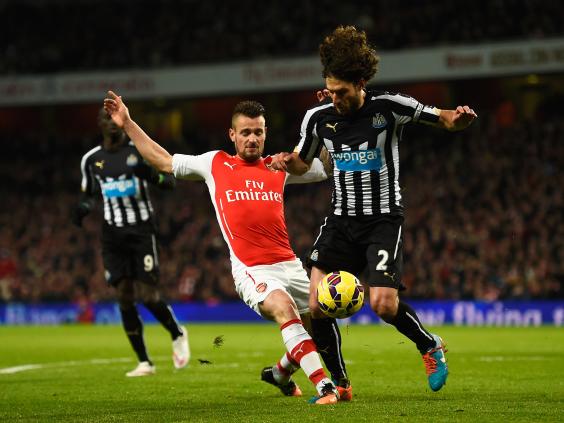 The vitriol directed at Pardew throughout most of 2014 has been nothing short of vicious. While managers being abused at St James' Park is nothing new – just ask the likes of Graeme Souness or Sam Allardyce how tough it can be – this was at another level.
Being scared to leave your home dugout for fear of enraging fans is never a good sign. Nor is having a website set up solely for the purpose of wanting you sacked, nor is having 30,000 sheets of paper printed, calling for your dismissal, for fans to wave at the next match. And Pardew certainly has not helped himself.
Being caught calling Manuel Pellegrini "a fucking old cunt" was bad enough but he was incredibly lucky to keep his job after headbutting Hull City's David Meyler, escaping with a stadium and touchline ban and a hefty fine. Also, his record in the cups and against local rivals Sunderland is nothing short of dreadful.
Now Pardew has decided to walk, and club captain Fabricio Coloccini is in line to take over. The Argentine is popular with the fans but he has no managerial experience – a bizarre and cheap appointment. Very Mike Ashley.
Alan Pardew: Managerial highs and lows
Alan Pardew: Managerial highs and lows
1/9 Reading 1999-2003

First took charge of Reading as caretaker in 1998.

2/9 Reading 1999-2003

Got the team promoted to Division One in 2002, after finishing second in Division Two.

3/9 West Ham 2003-06

Pardew resigned from Reading after West Ham were not allowed to speak to him. Won promotion to the Premier League in 2005 via the play-offs.

4/9 West Ham 2003-06

His spell at Upton park was not without controversy, including a touchline clash with Arsenal manager Arsene Wenger in November 2006. Sacked in December 2006.

5/9 Charlton 2006-08

Unable to keep Charlton in the Premier League in 2006/07 - the first relegation of his career. Left by mutual consent in November 2008 with the club in the Championship relegation zone.

6/9 Southampton 2009-10

Won the Football League Trophy final in 2010 but was sacked five months later after reports of a disagreement between Pardew and club chairman Nicola Cortese.

7/9 Newcastle United 2010-14

Took the role at Newcastle in December 2010 after Chris Hughton was sacked.

8/9 Newcastle United 2010-14

Head-butted the Hull midfielder David Meyler during Newcastle's 4-1 win in March 2014. Would receive a seven-match ban and a £60,000 fine.

9/9 Newcastle United 2010-14

His tenure at Newcastle was blighted by abuse from the fans after Newcastle failed to continue the form that took them to fifth in 2011-12, with one local paper writing: "This was arguably the worst personal abuse a Newcastle manager has had to endure at any game" - after Newcastle won 3-0 against Cardiff in September.
And he will face the same problems: an owner happy to meander in mid-table in the league, rake in the television money and sell the best players if the right offer comes in. Unless Ashley suddenly decides to strive for something other than mediocrity, there is only frustration ahead. And that is no laughing matter.
Reuse content