The FBI investigated threats of violence made against Malcolm Glazer and his family around the time the late owner of the Tampa Bay Buccaneers was acquiring Manchester United, according to newly released documents.
Glazer, a self-made billionaire whose 2005 takeover of the Premier League club was fiercely opposed by fans, died in May at age 85. 

The FBI released more than 120 pages of partially redacted records, including details on threatening telephone calls and emails, in response to a Freedom of Information Act request from The Associated Press. 

Glazer had already owned the Bucs for a decade when he acquired Manchester United in a leveraged buyout valued at roughly $1.4 billion. Many fans who decried the move, fearing he would sell off the stadium, raise prices and saddle the club with debt. 

At the time, some Manchester United supporters burned Glazer's likeness in effigy, urged fans to wear black and wave black flags, and called for a boycott of the club's sponsors. British police had also said they were investigating threats from a militant fan group.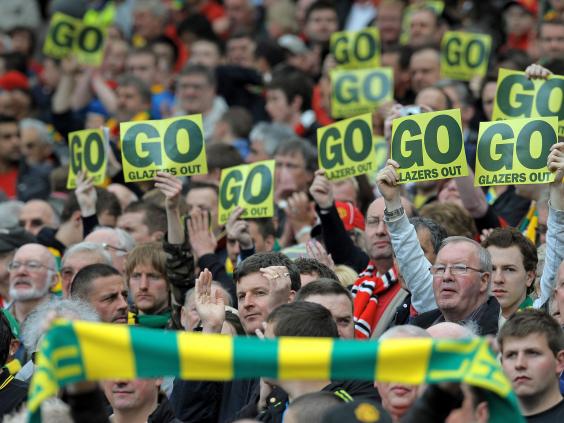 On the morning of May 12, 2005, the day Glazer became the majority shareholder, a male caller with a British accent called the Buccaneers headquarters, asked many questions about the Bucs and ended the call by saying he wished Glazer were dead, according to an FBI report on the threat. 

Several hours later, a male caller again speaking with a British accent identified himself as a member of the Manchester United Action Group and warned that the Glazer family would be in danger unless Glazer backed down from his takeover bid, the FBI report said. 

Another call came the following day, with the man saying he was the same person who had called before and asking, "Do you remember me?" The caller said he knew people who "were ready to take action against" Glazer, and against another person whose name is redacted. 

The caller said, "I am giving you another warning" and set a deadline for Glazer to abandon his takeover bid.
Manchester United vs Everton player ratings
Manchester United vs Everton player ratings
1/21 David De Gea

First keeper to stop a Leighton Baines penalty and then won his side all three points with a super late save. 8/10

Getty Images

2/21 Rafael

A solid performance in attack and defence. 7

Getty Images

3/21 Paddy McNair

Did well to negate Romelu Lukaku's physical threat. 6

Getty Images

4/21 Marcos Rojo

Didn't look totally at ease and had a fairly quiet game. 6

Getty Images

5/21 Luke Shaw

Not a great game, gave away penalty, lost Naismith for goal and went off injured. 5

Getty Images

6/21 Daley Blind

A solid game from the Dutchman in midfield. 7

Getty Images

7/21 Antonio Valencia

Not a great performance. Doesn't look totally comfortable in a midfield diamond. 5

Getty Images

8/21 Juan Mata

In for suspended Rooney but didn't really grab his chance. 5

Getty Images

9/21 Robin Van Persie

Not a performance to right home about. 5

Getty Images

10/21 Radamel Falcao

Broke his United duck after missing a few earlier chances. 6

Getty Images

11/21 Tim Howard

An increasingly rare error-free game. 6/10

Getty Images

12/21 Tony Hibbert

Won his side's penalty but had an otherwise tricky time dealing with Di Maria. 6

Getty Images

13/21 John Stones

Another solid performance from the young defender. Late injury will be a concern for club and country managers. 7

Getty Images

14/21 Phil Jagielka

His (stunning goal last week aside) indifferent season continues. 5

Getty Images

15/21 Leighton Baines

Missed his first Premier League penalty, but made amends with assist for goal. 6

Getty Images

16/21 Muhamed Besic

Did what was needed without excelling particularly. 6

Getty Images

17/21 Gareth Barry

Reliable rather than spectacular, missed a great chance to equalise at the end. 6

Getty Images

18/21 Aiden McGeady

Didn't make much of an impact. 5

Getty Images

19/21 Steven Naismith

His great season continues and was a thorn in United's side. 7

Getty Images

20/21 Steven Pienaar

Classy backheel that led to penalty, but otherwise was fairly inconspicuous. 6

Getty Images

21/21 Romelu Lukaku

Struggled a little on his own up front, but kept going all game. 6

Getty Images
The FBI issued subpoenas as part of the investigation. But the records show that the case was closed without prosecution because the authorities could not conclusively identify the source of the threats. 
Because of the threats, the NFL planned for security representatives for all teams the Buccaneers played that season to have pictures of members of the Glazer family, according to the FBI documents. 
Nelson Luis, the Buccaneers' director of communications, declined to comment Tuesday. 
Within a year of the leveraged buyout, Glazer had two strokes and his children ran the 20-time English champions.
Reuse content