Andre Villas-Boas, the Tottenham Hotspur manager, will escape censure from the Football Association despite strong criticism of its decision not to charge Chelsea's Fernando Torres for scratching the Spurs defender Jan Vertonghen's face at White Hart Lane on Saturday.
A new three-man FA panel of former referees has been introduced this season but it ruled on Tuesday that Torres would not be handed a further suspension to the one-game ban he received for being sent off in the 1-1 draw against Spurs because the incident had been partially seen by assistant referee Jake Collin. Under the rules, no further action can be taken in those circumstances but, speaking in Russia ahead of tonight's meeting with Anzhi Makhachkala in the Europa League, Villas-Boas branded the decision "a joke".
He said: "It's extremely difficult to know where to start. It is almost a farcical decision. The FA has made a decision almost a joke. It looks incredible. How can you see the images, pretty clear, and come out without punishment, on something [which] overtakes all professional behaviour?
"I think the decision is a disgrace," Villas-Boas added. "If the committee can't solve such clear images I don't think it sets out a good first example. I think the FA has lost all opportunity to put some sense into the images everybody saw. I'm extremely grateful for ex-refs to be able to enlighten people a little bit more, though I think most of you guys saw the incident as something that is not tolerable in football."
An FA source confirmed last night that Villas-Boas would not be punished for speaking out in spite of his strongly worded response to the decision. However, the FA chairman, Greg Dyke, admitted that the incident was another example of the governing body's failure to communicate with fans over its management of the English game.
Speaking at an event in London hosted by the Ambassador Theatre Group – of which he remains executive chairman – Dyke acknowledged that the FA needed to be more "proactive and on the front foot" to improve its relationship with supporters.
"I suspect the FA needs to up its image," he told Marketing Week. "When they didn't charge Torres for scratching there was uproar but it was something that had been decided according to disciplinary rules. My view of the FA is that it needs to be more proactive and on the front foot [engaging with fans]. What drives people forward in terms of performance is that passion. Football is no different. Once you have that then you can worry about the money."
Managers are regularly reminded that any direct criticism of match officials will not be tolerated and can lead to fines or touchline bans. Yet, after his war of words with his former mentor Jose Mourinho last week, Villas-Boas was extremely careful not to draw either referee Mike Riley and his team or Torres into his argument, instead concentrating on the FA's existing system of regulation.
"It doesn't matter to me which player or club is involved," he said. "Neither do I want to put into question Fernando's integrity, nor their manager's, in trying to defend what is our position. We don't want Fernando suspended because it can make them weaker, because their bench is so strong [anyway]."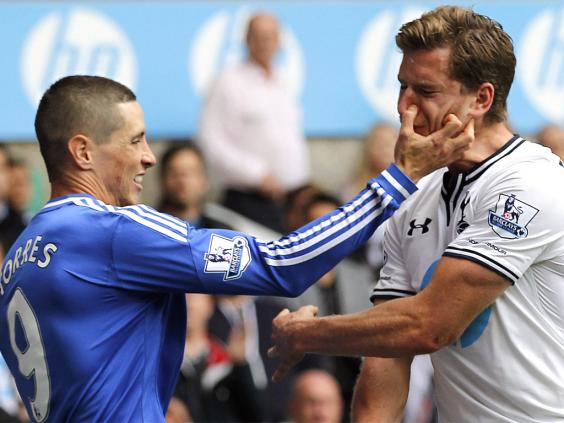 The new system to deal with retrospective sanctions is being piloted this season by the FA, with the panel permitted to review incidents if the match officials had not witnessed the possible offence. Previously, it was down to the referee to decide whether he wanted to take retrospective action.
A scan revealed Torres suffered a medial collateral ligament injury to his left knee in Chelsea's 4-0 victory over Steaua Bucharest on Tuesday which will rule him out for three weeks. The striker will miss the game this Sunday at Norwich –for which he is banned anyway – and then the home match against Cardiff City on 19 October and the trip to Schalke in the Champions League. Chelsea would hope to have him available again for the home game against Manchester City on 27 October.
Is the FA review system up to scratch? Sam Wallace looks at how it works
Reuse content