Frank Lampard ended his brilliant career in England with a goal in his final game on these shores.
The 36-year-old will join New York City next season after seeing out his year-long contract at Manchester City.
Although Lampard was unable to add to a bulging trophy cabinet at the Etihad, the veteran midfielder added another goal to his collection as Manuel Pellegrini's team beat Southampton 2-0.
It was his eighth goal of the season and the 259th club goal of a brilliant career that has seen spells at West Ham, Swansea and Chelsea before City.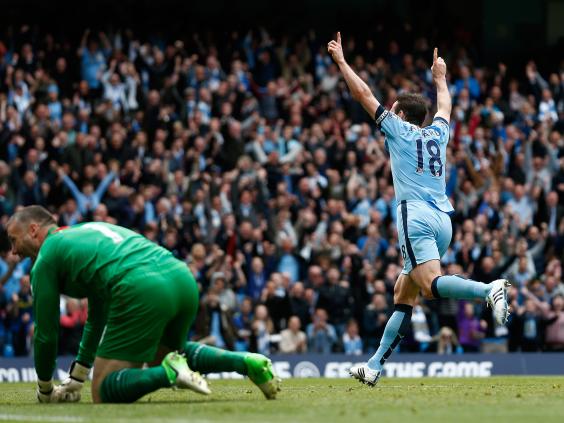 Lampard hailed the City fans after they welcomed him this season.
"I have turned up here at age of 36. I didn't know what to expect, from the dressing room and the fans and living in this city, and all I can say is thank you so much to everybody," he said after the game.
"This is a very special club and from bottom of my heart it's been a pleasure to play for you."
But it was Chelsea were he spent his best years. He leaves England for Major League Soccer as the highest goalscorer in Chelsea history; his 13 years in blue saw Lampard find the net 211 times in 648 matches and win 11 major trophies.
On a day when his former club lifted their fifth English title, a former team-mate also departing the Premier League had special words for Lampard.
"I want to say thank you to all my ex-team-mates, all the managers I played for under this shirt and a special thank you for this guy because without him and most of his assists there would not be the Didier Drogba celebration: Frank Lampard, thank you," said Didier Drogba after he led celebrations at Chelsea.
Reuse content