Manchester City are at the centre of a humiliating row over the decision to deny Frank Lampard the chance to leave for the United States this month, with the player clearly unhappy with damage to his reputation and the Premier League feeling the club have been economical with the truth over their plans for him.
On a day in which the decision to keep 36-year-old Lampard until the end of the season backfired badly on City, the former Chelsea player first issued a statement which indicated that it had not been his choice to renege on his promise to be a Major League Soccer (MLS) player for New York City FC's (NYCFC) new campaign.
City then admitted that they had misled MLS supporters by stating on the website of NYCFC - their affiliate club - that Lampard had signed a contract from August 2014. They also admitted that they had misled their own supporters by claiming that the player had been loaned to City. City's new version of events was that they had themselves signed Lampard from Chelsea on a six-month deal until December.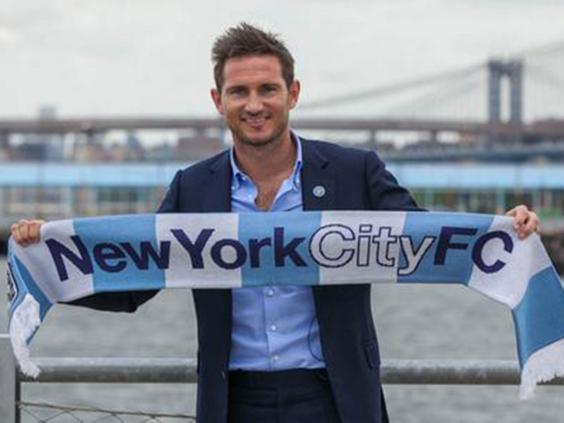 But the Premier League insist that no player can be signed for six months – and that to do so would be a breach of Premier League rule t11, which stipulates that any contract must be for at least 12 months.  City have in fact signed Lampard for 12 months, with a December 31 break clause, and only a pre-contract agreement has been signed with NYCFC. There is a sense of bafflement at Premier League as to why City have not indicated that. It has not been made clear who has paid a signing-on fee for Lampard or who has paid his wages since last August.
The credibility of Manchester City has being damaged severely by this farce, after Lampard's failure to materialise for the MLS season proved a stateside PR disaster for the Etihad Stadium club. City also suffered reputational damage when the club failed UEFA's Financial Fair Play test last year because of attempts to claim £40m earnings from image rights and intellectual property rights – an accounting ploy which the governing body took a very dim view of.
Lampard, was due to move to the MLS on January 1, has promised that he will move to New York City FC at the end of the Premier League season. Writing on his Facebook page, he said: 'I want to make it completely clear as I have read a lot of lies and nonsense over the last few days. 'When released from Chelsea last year at the end of my contract I signed a commitment to play in NYC FC for two years starting January 1, 2015.
"I was then offered the chance to train and be part of the Man City squad in the interim to keep myself in the best shape going into New York. This period has since been extended by Man City and I now will start playing for NYC FC at the end of this current Premier League season."
Reuse content