Ronald Koeman spent enough time as Pep Guardiola's senior room-mate at Barcelona to know just what makes the Manchester City manager tick and the grin on the Dutchman's face suggested he has already devised the game-plan with which Everton can embarrass his old friend.
Deputed by Johan Cruyff, the then-Barcelona coach, to mentor the "very bright kid with a quick brain" who had just emerged from the club's youth team, Koeman, eight years Guardiola's senior, became a close confidant of the man who would go on to create "Barcelona's best ever team".
"I have all good memories of Pep," Koeman revealed during his weekly press conference at Everton's Finch Farm training ground on Thursday. "We have a really strong friendship.
"Now it's a bit easier because he's living in Mancester and I live close to Mancester, so sometimes we have time for dinner and to talk about football and life. We have spent many hours together, talking football.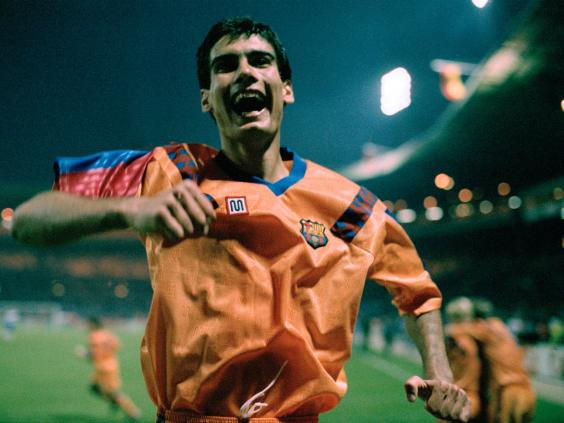 "I am still friends with Txiki [Begiristain] too. When I went to Barca, he was my translator even though he didn't speak English! They're both great people who I wish the best, but not this Saturday."
While it will be friends reunited at the Etihad Stadium on Saturday, when Koeman's Everton attempt to extend their impressive start to the season against City, a defeat at Tottenham and draw at Celtic in the last two games have ensured that Guardiola must deal with turbulence – mild, rather than severe – for the first time in English football.
Sandwiched between an international break and Champions League return to Barcelona next Wednesday, the visit of Everton is an awkward one for City and Guardiola. And Koeman is confident that his team, currently sitting in fifth position in the Premier League, can end their recent poor run against City by beating their Mancunian rivals for the first time in seven games.
"I'm confident because of the strength of the Everton team," Koeman said. "And it's always difficult after international duty. We had a lot out who are coming back and that's always difficult. We know we need to be at our best and not make mistakes. We have to make a fight of it, and then you get opportunities to score.
"City, they defend with a lot of space at the back and if we can break that, then we can make it difficult."
Guardiola's football philosophy, which demands his players press high up the pitch, retain possession and take the game to the opposition has brought huge success at Barcelona and Bayern Munich.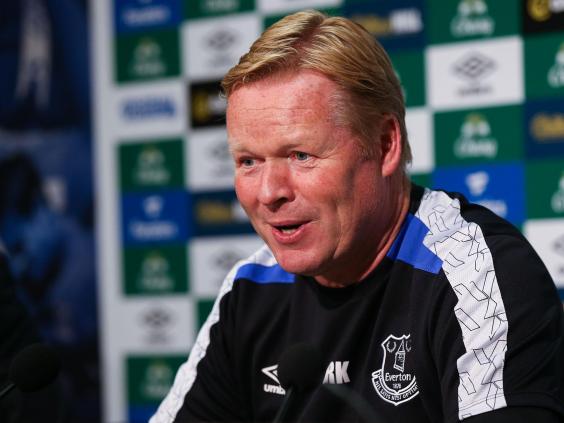 Koeman insists the 45-year-old deserves credit for his bold approach to the game, but he admits he sees the roots of Johan Cruyff and Dutch football in Guardiola's philosophy. "He was really interested in how we play in Holland," Koeman said. "And I see a lot of that in teams managed by Pep about Barca and Dutch football.
"I like that because it's the most difficult way to win, playing offensive football. Sometimes it's a risky way to win titles. Most other managers win titles, but not with that football. I know the people of Holland really enjoyed watching Barca and then Bayern Munich under Pep because it's a different way of football. We like to see a team play attractive football, to dominate. Sometimes that's risky what they try to do but that's football that I like.
"Of course everything is about winning in the weekend, but his way is the most difficult way. When finally you do that and win titles – chapeau."
Although Koeman and Guardiola were team-mates in the Barcelona side built by Cruyff, which earned the title of the "Dream Team" after winning the club's first European Cup in 1992, the former Southampton manager believes that Guardiola's team of Messi, Xavi and Iniesta has eclipsed Cruyff's team.
"The surprising thing with Pep was when he was manager of Barcelona, I saw the best Barca team in every aspect of football," he said. "The standard there was and is always high, but he made it 200 per cent in every aspect."
City have not yet enjoyed the same remarkable improvement, however, and Koeman insists his team will travel to Manchester buoyed by the success of Tottenham and Celtic. "City have been very good, maybe not the last week before the international break, but they're impressive how they play football," Koeman said.
"I watched City against Monchengladbach in the Champions League at home live and it's very good to see the difference between the way [they] play this season and how they played last season and that's difficult for defending. But we have now had some good examples of other teams who got a good result against City, so we are confident."
Reuse content