On the day his countrymen were being demonised in the popular prints Dimitar Berbatov ensured one Bulgarian would be granted positive headlines. His 66th-minute goal earned Fulham a narrow victory against relegation rivals West Ham. lifted them two points clear of the drop, and eased the pain of Saturday's 6-0 drubbing on Humberside.
For Hammers' manager Sam Allardyce, however, it was a disastrous day in which the promise of Mohamed Diame's early goal turned very sour. In seven decisive minutes late in the first half midfield linchpin Mark Noble limped off with a calf injury, Steve Sidwell levelled, and skipper Kevin Nolan was sent off. Given the subsequent pressure Berbatov's winner was inevitable.
Allardyce was furious at the dismissal of Nolan who has played more than 400 matches for him having spent ten of his 14 years in the game under Allardyce. Nolan, 31, was dismissed for a needless kick at Fernando Amorebeira near the halfway line.
"He is responsible for us losing the game more than anybody else, there's no doubt about that," said Allardyce. "I don't understand why he lost his cool. [Amorebieta] obstructed him, fouled him, but that is not an excuse for what he did. You can expect that from a youngster finding his way in the game, but not Kevin."
This is Nolan's second red card in a month – he was dismissed for stamping on Jordan Henderson's calf at Anfield – and Allardyce added: "I need to find out what is wrong with him, something is wrong with his mentality at the minute. In the many years I have known him I have not seen this."
Nolan will now be banned for four matches. With Noble injured (he will have a scan tomorrow) Allardyce, having spent most of the season lacking central strikers, and currently suffering such a shortage of central defenders he was unable to field one yesterday, now has a problem in central midfield as well.
West Ham are now three points adrift of safety and while Allardyce is not thought to be in immediate threat of the sack time is running out. He is likely to be backed in the transfer market, but only up to a point with deals such as the imminent one for Everton defender Johnny Heitinga. Hope is primarily pinned on the return of injured players. If results still fail to pick up Allardyce will probably be axed, but he is confident it will not come to that. "We're in a massive hole. We have to dig ourselves out of it and we'll start doing that when we have players available again."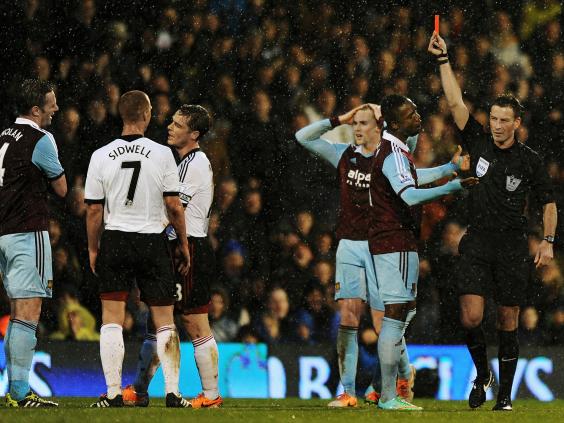 While Allardyce endured a grim start to 2014 Rene Mulensteen was relieved. The Dutchman, who now has not one, but two ex-managers on his 'support' staff in Alan Curbishley and Ray Wilkins, made seven changes from the team that, in his words, 'capitulated' at Hull. That the survivors included two defenders and a keeper suggested he thought the problems were not at the back.
The opening exchanges suggested he was mistaken. After seven minutes not only was Jussi Jaaskelainen's long free-kick allowed to bounce on the edge of the goal area – an unforgivable lapse, Diame was given time to control it, turn and score. Midway through the half Diame, again unchallenged, picked out the unmarked Nolan, but his header struck David Stockdale's shins as the 'keeper spread himself.
"That was a defining moment, as much as the sending off," said Mulensteen. "Players are human, that could have drained [our confidence].
Fulham did look desperately short of belief, but so are West Ham and they retreated to protect their lead allowing the home side to settle. Allardyce had decided to solve his defensive crisis by playing five at the back with three players out of position in central defence. Alou Diarra, recalled to play in the middle of this makeshift backline, did very well but granting Fulham space inevitably meant they created chances. When Amorebieta beat Jaaskelainen to one Duff corner Modibo Maiga headed off the line, but Sidwell then evaded George McCartney to head in from another one.
Adel Taarabt hit the post as West Ham wobbled but they seemed to have regained their equilibrium when Nolan had his moment of madness, kicking out at Amorebieta as the Venezualan blocked him off near the halfway line. Thereafter is was all Fulham and though Jaaskelainen denied Riise and turned another Taarabt effort against the post the breakthough came when Alex Kacaniklic's cross was steered to Berbatov by Parker and thence into the goal.
Fulham (4-2-3-1): Stockdale 7; Riether 7, Senderos 5, Amorebieta 5, Riise 7; Parker 7, Sidwell 7; Duff 6 (Kasami, 77), Taarabt 7 (Bent 4, 68), Richardson 6 (Kacaniklic 6, 56); Berbatov 7.
Substitutes: Bettinelli (gk), Hughes, Dejagah, Dembele.
West Ham United (5-3-1-1) Jaaskelainen 7; Demel 6, O'Brien 6, Diarra 7, McCartney 5, Taylor 6; Collison 6, Noble 6 (Rat, 36), Diame 7 (Downing 6, 56); Nolan 3; Maiga 6(C Cole 6, 68).
Substitutes not used: Adrian (gk), Jarvis, J Cole, Potts.
Referee: M Clattenburg.
Man of the match: Berbatov
Match rating: 6/10
Reuse content