Cardiff City have denied that the club's owner Vincent Tan has asked manager Malky Mackay to resign, after the owner's decision to replace the club's head of recruitment with a 23-year-old friend of his son left the Scot's future looking deeply uncertain.
Several sources have told The Independent that Tan asked Mackay to quit, during a tense meeting with senior members of club staff on Tuesday, and that the Scot - who is determined to carry on at the south Wales club - had categorically refused. But Mackay's relationship with Tan, whose unusual perspective on football leads him to believe that Cardiff were promoted to the Premier League because of the "lucky red" strip he introduced, is now deeply damaged.
The Malaysian is understood to believe that Cardiff have overspent, should be in the Premier League top four and that their start to the season - which includes victory over Manchester City - is not good enough, after his own investment of £11m plus £70m in loans.
In the most extraordinary move yet of his controversial three-year tenure, Tan has replaced Iain Moody - the club's head of recruitment, with whom Mackay first worked at Watford and to whom he is close - with 23-year-old Kazakhstani Alisher Apsalyamov. It is the clearest sign yet that the Welsh club's ascent to the Premier League under the Malaysian may be heading towards calamity.
Apsalyamov, whose experience of football appears to be limited to computer games, attended the same Swiss finishing school as Tan's own son. It is understood that his first job at the Premier League club entailed painting walls at the club's stadium. But The Independent understands that he has also been shadowing Moody in the last six months, with the general impression being that Apsalyamov's own father - a multi-millionaire - may be about to invest in a club where the 23-year-old might also play some kind of professional role.
But after working alongside Moody - who was Mackay's right-hand man - Apsalyamov was often seen watching Cardiff games on a laptop. The situation finally came to a head when Moody received a letter on Tuesday, explaining at some length why he was being removed from his position. The letter was withdrawn on Tuesday evening, when Tan received legal advice telling him that he was unable to suspend Moody. Instead, Moody has been placed on gardening leave until the end of the season.
Tan is now back in Malaysia, having taken a flight from South Wales to London at around 8pm on Tuesday with the business of putting Moody on gardening leave completed. There is a sense of astonishment in south Wales about his actions. Moody was a highly respected part of Mackay's set-up, who had been involved in a frenetic attempt to strengthen the club's squad for the Premier League. He made 47 flights in 60 days this summer and handled all negotiations, because no-one else appeared capable of doing so.
The heart of the problem seems to be Tan's feelings about Mackay, who has won the kind of affection from supporters that the proprietor has simply not been treated to in the Welsh capital. It has been clear for several months that the owner is unhappy by supporters' resistance to his high-handed ways, which include forcing the new red strip on them. "If too many fans show they are not welcoming then maybe they [should] have a new owner…," he said this summer. "I'm disappointed that after 51 years of not being in the top flight that there are still some fans who don't think we have done a good job. I may say maybe they are not grateful..." Mackay, by contrast, is deeply revered for taking Cardiff out of the Championship.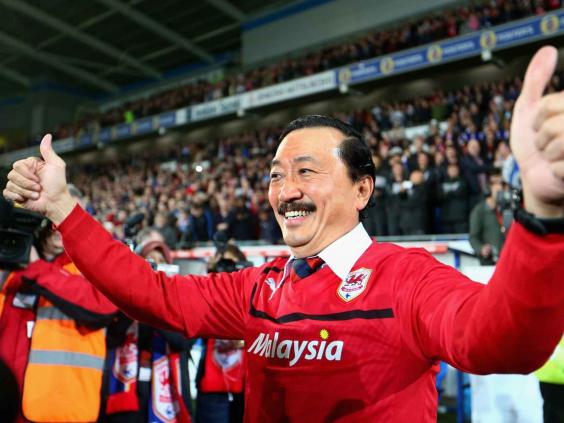 Tan's decision last summer to appoint his friend Simon Lim as the club's chief executive, has not won him friends at the club.
Moody, a languages graduate, worked as a Uefa-appointed interpreter for the Italian national team at Euro 96 and became a football agent before becoming a press officer at Watford during Mackay's time there. He later became the club's football operations manager.
Cardiff said today that they were "unable to comment due to the sensitivity of the issue" though privately refuted the idea of Tan demanding that Mackay should resign.
Reuse content