Gareth Bale thinks the Premier League has lost its tag as the best in the world.
Bale spent six years at Tottenham before he moved to Real Madrid for a world-record fee of £85.3million.
The European champions wasted little time signing James Rodriguez for £63million this summer following his stunning performances at the World Cup.
Real beat English competition to sign Toni Kroos from Bayern Munich while Luis Suarez left Liverpool for Barcelona in a £75million deal last month.
The Premier League has always prided itself on supposedly being the most enthralling championship in world football, but for Bale the Primera Division is the best around.
"The Spanish League is the most exciting," the Welshman said.
"The world's top players play there. Barcelona or Real Madrid are always there near the Champions League final or winning it.
"The Premier League is a great league but we are attracting the best players to La Liga. It is great to be involved in it."
Top 10 most expensive players ever
Top 10 most expensive players ever
1/10 Gareth Bale - £86million

Tottenham to Real Madrid (2013) - Bale became the world's most expensive player ever when he made the switch from Spurs to Spain.

GETTY IMAGES

2/10 Cristiano Ronaldo - £80m

Manchester United to Real Madrid (2009) - Ronaldo smashed the record transfer fee when he left Old Trafford.

GETTY IMAGES

3/10 Luis Suarez - £75m

Liverpool to Barcelona (2014) - The Reds cut ties with Suarez after the 2014 World Cup making a £50m profit.

Barcelona FC

4/10 Neymar - £71.5m

Santos to Barcelona (2013) - The Brazilian finally completed his long awaited move to Europe after a complex deal.

Getty Images

5/10 James Rodriguez - £63m

Monaco to Real Madrid (2014) - After a superb World Cup showing, the Colombian became Real's latest big money signing.

6/10 Zlatan Ibrahimovic - £59m

Inter Milan to Barcelona (2009) - The Swed only spent two seasons at the Nou Camp despite his mammoth price-tag.

GETTY IMAGES

7/10 Kaka - £56m

AC Milan to Real Madrid (2009) - The Brazilian joined in the same summer as Ronaldo but failed to make a real impact at the Bernabeu.

GETTY IMAGES

8/10 Edinson Cavani - £55m

Napoli to PSG (2013) - The Uruguayan's deal made him the most expensive player ever purchased by a French team.

Getty Images

9/10 Zinedine Zidane - £53m

Juventus to Real Madrid (2001) - Became the world's most expensive player when he moved to the Bernabeu and more than paid it back, particularly with his spectacular goal in the 2002 Champions League final against Bayer Leverkusen.

10/10 Radamel Falcao - £51m

Atletico Madrid to Monaco (2013) - The newly funded Monaco signalled their intent by signing the Colombian.

Getty Images
The arrival of Rodriguez, who was top scorer at the World Cup, means Bale now has to work even harder to retain his first-team place despite being the most expensive player of all time.
The former Southampton winger has Cristiano Ronaldo, Rodriguez, Angel Di Maria, Isco, Kroos and Karim Benzema for competition.
But the 25-year-old does not hold anything against the club for signing another player in his area of the field.
"James is a great signing," Bale said.
"He has shown what quality he has in the World Cup and hopefully he can produce for Real Madrid what he did for Colombia.
"It's for the manager to decide what system we play and who plays.
"You need to perform well to keep your place. Everyone knows that."
Almost a year has passed since Bale signed a six-year contract at the Santiago Bernabeu.
The move to Spain was not easy for the Wales international. Tottenham chairman Daniel Levy held out for a world-record fee for the star, which put a strain on Bale's relationship with the north London club.
Spurs threatened to fine Bale for missing training as he looked to force through a move to the Spanish capital.
The transfer did not go through until September 1, which meant Bale missed out on a full pre-season programme with his new club.
That is not the case this year. After a summer of rest, Bale has been working hard this week in Los Angeles, where Real are basing themselves for the International Champions Cup - a pre-season tournament which includes some of the best teams in Europe.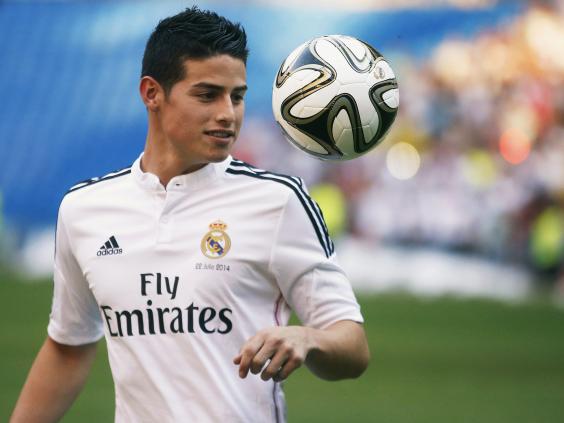 Bale may not be fluent in Spanish but otherwise now feels settled at a club he believes is the biggest in the world.
He said: "It's very difficult when you first come over, but they are such a great bunch of boys in the changing room here and they made me feel welcome.
"A lot of them speak English, which helped me.
"Getting used to the climate was quite a big change but I have a great team around me which helps.
"I took a bit of time to settle in but I feel very comfortable now.
"I still need to learn language but that will come in time.
"It is exactly what I hoped for at Real Madrid."
It is easy to see why Bale regards his club as the biggest on the planet.
A thousand fans turned up at the University of California, Los Angeles (UCLA) on Wednesday to get autographs and pictures of the players when they emerged from training.
Their fans back in Spain are hoping for yet more success following last year's Champions League win.
Carlo Ancelotti's side also won the Copa del Rey but Bale wants an even bigger haul this term.
"We enter six competitions and we want to win every one," Bale added.
"That would be amazing. We are hungrier than ever.
"No team has retained the Champions League so we want to do that.
"There is a special touch for me because the Super Cup (against Sevilla) is in my home town (Cardiff). Hopefully we can do the job and get the trophy."
PA
Reuse content