Valencia manager Gary Neville has categorically ruled out becoming the next manager of either Manchester United or England.
The former right-back is in his first managerial job, making the risky move of taking over at La Liga side Valencia, which is owned by his friend and business partner Peter Lim.
The move by Neville, hugely respected in the game by players and loved by British fans after his brilliant spell as a pundit on Sky Sports, was seen by some as a way to fast-track his career to take over at the two most high profile jobs in English football.
Neville, assistant to Three Lions boss Roy Hodgson, has so far won just one of his four matches in charge of Los Che, drawing both in La Liga, and revealed that he does not see the Valencia job as a path to bigger things.
"Me being the England manager in six months or me being the Manchester United manager in six months – I can assure you it's not going to happen," he told the Daily Telegraph.
"And it shouldn't happen. Simple as that. I am removing any doubt that anybody should be thinking in that way. You see these things and its nonsense. Honestly, nonsense. I am happy here doing what I am doing. I am happy working under Roy. I have not been back to Manchester United for years. I am happy where I am.
"The idea that I have taken this job so I can pounce on one of those other two jobs – it's absolutely not true. You can rest assured of that. It's not going to happen in terms of people offering it to me and it's not going to happen in terms of me taking it. I want to be absolutely clear on that."
Neville also revealed that he likes taking risks, that rather than become a pundit upon retirement, he could have become a coach with one of Manchester United's youth teams and worked his way up the ladder at the only club he ever played for.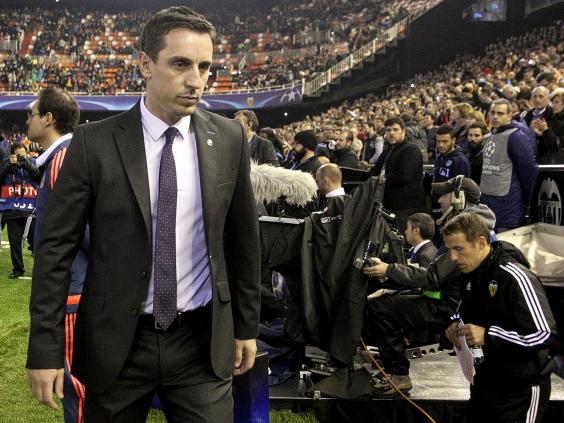 "Was it a risk for me to take the Valencia job? Yeah. But it was a massive risk for me to go and work on television. I was booed before I started. I was deemed someone who would be unsuccessful, it wouldn't work, I would be too biased towards United.
"The easy decision for me at the end of my football career would have been to take the job offered to me at Old Trafford to work with the youth team, with the academy. That would have been the safe choice but I've not made safe choices. People say I did go into punditry but that was a risk because I was exposing myself to being abused like other pundits and journalists and media people.
"I wasn't surprised that people liked what I did but I never really thought of it. I knew I was going to go on there, analyse football, be as blunt as I possibly could be but be respectful.
"There were moments when I over-stepped the mark. There were moments when I said things and thought 'oh no, words come back. I didn't mean that'. Or a joke that has gone wrong. The David Luiz joke, the one about being a 'Playstation player'. That wasn't meant to be as disrespectful as it sounded. It was a lesson for me.
"Even last year when I said Liverpool v United was like the 'Dog and Duck' (versus 'The Red Lion'), because they were going through a bad time, it was actually meant as a joke. It was not meant to be disrespectful to Liverpool or United."