"I've not paid too much attention to Chelsea. I've not been concentrating on their games," says Glen Johnson, carrying an air of indifference as if it really did not matter to him that 10 years ago the club had made the right-back the first signing of the Roman Abramovich era, then cast him off like an old sock after Jose Mourinho took a look at him and did not much fancy what he saw.
But these rejections do matter. Four years at Chelsea gave Johnson the sense of what being a Premier League title winner feels like – he is one of only three members of Brendan Rodgers' Liverpool squad to have claimed the biggest domestic prize – and you do not need to prod too much to know he always has something to prove to Mourinho.
Just when he thought he was heading into football's stratosphere under Claudio Ranieri, who signed him, trusted him and cast him into such challenges as Chelsea's Champions League semi-final with Monaco in 2004, Mourinho effectively cut him adrift after one season – making him a mere FA Cup player in 2005-06, after letting him in on the euphoria of the previous year's title-winning campaign. "I didn't really get a fair opportunity. I knew deep down I was good enough to be given a chance but I was never really given that chance," is how he reflects on all that.
And though Johnson does not need his Open University course in mathematics to tell him that the laws of probability decree a potentially tense winter and spring for Liverpool – seven teams who were fourth on New Year's Day made the Champions League places, come May in the past 12 seasons – he will finally journey to Stamford Bridge on Sunday with a sense that Ranieri's faith in him has been vindicated.
FOLLOW ALL OF THE ACTION FROM SUNDAY'S PREMIER LEAGUE MATCHES HERE
Johnson was not in west London to learn much about Rodgers' work there under Mourinho. It was Joe Cole, then a Liverpool team-mate who filled him in when Rodgers arrived at Anfield 18 months ago. But the energy and invention of the performance in Boxing Day's 2-1 defeat at the Etihad Stadium – where Manchester United, Arsenal and Tottenham have been blown away this season – revealed a squad capable of challenging the elite sides as well as hammering the weaker ones.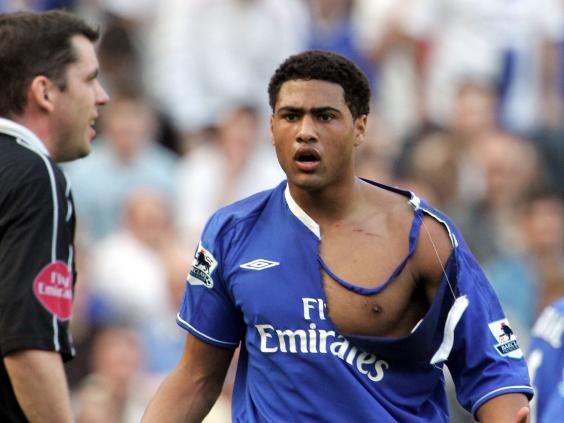 "Sometimes it's easier to play against the big teams and the best players," Johnson says. "It brings more out of you and maybe rightly or wrongly you prepare that little bit harder. Everyone looks forward to the big games and that's what can happen."
If he learnt one thing about becoming a champion under Mourinho it was that putting defeats away is the mark of title winners. "It's about dealing with mistakes and getting over bad results very quickly," Johnson says. "A sign of a good team is one that bounces back quickly after a disappointing result and that's what we will be looking to do on Sunday."
Liverpool's season has certainly revealed a capacity to do that. The 3-1 defeat at Hull on 1 December was the club's most desperate performance of the season – and one in which Johnson's tendency to lack consistency revealed itself – but it was the catalyst for four straight wins in which the side scored 17 goals, and the display at Manchester City on Thursday was up to the same mark. A dismal loss to Arsenal last month was followed up by the 4-0 hammering of Fulham.
The challenge for Liverpool is to maintain the same level of football in the second half of the season with a squad palpably weaker than that of Chelsea, Arsenal, Tottenham or either of the Manchester teams. "In terms of the starting XI, I think we can compete. It's just a question of getting it right on the day and everyone performing to the best we can," Johnson says – though there is an acknowledgement in that answer that every elite manager's wish to have two players for every position is something Rodgers has not been granted.
The lack of depth is particularly evident in a defence where Johnson is the only fixed point. Of course, he does not observe that central defence is a worrying problem, with the ever-changing personnel a product of Rodgers' struggle to find consistent performers. But this is a far cry from the indomitability of Sami Hyypia and Jamie Carragher when Liverpool last seriously chased a title, under Rafael Benitez in 2008-09.
Right-back Jon Flanagan has been playing on the left of defence because of injury to Jose Enrique and the unsuitability of the loan signing Aly Cissokho. And Liverpool are also less powerful in central midfield than the other top-four challengers. Joe Allen's performance against City was one of his best for Liverpool but he, Lucas Leiva and Jordan Henderson – another of the season's stars – are not Javier Mascherano and Xavi Alonso, from the class of 2008-09.
Yet the performances against City and Spurs – destroyed 5-0 – have revealed in the past three weeks that Liverpool can compete with strong sides. "We definitely can match City," says Johnson. "[Our performance there] is probably the most positive you can be with a defeat. Not many teams [go to the Etihad] and play the way we did and dominate possession. We had some good chances and are disappointed we haven't got more than we have."
Johnson shares his manager's indignation about the decision of referee Lee Mason to chalk off Raheem Sterling's first-half goal at City for offside. "You can't even defend the linesman, can you really? It's ridiculous. You've heard commentators in the past defending [linesmen] when the players are in the same blade of grass and all that, but they are three yards apart, it's not even close."
He acknowledges that goalkeeper Simon Mignolet felt he should have done better with Alvaro Negredo's winner, the Belgian's first mistake of the season: "He's been fantastic all year. He's a strong lad and mentally tough so he will bounce back. Everyone makes mistakes." And Johnson observes that the geometrical precision of Luis Suarez's link-up play with Philippe Coutinho and Sterling – rejuvenated since his contribution at White Hart Lane – proves this is not the same one-man team of last season. "You can't be top of the league at Christmas if you are a one-man team," he says. "We know we have got the quality to be up there and on our day we can give anyone a game."
Johnson can put football into perspective, now – in a way he did not when Ranieri signed him from West Ham as an  18-year-old in 2003. He will raise a laugh around Melwood some mornings with his blissful ignorance of the previous night's televised games. The mathematics take up some of the space in his mind. (Not many players will tell you problem solving and equations are two of the aspects they particularly enjoy.) Formula One and MotoGP absorb him, too, and it is an article of his desire for a life beyond the football bubble that he is happy not to talk about the game when he is away from his club. But the desire to barge in on Mourinho's territory and teach him something about patience and success does burn. The tattoo on Johnson's wrist, which he rubs as he talks, tells the story. "Tell me I can't and I will show you I can," it reads.
Liverpool winners: past Reds glories
Glen Johnson is one of only three players in the Liverpool squad to have experience of winning the Premier League. His 2004-05 and 2005-06 medals with Chelsea preceded Daniel Sturridge winning at the same club in 2009-10, while Kolo Touré has done so with Arsenal and Man City.
Touré, Luis Suarez, Dan Agger, Mamadou Sakho, Sebastian Coates, Aly Cissokho and Martin Skrtel have won major titles in other countries.
Reuse content