The League Managers' Association statement has become a staple of English football. Every manager who is sacked, or departs by "mutual consent", issues one through its offices. This usually details what a brilliant job the dismissed manager has done, how he has left behind a wonderful legacy, and passes on his selective gratitude to former colleagues, fans, etc.
The LMA's public relations department is not quite as prolific, however, when a manager walks out on his contract to take a better job at another club. Then there is normally silence.
This is the problem with the LMA. Like the Professional Footballers' Association, when it comes to its own members it usually sees, hears and speaks no evil.
It was not always the case. Back in 2003 when Alan Pardew walked out on Reading the LMA chairman John Barnwell told him the body could not support or protect him, arguing that they could not demand clubs respected contracts if managers did not. 
Now managers who quit do so without censure. It is with that mindset that the LMA approached the texting controversy which embroiled Malky Mackay this week. The default setting is protective. Thus the appallingly mis-judged statement issued on Thursday, which had to be followed by Friday's back-tracking statement. A statement about a statement: it is a football version of The Thick of It – with plenty of swearing doubtless going on behind the scenes.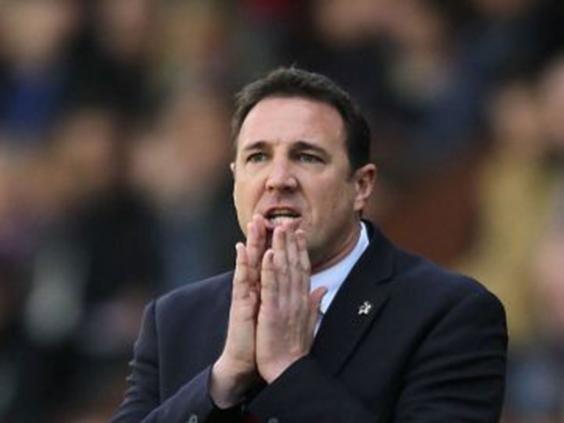 Despite this one-eyed approach the LMA had, until yesterday, a good reputation, and deservedly so. Under Richard Bevan, the usually sure-footed but now beleaguered chief executive, it had been transformed from a small professional body, quietly helping out its members, to a force within the game.
Much effort has gone into commercial activities, with high-profile functions, some involving leading managers telling corporate diners the secrets of their success, and a mixture of "sponsors", "partners" and "suppliers". The LMA also runs training courses and conferences, some to benefit members, but others to earn more revenue. There are those within the organization who feel it is now too commercially orientated, but the increased income is used to raise the profession's profile – the in-house media operations include a glossy magazine, a smart website, even podcasts and a web-TV channel – and to finance medical and legal support services. It is not just for the Alex Fergusons and Arsène Wengers, it is also for the men who manage in League Two.
So far, so good. But with enhanced status comes greater responsibility. As Cardiff City's withering statement yesterday pointed out, one of the "major aims" of the LMA is "to encourage honourable practice, conduct and courtesy in all professional activity".
The LMA's claim that Mackay's texts were "banter" suggests this listing is mere lip-service – as does the fact it is aim six out of six, below "to embrace and deliver strong commercial relationships with the game's sponsors and partners".
The LMA is not alone. Football is perpetually engaged in a multi-sided turf war. The LMA fights its members' corner, the PFA does the same. When Clint Dempsey went on strike at Fulham the union's silence was deafening. It defended the behaviour of Carlos Tevez when to other observers it seemed indefensible. Ched Evans remained in its League One select XI even after being convicted of rape. "Purely a football decision," it said.
The PFA does a lot of very good work, and not just for its members. It is active in communities and in charitable activities. But this risks being lost amid a perception that it is blind to its own members' faults.
Higher up the food chain the Premier League, Football League and Football Association all seek to defend their own interests. So much energy is expending on protecting (and trying to expand) fiefdoms there is no one looking at the bigger picture working, in Fifa's hackneyed slogan, solely "for the good of the game".
Managing is a difficult, stressful, frequently lonely job. When you attend an LMA dinner the sense of kinship among the managers is palpable. Apart from the inevitable rivalries they rejoice in each others' successes and sympathise with their failures. They are a brotherhood, united against an often unfriendly world of chairmen, agents, journalists and fans.
Against this background Bevan's first instinct is to stand by his man, especially one as popular among his peers as Mackay.
No one is suggesting he should abandon the Scot, but the advice of many damage limitation experts in such cases is to apologise, then move on. Instead the LMA statement exacerbated the coverage and gave it fresh impetus.
It is natural for someone in the dock of public opinion to want to explain and excuse, but it comes across as obfuscation and denial. In this particular case it has reinforced the impression that too many in the game do not take racism, and other prejudices, seriously.
Mackay's appearance in front of Sky Sports News cameras yesterday suggested wiser counsel had prevailed (as well as some pre-interview priming). Aside from noting that he was "under pressure at the time" he said there was "no excuse", apologised, and accepted he now had to convince people he was not the character he has been painted. There was talk of "diversity and equality training", something FA Council members are already receiving as football belatedly tries to adapt to the modern world.
Mackay will not be the only one learning lessons. Bevan should survive Cardiff City's call for his head. There is no appetite within the LMA to sack him and he is no more likely to quit than was Gordon Taylor, the PFA chief executive, after his gambling problem was revealed.
However, both bodies need to look beyond the narrow self-interest of their members. Each is in a position to take the lead in a sport which is too often notable for a lack of good leadership.
--
Five asides
1) New avenues of greed
As if clubs are not already charging enough for tickets some have greedily entered into a relationship with ticket reselling agencies. This week, for example, a child's ticket (under-11) at today's Everton v Arsenal match has been on offer for £118 on StubHub. This is legalised touting and clubs should not be involved.
2) Rösler's complaints are rich
Uwe Rösler, manager of Wigan, has complained the transfer market in the Championship has been "destroyed" because of the parachute payments which allowed Fulham to spend £11m on Ross McCormack. He is right, but it is a bit rich coming from the manager of a club which receives a large parachute itself.
3) Gazza flew too high
Paul Gascoigne's decline is terribly sad. When reporting on England in his time I often felt he would have been happier playing Sunday League football, the jack-the-lad dressing-room centre of attention with outrageous ball skills. His talent took him much, much, higher – too high for him to cope with.
4) India is a sleeping giant
How the Indian Super League develops is intriguing. Football is much bigger in India than is generally realised and there is a lot of wealth. This week's auction was of superannuated veterans, but one day the ISL could be signing contemporary stars.
5) Crowds yet to flock despite success in women's game
Congratulations to England's women's team on qualifying for the 2015 World Cup. With a Wembley date with Germany booked, and the pyramid below the WSL launching today, is this a tipping point? Maybe, but crowds remain very poor. 
twitter.com/GlennMoore7