Alan Irvine was at West Bromwich Albion for six months and 22 matches. He did not have control over transfers but, having been hired for his coaching expertise, was expected to mould the players into a team. Maybe, given time, he would have done, but time is one commodity a struggling manager never gets at the Hawthorns, not any more.
Owner-chairman Jeremy Peace has been in control at West Bromwich for over 12 years. In that time Albion have fought six previous Premier League relegation campaigns. Three were won, three lost. When the manager was replaced Albion stayed up. When Peace stood by his man they went down. The lesson of history seems clear. Sack them, survive; back them, go down.
Against this context, Irvine had no chance, especially with Tony Pulis, a manager who has never been relegated, available. And yet, is it really so clear cut? If it was, surely every club would fire their manager as soon as they began struggling, and they would all stay up – which is clearly impossible.
Last season Fulham, Norwich City, and Cardiff City all sacked their manager, Fulham twice, yet all went down. Moreover, when Cardiff fired Malky Mackay they were a point clear of the drop, but finished six adrift. When Norwich axed Chris Hughton they were five points clear (albeit with a tough run-in), but finished three adrift. Both clubs have since sacked their manager again. Meanwhile, Aston Villa and West Ham, both of whom seemed destined to go down at various stages last season, respectively kept faith with Paul Lambert and Sam Allardyce and stayed up.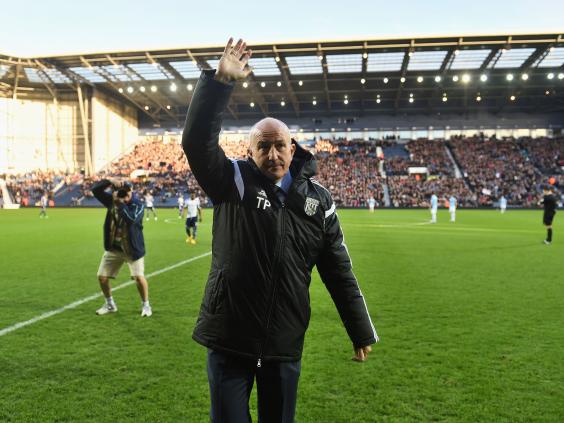 The previous year Sunderland and Southampton survived after firing managers, but Villa and Newcastle stayed up without doing so. Wigan held on to Roberto Martinez, but they went down. However, they won the FA Cup, their first major honour, and backing Martinez had worked the previous two seasons.
Also relegated were Reading and QPR, despite firing Brian McDermott and Mark Hughes respectively. They were already in the bottom three when the changes were made, but only four and five points adrift; they finished 11 and 14 points from safety.
Is there a pattern here? Not really, though one might suggest if a change is to be made it pays to do it early, before a team drops into the bottom three.
That is Peace's policy. None of his fired managers were in the Premier League's relegation zone at the time. The teams overseen by Gary Megson (sacked October 2004) and Steve Clarke (December 2014) were, like Irvine's last month, in 16th place. The Baggies of Roberto Di Matteo (February 2011) were 17th. In only one case did results significantly pick up, in 2010-11 when Roy Hodgson steered Albion to 11th, well clear of trouble. In 2004-05 and last season, points continued to be won at just under one per game with Albion staying up under Bryan Robson and Pepe Mel by one and three points respectively.
But they still stayed up, so it worked? Indeed. But in 2004-05 it was with 34 points, the lowest by a surviving Premier League team; the other two seasons they  ought to have stayed up anyway. Wage bills are the most reliable indicator of results, and Albion's is usually 15th-16th highest in the league, so 16th is par. They are where they ought to be.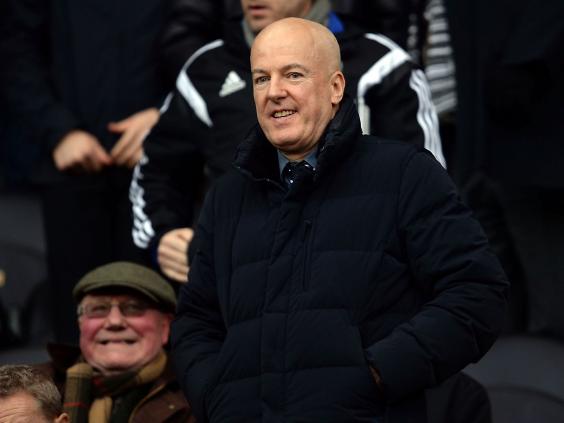 Pulis oversees his first league match at home to Hull today and may well deliver better results in the next few weeks, but that is to be expected. A study by Danish newspaper Tipsbladet in 2009 identified a honeymoon period for new managers – probably due to players being re-invigourated by the arrival of a new boss, a finding which supported work by Chris Hope of the Judge Institute, Cambridge.
There has been quite a lot of research done on the impact of management change in sports teams, from baseball in the sixties, American football in the early 1980s, to our own Premier League. Most suggests that while there may be a brief upturn after a dozen games, results revert to what they were under the previous manager, and are often worse, perhaps because of the upheaval a change of management causes. Peace may feel this is less of an issue at Albion, because of the management structure, but Pulis seems to have been given more powers than his predecessors.
Dr Sue Bridgewater, director of sports research at Liverpool University and a consultant to the League Managers Association, reviewing the Premier League between 1992-2006, argued that dismissing a manager "may arrest a decline and gain around three points in the 12-game upturn, but [would then] lose two points compared with the [norm] before the blip [that cost the previous manager his job]".
It could be argued the points won during a honeymoon period may be just enough to keep a club up, so justifying the sacking. It is not so simple. A manager is often sacked because of a period when his team underperforms – perhaps due to injury or a loss of confidence. Over time their performances tend to revert to normal, regardless of who is manager.
Dutch football research over 19 seasons (1986-2004) by economist Dr Bas Ter Weel found, on average, clubs which suffer a blip in form but do not sack the manager – the braver decision as it is less "decisive" – also improve. Newcastle's recovery this season is a classic example. Revivals may also be underway at Hull City and Leicester City where the manager has not been sacked. 
There are exceptions. What Pulis achieved at Crystal Palace last season was out of the ordinary. Compared to that, keeping Albion up should be straightforward. But, if  Albion hit a blip next season, and find themselves a point or two off the drop, he should beware.
--
FIVE ASIDES
 
1) After 34 years, time for Taylor to call it a day
Gordon Taylor has been an outstanding leader of the Professional Footballers' Association, transforming the body into a wealthy, influential force. However, his intervention in the Ched Evans case, as with Luis Suarez and other issues, indicates he is a man out of step with modern life. After 34 years it is time for Taylor, 70, to bow out.
2) Has Lukaku 'done a Heath' for struggling Everton?
Some goals can be pivotal. It is 31 years since Adrian Heath scored the equaliser at Oxford that set Howard Kendall's Everton on the road to glory. Will Romelu Lukaku's late FA Cup leveller against West Ham prove as significant?
3) Cardiff fans in credit after Tan moves out of the red
Cardiff's reversion to their traditional blue is a victory for fan power and a warning to owners that supporters cannot be taken completely for granted – even if it might also have been the discovery that red is not so lucky which persuaded owner Vincent Tan to recant.
4) Selling Messi would be ballot-box suicide at Barça
Lionel Messi to join Chelsea or Manchester City? No chance. Barcelona's president is voted for, with an election at the end of the season. Selling Messi would be ballot-box suicide. If Messi has a problem with Luis Enrique, the coach needs to appease him – or start looking for a new job.
5) Szczesny choosing to smoke beggars belief
Given tobacco's addictive nature, it is perhaps unsurprising, if regrettable, that people still smoke, but for athletes like Wojciech Szczesny to engage in an activity so harmful to their fitness is astonishing. 
--
FURTHER READING
 - http://www.wbs.ac.uk/downloads/news/2012/03/what-is-the-impact-of-changing-football-manag-1331309432116.pdf
 - http://www.wbs.ac.uk/downloads/news/2009/10/what-is-the-impact-of-changing-football-manag.pdf
 - http://footballperspectives.org/end-season-football-manager-statistics-2013-14
 - Brown, M C (1982) "Administrative Succession and Organizational performance: The Succession Effect" Administrative Science Quarterly, 27: 1 – 16
 - Gamson, W and Scotch, N (1964) "Scapegoating in baseball" American Journal of Sociology, 70: 69 – 76
 - Hope, C. (2003) "When should you sack a football manager? Results from a simple model applied to the English Premiership." Journal of the Operational Research Society, 54(11): 1167-1176
twitter.com/GlennMoore7
Reuse content