Harry Kane is enjoying the kind of unexpectedly brilliant season that has made him an instant star.
The 21-year-old Tottenham striker was at his marauding best in the north London derby on Saturday, never giving Arsenal's defenders a moments rest before turning match-winner with a predatory equaliser and a brilliant header.
Kane, easily named man of the match, took his tally to the season to 22 in all competitions but it's not just his goal-scoring instincts that have pundits purring, it's his all-round play. The striker, who is now drawing strong comparisons to Alan Shearer, was absolutely everywhere, held the ball up well, won his share of headers and was able to drive at the Arsenal defence at pace.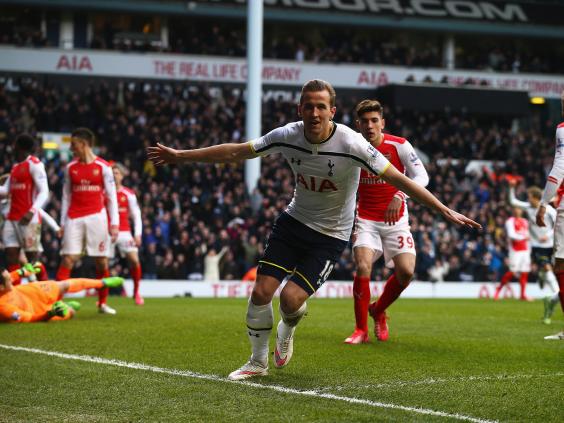 Not only has he been performing all season but he has saved some of his best performances for the biggest occasions, against Arsenal and Chelsea on New Year's Day.
There is speculation that Real Madrid are now interested in the striker, a concept that would have been entirely foreign at the start of the season. Carlo Ancelotti's team have reportedly sent scouts to watch Kane three times already this season and surely have not failed to have been impressed.
There has been some slight scoffing at the notion of Kane playing for one of the biggest clubs in the world, the general consensus being because he is enjoying a purple patch rather than having proved his class over a period of time.
Tottenham 2 Arsenal 1 player ratings
Tottenham 2 Arsenal 1 player ratings
1/22 Hugo Lloris - 6

Could do nothing to stop Ozil's effort, but had little else to do as Arsenal faded during the game.

Getty Images

2/22 Kyle Walker - 6

Tried to get down the right flank when the opportunity presented itself but was targeted by Ozil, Cazorla and Welbeck as Spurs' weak link.

Getty Images

3/22 Eric Dier - 7

Stuck to Giroud like glue and did his best to negate any threat from the big French striker.

Getty Images

4/22 Jan Vertonghen - 6

Rarely found himself threatened by Arsenal's attack, although he could have helped Rose out when Wlebeck broke free for the goal.

Getty Images

5/22 Danny Rose - 5

Managed to get under Welbeck's skin but was surprisingly outpaced for the opening goal. Had a few long-range efforts at goal.

Getty Images

6/22 Nabil Bentaleb - 8

His return strengthened Spurs and gave them extra protection against Arsenal's attack. Controlled things from the base very well. Deep cross gave Kane the perfect platform to score the winner.

Getty Images

7/22 Ryan Mason - 8

Was the brightest spark in Spurs' midfield as he looked to work an opportunity for the trio in front of him. Very impressive performance.

Getty Images

8/22 Erik Lamela - 6

Showed a preference to cut in and try to work a chance on his left foot, but prevented Spurs having any threat down the right.

Getty Images

9/22 Moussa Dembele - 6

Probably the quietest of Spurs' attacking players but it was his header that was deflected into the path of Kane's for the opener.

Getty Images

10/22 Christian Eriksen - 7

Had a free-kick chance that given his recent form would usually have found the back of the net, but still threatened whenever he had the ball at his feet.

Getty Images

11/22 Harry Kane - 9

Kept up his impressive scoring rate with a match-winning brace for Spurs, and his second was a lovely header that any striker would've been delighted to see nestle in the back of the net.

Getty Images

12/22 David Ospina - 6

Pulled off some lovely diving saves in the first half, but began palming the ball into danger areas which led to Kane's first.

Getty Images

13/22 Hector Bellerin - 5

Came under pressure from Rose as the left-back looked to press forward wherever possible. Will learn from the game, but won't enjoy reflecting on the experience.

Getty Images

14/22 Per Mertesacker - 5

Let Kane drift away for the winning goal and again saw himself get beaten in the air, which just simply shouldn't happen.

Getty Images

15/22 Laurent Koscielny - 6

Had an effort saved by Lloris and didn't do a lot wrong.

Getty Images

16/22 Nacho Monreal - 6

Another who won't be happy with his day's work and had his hands full for the 90 minutes.

Getty Images

17/22 Francis Coquelin - 5

Came under the biggest pressure he's faced since coming back into the side. Enjoyed a good start but wilted as Spurs stepped up a gear.

Getty Images

18/22 Aaron Ramsey - 6

Not as prominent in games as he was last season, and his form is a worry for Arsenal. Booked at the end of the match for barging Bentaleb in frustration.

Getty Images

19/22 Danny Welbeck - 7

Allowed himself to be caught up in a war of words (and slightly more) with Rose, which distracted him from his game. Outpaced the left-back to set-up the goal though, and had a good effort saved by Lloris.

Getty Images

20/22 Santi Cazorla - 7

A rare below-par performance from Arsenal's in-form midfielder. Hauled off midway through the second half for Tomas Rosicky as Wenger seeked more solidity in defence.

Getty Images

21/22 Mesut Ozil - 7

Took his goal very well to keep up his strong from of late. Improved physicality is certainly helping his game.

Getty Images

22/22 Olivier Giroud - 5

One of his quietest performances since returning from injury and suspension but that is largely due to the Spurs defence sticking to him.

Getty Images
But strictly looking at statistics from this season, Kane actually compares favourably with Cristiano Ronaldo, Gareth Bale, Karim Benzema and Javier 'Chicharito' Hernandez.
Using statistic website Squawka's 'comparison matrix' (below) we can see that Kane, on current form, would actually fit in rather well at Madrid. Of course, stats aren't omniscient and many different factors that can't be recorded decide a player's form - starting with the fact that Kane competes in totally different competitions to the other players - but they can certainly give a good indication.
The statistics have been based on 'per 90 minutes' as Kane hasn't played as much football as three of the four Real players.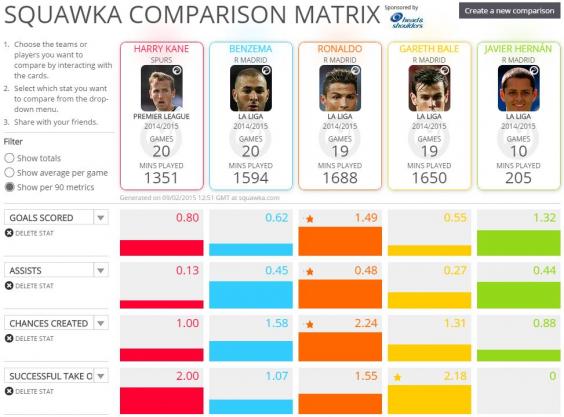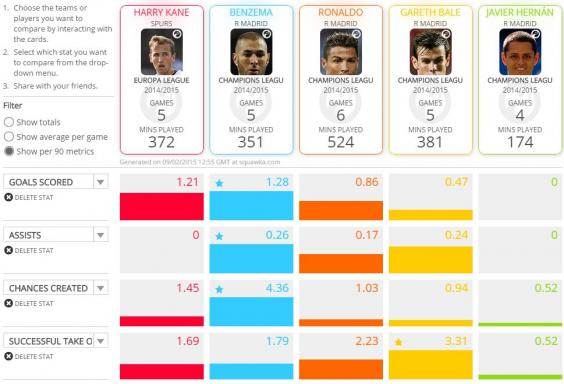 In terms of goals scored, only the frankly ridiculous record of Cristiano Ronaldo outstrips Kane. Ronaldo has 36 goals in all competitions already this season, a big reason he won the Ballon d'Or. But in comparison to Benzema, Bale and Hernandez, Kane more than holds his own.
He has a better goal record than the other three - Hernandez has three goals in 205 minutes in La Liga - although he doesn't create as many chances as his rivals. Kane plays as a more traditional forward than any of Ronaldo, Benzema and Bale, while Hernandez has too small a sample size to make a true comparison.
However, a somewhat surprising stat is the number of 'successful take ons' Kane has. Only Bale, arguably the best dribbler of a ball in world football bar Lionel Messi, averages more in his domestic league among these players.
Benzema has been frightening in the Champions League - he was superb in the two games against Liverpool - but across all competitions he has played 222 more minutes than the English prodigy and scored five less goals. He does have nine assists while Kane has only three.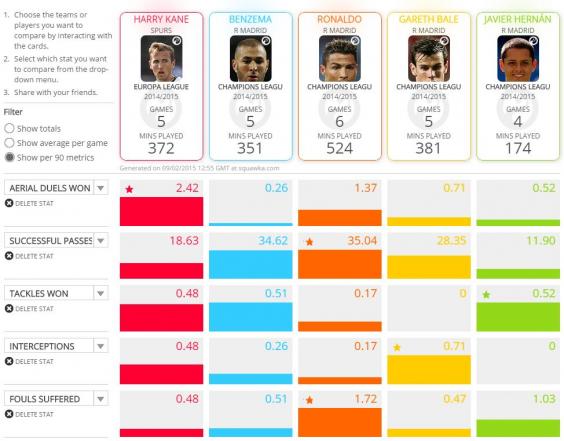 Kane comes into his own when looking at statistics that highlight his ability to be a target man, work horse and nusiance.
He is the best at winning header's among the group of players and has a very good passing rate, being beaten only by Ronaldo (in domestic leagues) despite Spurs completing an average of 50 fewer passes per game than their star-studded rivals.
Kane is also more fouled than the others on, and wins a massive 1.13 tackles per 90 minutes, proving his willingness to cause problems for the opposition. A further comparison shows that Chelsea's Nemanja Matic, widely seen as the best defensive midfielder in the Premier League, wins three tackles per game.
The youngster also intercepts the ball more than the other players combined do in their La Liga matches.
It remains to be seen whether Kane can keep up this level of good form over a long period of time, but the young Englishman certainly seems to be heading for the very top.
Additional stats by WhoScored and ESPN
Reuse content