Harry Redknapp starts again in the top flight tomorrow, desperate to find a way to keep his Queen's Park Rangers team in the Premier League.
Last year, Redknapp's Rangers were relegated from the Premier League and this time, after success in the Championship play-offs in May, he is back with a new 3-5-2 system he believes could take them to safety. Hull City are their first opponents, at Loftus Road on Saturday afternoon, and Redknapp has noticed how effectively Steve Bruce used the formation last season to keep Hull up.
QPR's problem last year was a lack of goals – they scored just 60 in 46 Championship games – and Redknapp wants a sustainable way to play two up front this year.
"It enables you to get two strikers in," he said of his new line-up. "Teams have problems getting two front men in, unless you play 4-4-2 and then suddenly you're overrun in midfield if the other team have three there. So most teams play with one striker in modern football, not two. This way enables you to get three midfield players in and two strikers."
Charlie Austin, who had to carry too much of the attacking burden last season before suffering a shoulder injury in January, is likely to partner Loïc Rémy up front against Hull, at least until another club comes in for the France striker, who so nearly joined Liverpool this summer.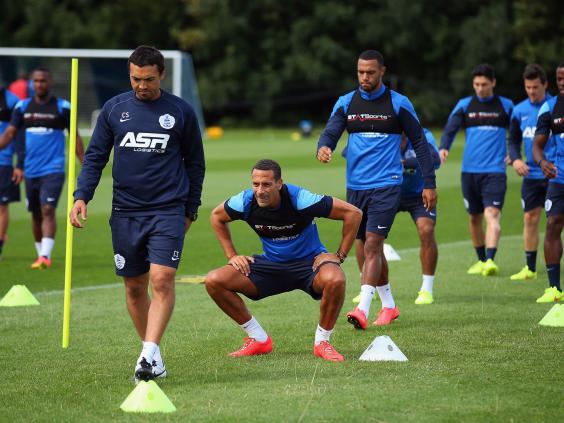 "Loïc likes to find space and to see space in front of him, rather than having his back to a centre-half booting lumps out of him," Redknapp said. "Charlie is stronger and doesn't mind that. Loïc is better coming on to the game, rather than having his back to play."
It is probably the best way for QPR to play this season, but Redknapp quickly insisted that this was not a gamble but something he had often done in the past and had been meaning to do at QPR for a while.
"It's a system I've always liked," he said. "I played that way at West Ham for quite a while, with Eyal Berkovic in the hole in behind, and Trevor Sinclair at right-back. In my first year at Portsmouth [2002-03] we played every single game that way. My left-back Matty Taylor got me 12 goals that year, smashing them in all over the place."
Redknapp tried to play 3-5-2 towards the end of last season but without much success, his players looking at times as if they did not know their roles. "I wanted to do it all of last season, and I kept telling the players, 'This is how I really want to play'. Unfortunately it was difficult, we didn't quite have the players, maybe I was forcing the system on to them a little bit. But I've bought people now I think [who] can play in that system."