History offers one good omen but with the Jake Livermore cloud hanging over the club even Hull City's usually sunny manager Steve Bruce is not convinced about the chances of a repeat.
Six years ago, Hull, Newcastle United and Sunderland entered the final day of the season knowing one of them would be relegated from the Premier League. Just like next Sunday, Hull were playing Manchester United and Sunderland were up against Chelsea. Both lost, but it was Newcastle who went down after defeat at Aston Villa, leaving manager Phil Brown to lead the singing as Hull celebrated an unlikely survival. The crucial difference this time is that it is Bruce's team who are the worst off and know they must win.
Were Manchester United to field as controversially weakened a team as they did in 2009, when the Champions League final against Barcelona was three days away, the Tigers might be sharpening their claws with greater optimism. As it is, Bruce admitted after Saturday's unlucky 2-0 defeat at Tottenham: "Whoever they play, they're Man United and they still beat Hull [that day] with a bunch of kids. They're Man United and it will be tough."
They are also the Manchester United who comfortably beat Hull 3-0 at Old Trafford in November, as well as 3-1 and 3-2 last season, extending Bruce's record against his old club to 17 defeats and four draws in 21 games.
Publicly at least, the former United captain will be looking on the brighter side this week, and making much of his side's performance against Tottenham, when they were the better side until Danny Rose added a second goal to Nacer Chadli's opener. The weakness, however, was both glaring and all too familiar: as in Hull's three previous seasons at this level, no player has scored more than eight goals in all competitions. Of the commendable total of 11 attempts on Saturday only two were on target.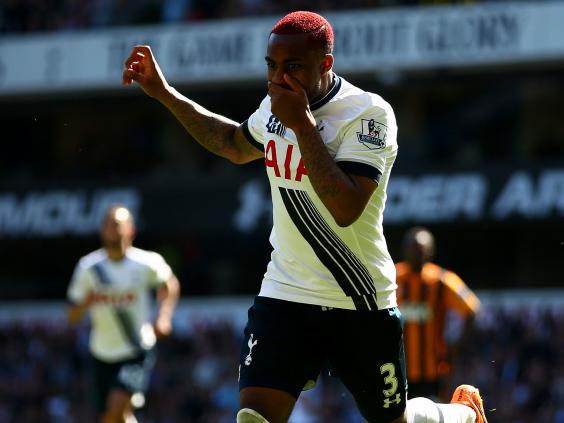 The Croatian striker Nikica Jelavic, starting for the first time in nine weeks, represented Hull's brightest hope and Bruce must hope that by next weekend he is fit enough to last more than an hour.
By Sunday, Livermore will have responded through his lawyers to the suspension imposed by the Football Association after testing positive for cocaine. His former Spurs team-mate Jermaine Jenas revealed that he  has "gone through some very, very tough personal issues, which has been hard for him," and expressed the hope that Hull would be sympathetic.
However Bruce, while suggesting there might be mitigating circumstances, had been angry when told of his player's indiscretion by the club secretary last Tuesday evening.
The lesson for all professional footballers, he added, is that drug testing is now so frequent they cannot take a chance of getting away with anything and losing everything.
"It's highly professional," Bruce said. "They've been to our club something like 15 or 16 times. It's so high profile, the Premier League, and we're talking about a player that's taken a social drug, which is ridiculous. It's out there; temptation becomes great. However, he's a professional footballer with it all at his feet."
Reuse content