For the middle third of this curious three-act drama it was possible to think of Chelsea as a team marooned – marooned at the top of the league.
It is no bad place to be alone, of course, but as the blue shirts drifted around the KC Stadium at 2-2, four points ahead of Manchester City with a game in hand, Chelsea's was a strange kind of dominance of the Premier League. They, like everyone else, seemed to be waiting for the inevitable.
The title will surely be theirs and Jose Mourinho talked afterwards of "mathematics", of it being a question of when Chelsea lift the trophy. Making it happen is what differentiates Mourinho from others.
With Diego Costa signalling hamstring concerns and having taken a buffeting all game from Alex Bruce – Costa did give some back, it has to be said – Mourinho called his principal striker off and put on Loïc Rémy.
It was the 77th minute – 50 often slow minutes on from the fourth goal of the game's bizarre, hectic opening – and Mourinho was about to change the underwhelming Willian for Juan Cuadrado.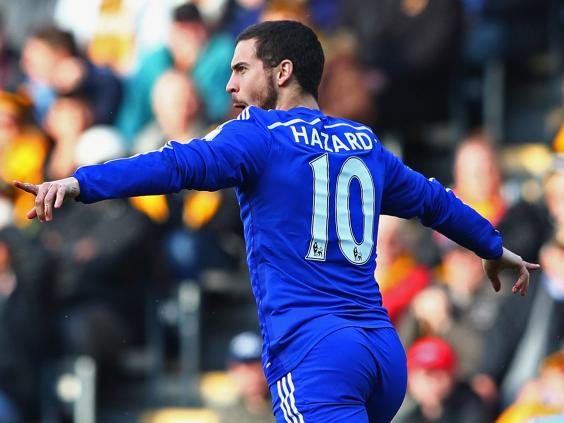 Costa's limp changed Mourinho's mind and on went Rémy. Immediately the ball was with Willian on the right flank and his fast, low cross was heading towards Rémy's left boot. It was Rémy's first touch and he directed a shot that possessed enough power – just – to go through Allan McGregor's body. 
One point became three and Chelsea's lead at the top of the league was restored to six points.
Hull City bustled some more after Rémy's strike but Steve Bruce's team could not muster another equaliser. For Bruce the twin consolation was the manner of Hull's performance after they found themselves 2-0 down after nine minutes and the fact that the five teams below Hull on Saturday morning all lost over the weekend.
Hull stay 15th, three points above third-bottom Burnley and have a better goal difference. Hull's run-in, which sees them face six of the current top eight, leaves little room for error, but if they show the same resolve they displayed here, when it looked as if they were about to be submerged in Chelsea goals, Hull should stay up. However, they cannot begin as they did yesterday. People were still digesting events from Anfield when Eden Hazard woke up the stadium to another reality.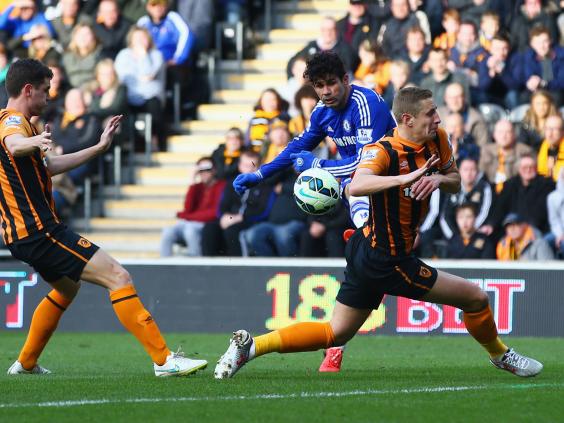 As fans took their seats, Costa met a clipped pass from midfield by Nemanja Matic. The Spaniard was 30 yards out and held off Alex Bruce as he produced a perfect flick into the path of Hazard.
There were black and amber jerseys around Hazard but he had the ball at his feet and was able to gambol 10 yards further forward before assessing his angles and directing a left-foot shot into the  right-hand corner of the Hull City net.
In three aspects, it was some goal: Costa's touch, Hazard's shot and the timing.
This is the opposite of what any manager plans. Yet it was soon to get worse for the home manager – though not before Abel Hernandez was one-on-one with Courtois only to hit the Chelsea keeper with his effort.
Hull 2 Chelsea 3 player ratings
Hull 2 Chelsea 3 player ratings
1/23 Allan McGregor

Unfortunate to see the ball trickle through his legs following Remy's effort and that was the moment Hull effectively lost the match. 5

GETTY IMAGES

2/23 Michael Dawson

Stood Hazard as the Belgian opened the scoring for Chelsea. His experience undone by the winger's pace and skill. 5

GETTY IMAGES

3/23 Alex Bruce

In the centre of the Hull defence throughout and he played with a lot of desire and determination. He can't be too displeased with his display. 6

GETTY IMAGES

4/23 Paul McShane

Similar to Dawson, the centre-back allowed Hazard to get away from him when the winger scored. 6

GETTY IMAGES

5/23 Ahmed Elmohamady

Showed tremendous endeavour to frequently get forward on the counter attack. He was rewarded when he got on the end of Robertson's cross and finished past Courtois. 7

GETTY IMAGES

6/23 David Meyler

A little rash with some of his challenges but his good organisation kept Hull's midfield structured and able to combat Chelsea's neat passing. 6

GETTY IMAGES

7/23 Jake Livermore

Enjoyed battling with Costa throughout the match. He forced Courtois into making a very strong save in the second half. 6

GETTY IMAGES

8/23 Gaston Ramirez

His shooting needs a lot of work but his overall work rate was exceptional and he gave N'Doye good service as well. 6

GETTY IMAGES

9/23 Andrew Robertson

Industrious down the left. His superb run allowed him the time and space to play a perfectly weighted cross which Elmohamady finished. 7

GETTY IMAGES

10/23 Dame N'Doye

He used his strength very well to unsettle Cahill. He is forming a good partnership with Hernandez. 6

GETTY IMAGES

11/23 Abel Hernandez

Gambled brilliantly when Courtois's heavy touch presented him with the opportunity to level the score at 2-2. 7

GETTY IMAGES

12/23 Thibaut Courtois

Made a calamitous error when his heavy touch presented Hernandez with an easy opportunity for him to equalise. Redeemed himself a little when he made three saves one after the other. 6

GETTY IMAGES

13/23 Branislav Ivanovic

Not as assured as he has been in recent weeks and too often he was beaten by Robertson. He was vital in stemming the flow of Hull's flurry of attack late on, though. 6

GETTY IMAGES

14/23 Gary Cahill

Made an excellent tackle on N'Doye to prevent the striker from getting one-on-one with Courtois. 6

GETTY IMAGES

15/23 John Terry

Organised his defence well even if they were slow to react to Hull's first goal. He'll be disappointed that he allowed himself to get involved in a war of words with N'Doye. 6

GETTY IMAGES

16/23 Filipe Luis

Allowed Elmohamady to get away from him when the Egyptian scored Hull's first goal. He became much more effective in the second half when he started to penetrate the left flank. 6

GETTY IMAGES

17/23 Ramires

Replaced by Oscar as Chelsea looked to find the winner. He had done well to clean up loose balls in midfield until then. 6

GETTY IMAGES

18/23 Nemanja Matic

He's lost his impact in the last few matches and against Hull he wasn't particularly impressive either. He was a little rash with his tackles too, particularly on Aluko late in the game. 6

GETTY IMAGES

19/23 Willian

Provided the assist for Remy's winner and he worked incredibly hard before being substituted late in the second half. 7

GETTY IMAGES

20/23 Cesc Fabregas

Criticised recently for being too slow to progress play but he was superb today. He linked up attack and midfield excellently and provided the assist for Costa's goal. 7

GETTY IMAGES

21/23 Eden Hazard

A constant threat to Hull's defence. Excellent individual piece of work to put Chelsea into the lead early on in the first half. 7

GETTY IMAGES

22/23 Diego Costa

His usual bullish self. The Hull players tried their best to wind up the Spanish striker and he did well to keep his cool. His goal to send Chelsea 2-0 up was impeccably well taken too. 7

GETTY IMAGES

23/23 Off the Bench: Loic Remy

Scored the winner for Chelsea. His ability to run in behind exposed Hull's poor defending late on in the match. 7

GETTY IMAGES
That was a warning of what was to come from Hull; it's just that everyone, including themselves, forgot that as Chelsea walked in a second.
If Hull's defenders had been stand-offish on the opener, they were no more inclined to breach Chelsea's peace eight minutes later. As Costa peeled away to the right of the Hull area and shaped into a shooting position, Michael Dawson backed off. From a tight angle, Costa found the same corner as Hazard, via a nick off Dawson. McGregor had no chance. The blue corner of the stadium bounced with glee; the home fans sang to owner Assem Allam of his ongoing 'Hull Tigers' plan: "Why don't you go? You said you'd sell up, so why don't you go?"
Well, watching an apparent walkover can make the mind drift.
This could well explain what happened next. Two-nil up, in total control against shellshocked opponents, Chelsea's players switched off. It was too easy. After fireworks on Merseyside, it was tea and toast on Humberside.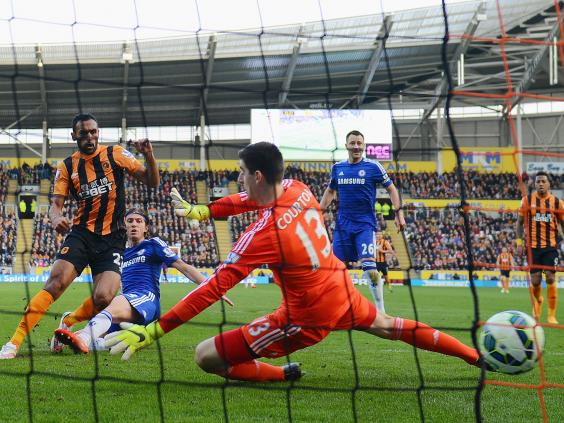 Lulled by their cosy domination, perhaps Chelsea did not notice Steve Bruce and his assistant Mike Phelan in animated conversation.
It was not just a defeat confronting Hull, it was a tanking. So they made a change. What on paper had been a 3-5-2 formation – but in reality was 5-3-2 – became 4-4-1-1. Paul McShane moved from the left of three centre-halves to right- back and the shift in system stiffened Hull.
On 27 minutes, Andy Robertson ran at Willian and Branislav Ivanovic and bypassed them with ease.
Robertson then delivered a low, curling cross that Ahmed Elmohamady met on the run. Courtois was beaten.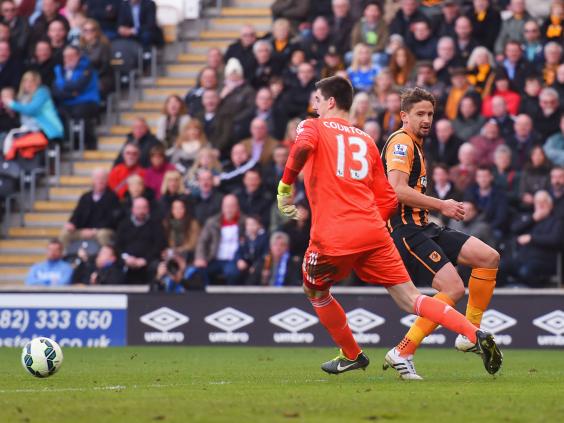 Hull had some damage limitation, and that was good enough given what had gone on already, yet 90 seconds later they had an equaliser.
Ivanovic, partially at fault for the first, was again involved. This time he slid a bobbling back pass to Courtois, who should probably have belted the ball first-time upfield. Instead, the keeper tried to play football, the ball skipped away from him and ran to Hernandez who slid it in. It was a chaotic goal to end a vivid 27 minutes. Thereafter the game slowed. Hazard's influence faded and Willian and Cesc Fabregas were quiet.
Four minutes into the second half, Fabregas might have made it 3-2 and Chelsea had territorial control again.
But Hull retained their spark, and arguably the game's defining moment came on 64 minutes when Courtois blocked from Elmohamady. The ball ricocheted to Jake Livermore, whose shot was again saved by Courtois. Finally, Gaston Ramirez  followed up and Courtois saved again.
That meant Chelsea's  platform was stable when, 13 minutes later, Mourinho called Rémy from the bench. Courtois had atoned, Chelsea had won. Yet Mourinho was subdued. Marooned he and Chelsea remain, title awaiting.
Reuse content