"E-i-e-i-e-i-o, up the Football League we go," Hull's supporters sang, when they heard of the second Newcastle United goal which condemned them beyond all doubt. It was an improvement on the song from the last so-called Demolition Day which paired them with Manchester United – crooner Phil Brown's celebratory rendition of "Sloop John B" six years ago – but nothing could hide the way that relegation which has stunned and cut the club.
No-one had seen it coming, even though the threat never entirely recedes in places like this. Hull were four points and four places clear of the relegation zone after the euphoria of beating Liverpool in late April – high ground by their own standards. With the exception of two brief spells in the depths of winter, they had only slipped into the drop zone 13 days ago, after the fatefully desperate 1-0 home defeat to Burnley. Then the plates shifted violently in what has been a process of displacement – Leicester producing what Steve Bruce has described as "Champions League form", while his own side withered on the vine, scoring only once in their last four games.
Hull have always lived Premier League football on a precipice – last season's 16th was their highest finish in four top-flight seasons – but Bruce looked even more desolate than when his Birmingham side were relegated nine seasons ago. "We haven't been able to score," he reflected. "Nearly 50 per cent of the games we've played, we've not managed to score, [though] we've mostly played with two strikers. That's a pretty damning statistic." They have failed to break the deadlock in 17 of their 38 games, to be precise, and lost seven of those 1-0.
They were done for some mightily bad decisions made amid their £42m of spending during the last year, which was supposed to have elevated the club to safety. An air shot by Abel Hernandez midway through Sunday's second half was the season in microcosm. It has not worked for the club record £10m acquisition from Palermo, who is unlikely to be on the banks of the Humber come August. Nikita Jelavic's eight goals made him the season's top scorer in the final reckoning, though he has been out for four months with bad knee injuries. The Croatian's bandaged wrist on Sunday told the story of how difficult it has been to call upon him, though no-one could have anticipated the misfortune of Robert Snodgrass, on whom £8.5m was spent last summer, succumbing to injury 20 minutes into the club's first Premier League game. He never made it back.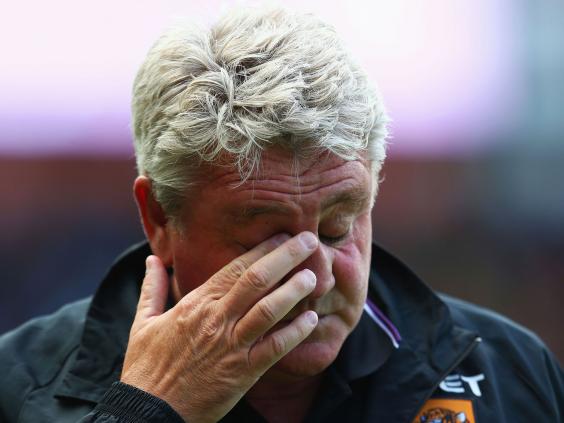 From the start on Sunday there did not seem to be much vestige of hope. An image of that Brown serenade from 2009 ago was splashed across the match programme. But while there were notional symmetries between then and now – Newcastle's defeat that day saw them crash to the Championship instead of Hull – everyone knew that Bruce had not beaten the club he had played for with such distinction in 23 attempts across 17 years of management. Not even Jelavic's early snap header – sending Victor Valdes leaping to save low, with less than a minute and a half gone – could break the incantatory rendition of 'Spirit in the Sky' from the United contingent.
The fleeting sense that something might happen arrived around the 20-minute mark, when two goals were cancelled out for offside in the space of 180 seconds. Both decisions, the first after Paul McShane's poke-in on 18 minutes and the second after Dame N'Doye's roughly similar finish, were correct. A beautiful destiny did not seem to be calling. Valdes's command of the area was not great, despite him leaping to claw Ahmed Elmohamady's headed effort off the goal-line in that same period, but that brief pocket of hope was as good as it got for Bruce's side.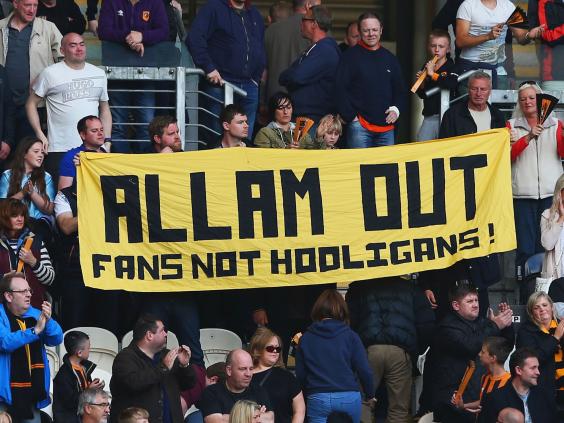 The endeavour was there – far more than in the desperate defeat to Burnley – but there were no fireworks. David Meyler fired over, then narrowly failed to navigate an effort into Valdes's bottom right-hand corner 10 minutes later. The breakthrough was needed early, creating something to "transcend the way up the East coast" as Bruce put it. Instead, Moussa Sissoko's strike, putting Newcastle ahead 150 miles up that eastern coastline, created a cold silence. The only delirious moment for Hull's fans came when they fell under the momentary misapprehension around the 70-minute mark that West Ham had equalised on Tyneside.
United manager Louis van Gaal thanked Valdes for the two sharp stops he said saved the day, though after declining to say what his marks out of 10 for his own first season might be, the Dutchman's sign-off fixture confirmed the sense of how much work he has to do. Angel Di Maria, given his first start in two and a half months, limped off with a hamstring problem after 20 minutes, which encapsulated his own first English campaign. United's plans to bulk him up, David de Gea-style, may help. Marouane Fellaini was dismissed after 16 minutes on the field as a substitute for a disgraceful late challenge on Paul McShane which left the Irishman needing 10 staples to the top of his thigh. It was yet another experimental United structure – Ashley Young tucked in centrally and Marcos Rojo operating as an advanced full-back. Though Wayne Rooney clipped the bar early on, there was little else to threaten the goal.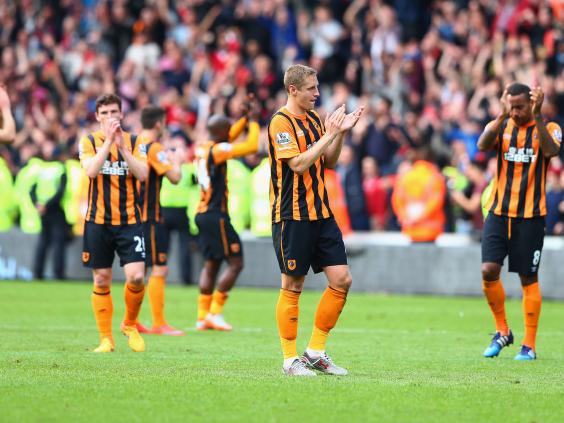 Bruce will be back here in July to plot an escape route from the Football League's top division. "There's a lot of players who won't want to play here, that's inevitable," he said. But jettisoning expensive mistakes from the squad will be the main preoccupation. It is back to square one for Hull; to MK Dons and Bristol City – the side Brown's team beat in the 2008 Championship play-off final. For the past few weeks, Bruce has been cheerfully rebutting a statistic that some cheerful soul dredged up about Hull never having won a Premier League game in May. It will be two years, at the earliest, before he can sort that one.
Reuse content