Sunderland manager Gus Poyet said that he and Steve Bruce had made up with a handshake following the touchline spat in which they almost came to blows during a feisty relegation battle at the KC Stadium.
The incident came 24 hours after Poyet learned that his England player, Adam Johnson, had been arrested on suspicion of sexual activity with an under-age girl and suspended by the club, contributing to a day he described as "one of the most difficult days".
Bruce had to be restrained by a linesman after Poyet reacted to being sent to the stands by referee Mike Dean by aiming some choice comments and sarcastic applause at the Hull manager before he left his position in the technical area.
Neither manager would disclose the exact words that were exchanged, although Bruce said "it was not very pleasant."
Poyet insisted the matter was closed, telling the media that he had bumped into his opposite number in the corridor outside the dressing room. "We shook hands just now and I am happy to have a glass of wine with him.  It's football, it's passion," he said.
Asked what he had said to spark Bruce's indignation, Poyet declined to disclose the words he had used.  "I'm old fashioned.  What happens on the pitch stays on the pitch," he said.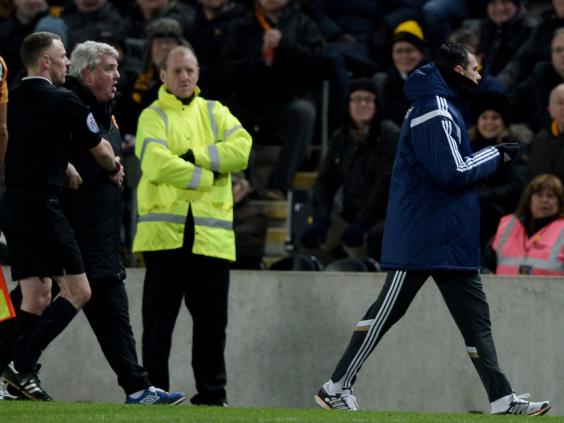 The flashpoint came after 37 minutes, when Sunderland's Jack Rodwell was booked for diving, having tumbled into the penalty area after brushing past Hull defender Alex Bruce, the manager's son.
Poyet furiously kicked at a bucket containing water bottles, sending the contents flying, prompting Dean to tell him he had to leave the technical area and find a seat away from the pitch side.
The Uruguayan accepted his fate, but first walked across to Bruce in the Hull technical area, offering his hand and then applauding before turning away.  Bruce then made a move towards Poyet and had to be restrained once and then a second time by linesman Stuart Burt before regaining his composure.
"I don't know what I was supposed to have done," Bruce said. "I only went to the Sunderland assistant manager and said I thought Rodwell had dived, that was all.  If Gus would like to explain why he has gone on like some raging idiot it is up to him, but I'm keeping that to myself.
"It was all a bit of handbags.  We'll both regret it in the morning
"What was said is between me and him, I'm not going to tell you so you can sell some newspapers.
"All I can say is that what he said to me was not very pleasant. It wasn't 'have a nice evening'."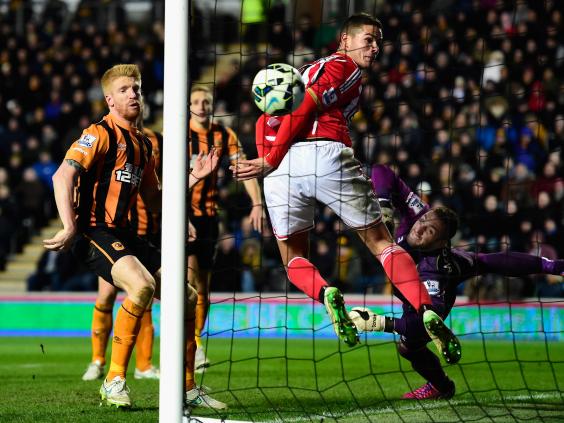 Bruce said he was grateful for being held back, although he doubted whether, as a stout 54-year-old, he would have lasted long against the wiry 47-year-old Poyet.
"I'm thankful for the assistant referee stepping in," he said. "I'm a big heavyweight and he is a bit of a lightweight by comparison. I think he was exhausted after trying to keep hold of me.
"I might have given him a fight back in the day but I couldn't fight a fish supper at the minute, those days are gone."
Poyet explained that he reacted so angrily to Rodwell's card because he felt Hull's Paul McShane had won a free kick by diving earlier in the half.
"I was not happy because McShane went down like he was appearing in the theatre in a ballet and gets a free kick, then Jack dives and gets booked and it is a free kick against us," he said.
"I just was asking for the same treatment."
Poyet said he did not regret his actions, either kicking the bucket of bottles or the comments he aimed at Bruce.
"I have no regrets whatsoever," he said. "If that is a bad image for football, I'm sorry.  But I don't think it is anything to worry about.
"Yesterday was a very difficult day. I have not had one like it before."
Reuse content