Arsenal legend Ian Wright has compared Arsene Wenger to a parent who lets his kids get away with doing "naughty stuff all the time" after the side's demoralising defeat to Manchester United on Sunday.
The Gunners lost ground in the title race to Leicester City and Tottenham Hotspur at Old Trafford despite Louis van Gaal's team missing 16 players through injury.
Teenage striker Marcus Rashford, 18, scored twice and added an assist on his Premier League debut, Michael Carrick started at centre-back and another debut was also handed to Timothy Fosu-Mensah.
Arsenal finished the game with 61 per cent possession but were outworked by the makeshift home side. Wenger had said that he "could not question our desire or commitment at all".
Speaking on Match of the Day 2, Wright, who scored 185 goals for the club, was highly critical of Wenger's words and the performance of the players. 
.@IanWright0 is sick & tired of Arsene Wenger saying he can't fault #Arsenal's desire & commitment! #MOTD https://t.co/1ad3SRvSTF

— Match of the Day (@BBCMOTD) February 28, 2016
Manchester United 3 Arsenal 2 player ratings
Manchester United 3 Arsenal 2 player ratings
1/22 Manchester United: De Gea 6 out of 10

For all of Arsenal's possession and potency De Gea had little to worry about for much of this match and could do nothing about the visitors' goals.

2/22 Varela 7 out of 10

An unwarranted yellow on eight minutes ought to have led to a difficult day for the youngster, but the full-back managed two assists as he was able to bomb forward throughout.

2016 The Arsenal Football Club Plc

3/22 Carrick 6 out of 10

It wasn't without nervy moments but Carrick got the job done in defence, with one tackle on Welbeck inside the area showing the composure United's youngsters needed to see.

2016 Manchester United FC

4/22 Blind 6 out of 10

The only regular in the back four he rose to the responsibility in style, sweeping up behind Carrick when Arsenal looked to burst in behind.

2016 The Arsenal Football Club Plc

5/22 Rojo 5 out of 10

Ensured the defensive calamities weren't just limited to Arsenal by leaving Welbeck unmarked to head in. Struggled to track the Arsenal forward throughout.

2016 Getty Images

6/22 Schneiderlin 6 out of 10

Hardly slowed the tide of Arsenal's attacks at times in the first half, but in the second United's destroyer did key work in winning the ball back.

2016 Getty Images

7/22 Lingard 7 out of 10

A superb display of industry and application, he was crucial in United's second in teeing up Varela's cross, performing sterling work out wide.

2016 Getty Images

8/22 Herrera 7 out of 10

His fortuitous goal was no less than deserved for a dynamic display that saw him make telling contributions at both ends of the pitch.

9/22 Mata 7 out of 10

Gave Ramsey and Coquelin plenty to worry about as he flitted across the frontline, using his fine passing range to conduct United's deadly counters.

2016 Getty Images

10/22 Depay 8 out of 10

A £25million performance at last. His duel with Bellerin was the highlight of the match and one where the Dutchman often came out on top.

Getty

11/22 Rashford 8 out of 10

This certainly was a romantic story but Arsenal could not have made it easier for the youngster if they'd gift-wrapped the ball. Still Rashford took his chances well and showed serious confidence.

2016 Manchester United FC

12/22 Arsenal: Cech 6 out of 10

Having saved a Depay free-kick smartly early on Cech could once more do nothing but watch as United were allowed to stream forward.

2016 Manchester United FC

13/22 Bellerin 6 out of 10

His advances forward were not slowed by the dangerous Depay and the full-back showed defensive solidity beyond his team-mates.

14/22 Gabriel 4 out of 10

A meek clearance teed up Rashford for the opener. Arsenal fans will find that infuriating familiar, Gabriel always seems to have at least one mistake in him per game.

2016 Manchester United FC

15/22 Koscielny 5 out of 10

Allowed Rashford an unmarked header inside the six yard box and typified a day where he was an utter liability at times.

2016 Getty Images

16/22 Coquelin 5 out of 10

Overwhelmed by the task of covering for five players ahead of him doing minimal defensive work, even the midfielder could not stem the tide of United's counters.

2016 Manchester United FC

17/22 Monreal 5 out of 10

Has kept the likes of Coman, De Bruyne and Mahrez quiet this season. So why were Lingard and Varela such a challenge? A far from typical display

2016 Getty Images

18/22 Ramsey 4 out of 10

After showing defensive resilience against Barcelona this was the worst of Ramsey, nowhere to be seen in attack or defence.

2016 Getty Images

19/22 Welbeck 7 out of 10

Does not deserve an iota of blame for the execrable peformances of his team-mates. Welbeck was full of energy, was looking for the ball and deserved at least one goal.

2016 The Arsenal Football Club Plc

20/22 Ozil 7 out of 10

One of the few who could say they performed to their ability throughout today's game, his sublime range of passing was present throughout, earning him assist number 18.

2016 The Arsenal Football Club Plc

21/22 Sanchez 4 out of 10

An abysmal display by anyone's standards. Every opportunity to get forward seemed to see Sanchez run down a blind alley.

2016 Getty Images

22/22 Walcott 3 out of 10

His first notable action came 30 minutes in when Herrera whipped the ball off Walcott in his own half as United nabbed the opener. His second was being caught offside.

2016 Manchester United FC
"To hear [Wenger] saying that it's like... I don't know, it's like when you've got naughty kids come round your house," said Wright.
"If you let them get away with continuously doing naughty stuff, then they're going to keep doing it. Him saying stuff like this just makes them think 'oh, it's ok'.
"They should be going back on the coach and thinking 'we had an opportunity today'. It didn't happen, they should've taken that opportunity."
Fellow pundit Alan Shearer then said: "I wouldn't like to come round your house."
To which Wright responded: "If you're going to be naughty round my house you're going to have a problem."
Wright then continued to vent his frustration in a column on BBC Sport.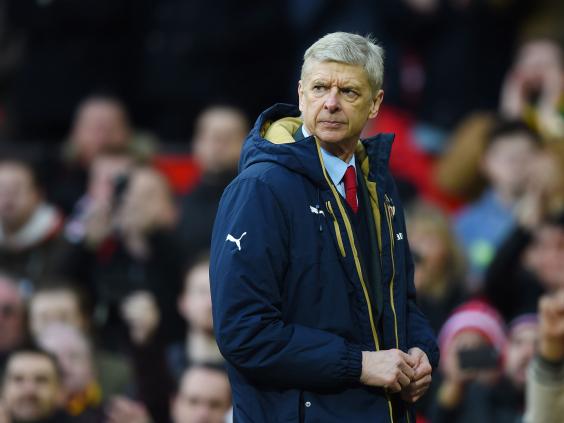 "Arsenal's defeat at Manchester United was especially disappointing because it showed they do not have the mental strength to deal with being where they are at in the title race," he wrote.
"Gunners fans know they have a fantastic opportunity to win the Premier League this season, but the team does not seem to understand the enormity of their situation, and what it requires. There are still 11 games to go but, as things stand, I do not watch them and see a team that has what it takes to win the title.
"The pressure was on the Gunners to get a good result, but I felt they had a great chance to pull it off. They were close to full strength, while United were fielding a weakened team, including some kids and a makeshift defence.
"But instead of raising their game because they knew what was at stake, Arsenal began badly and did not put United's frail back four under any pressure until they were already 2-0 down. It was not the sort of start that you make to a game that you feel you have to win, and they were punished for it."
Arsenal face Swansea City at the Emirates on Wednesday night.
Reuse content